Review: 2020 Ford Mustang Ecoboost High-Performance Package — Are Four Cylinders Better Than Eight?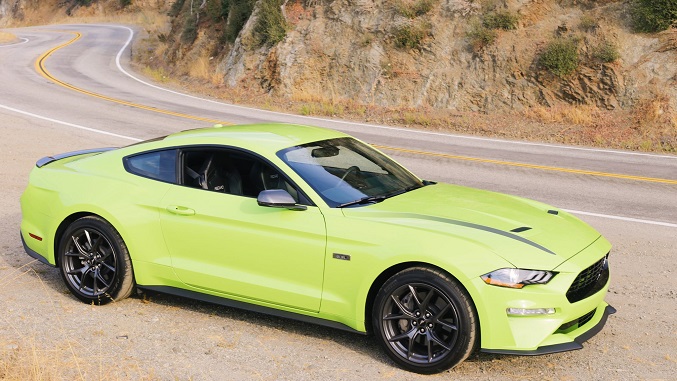 All photos by Peter Nelson
Don't knock it till you try it is one of the most applicable sayings when talking about lower-powered sports car trims. All too often, enthusiasts dismiss them as slow, unenthusiastic, or sometimes even worse, rental-car-spec. The latter is by far the most damning.
Ecoboost Mustangs are popular rental cars. They aren't terrible, but they're nothing special, especially when compared to what Ford is capable of with higher trims. The GT, GT350 and 500, BULLITT, and soon-to-debut Mach 1; the Mustang has a ton going on with a V8 under its hood.
But so does the Ecoboost, actually. Turbo four-cylinder sports/pony cars are slightly-overlooked, because they don't have top specs in regards to horsepower, torque, and 0-60. However what they don't have in specs, they actually make up for in other ways, especially when they've got accompanying tuning to make the most of their benefits. The biggest and most apparent benefit: less weight over the front-end.
In our case, the 2020 Ford Mustang Ecoboost High-Performance Package with Ecoboost Handling Package (say that five times fast) surprised us, and really drove home don't knock it till you try it. Here's how it did so.
Thanks to Ford for tossing us the keys for this review. The 2020 Mustang Ecoboost's base price is $31,685, and after adding on the High Performance Package, Ecoboost Handling Package, Recaro front seats, and delivery, our tester came in at $43,565.
Engine and Transmission
Highs: nice baritone exhaust growl, good power band, snappy gearbox
Lows: Low redline, not as eye-opening as the V8
Half the cylinders under the hood of the Ecoboost HPP doesn't mean half the fun: 0-60 MPH is done with ease in around 5.2 seconds, and other sources have been able to achieve mid-13s in the quarter mile. This is thanks to the made-in-Spain, Focus RS-sourced turbocharged 2.3-liter four-cylinder producing as much as 332 horsepower and 350 lb.-feet of torque. Even with a big turbo putting in a lot of work, it still achieved decent fuel economy, too: it's rated at 19 MPG City and 26 MPG Highway – our average was right on the money at 20 MPG after two tanks, a good mix of highway and street driving, and two afternoons-worth of twisty-road fun.
The 2.3-liter Valencia engine was very likeable. It had a broad power curve, with most of the action happening between 2500 and 5000 RPM, and it reached its 6500 RPM redline quite quickly; to the point of us wishing we had a little more room thereafter. This would've been more conducive for a little tail-out rascality to liven up our daily commute. The angry four-cylinder was happy to rev up and down, and had great low-end torque for passing in top gear on the highway. It also had a particular tone that might be weird for a Mustang, but still sounded good.
We were genuinely concerned that the Ecoboost 2.3's exhaust tone wouldn't hold a candle to the Coyote V8's thunderous scream. However, thanks to performance active exhaust tuning from the factory, it actually sounded great; it had a nice raspy, baritone growl, that got quite loud under WOT when the active exhaust was configured to Track. Coming off the clutch with a healthy amount of throttle, blipping the throttle while heel-toe-downshifting, and revving it up to redline was a ton of aural fun, too. Was it as fun and pupil-dilating as the Coyote at WOT? Absolutely not, but it was still quite good.
Changing between drive modes either mellowed it out or livened it up a tad; we spent 90% of the time in Track Mode where the exhaust was the loudest and throttle-response was the sharpest, and reserved Normal Mode for easy-going highway cruising.
The Ecoboost's six-speed transmission was a joy as well. From our research, it's the same transmission found in the Mustang GT BULLITT, but this one's shifter felt tighter, its clutch more solid, and we never experienced any grinding. Perhaps the one bolted up under the Bullitt was just knackered from press duty. We enjoyed its positive, well-sprung shifter feel, and it worked really well with the slightly-heavier clutch pedal. This great feel, as well as good pedal placement and the quick-revving engine, meant heel-toe was quite easy and a lot of fun.
Suspension, and Handling, Brakes
Positives: Less weight up front means great steering and an overall sense of added lightness
Negatives: Nothing to report
We enjoyed how well the Mustang BULLITT handled. It held everything together well despite having a big DOHC 5.0-liter V8 up front. Though, it was more point-and-shoot than momentum-holding, which is what the Ecoboost HPP was.
We were genuinely shocked by how composed and light the Mustang Ecoboost HPP felt in the corners. It felt tight and well composed, but not at the expense of ride comfort. Not much is different than other 'Stangs' suspension specs on the business-end of things, either: double-ball-joint independent front, integral-link independent rear, and MagneRide damping. Though, our tester had a slightly thicker rear sway bar as part of the Ecoboost Handling Package. Again, we spent 90% of our testing in Track Mode, its stiffest, sharpest suite of adjustments, but it still ironed out imperfections and bumps really well. At least for this writer's hardened, daily-driver-with-track-coilovers spine. Sure, it porpoised and shook a bit over undulations and drainage channels on SoCal streets, but generally we found it fine left in full-stiff.
Body roll was non-existent. We were pleasantly surprised by the speeds we were holding through twisties, and when we came to a mid-third-gear straight followed by a tight left-hander, turn-in and cornering speed were great. Its Torsen limited-slip differential deserves kudos for some of that for sure. We don't think we ever over-stressed its massive 265/40/19 Pirelli Corsa4 tires with traction control on; respect to Ford for fitting bigger-than-average meats on a car of this weight and power level from the factory.
Putting a 2.3-liter turbo-four in a spot where a big 5.0-liter V8 normally exists is pretty substantial; less than half the displacement, less four cylinders, and visually, seemingly half the space is taken up despite all the turbo plumbing. Lesser was better when it came to its steering, too: losing a whopping 200 lbs. off the front-end meant this Mustang felt sharper and more eager to change direction. Whether we were ripping through one of our favorite technical canyon roads, or just cruising along going from point-a to point-b, the steering felt great. It tightened up with good weight in Track Mode as well; more reasoning as to why we spent the majority of our time in this mode.
Driving home the overall twisty-road experience was the Ecoboost HPP's big brakes. These are the same brakes that come on the standard GT, though they've got a lot less mass to slow down. The performed very well and the pedal had a good, solid feel. Again, it seems Ford set this car up well for track work; we're certain a set of decent performance pads is all it would need for all-day fun on track.
Exterior and Interior
Positives: Great looks, good amenities, good sports car driving position, nice throwback color options, sharp wheels, cheesy badges (the good kind of cheesy)
Negatives: Very little backseat space, lacking head- and hip-room
On the outside of the Ecoboost HPP, we really enjoyed the Mustang's Grabber Lime color (a throwback to the muscle car era), mild exterior accents, cheesy "High-Performance 2.3L" badges, subtle raised-blade decklid spoiler to balance out the rear end,dual exhaust tips, and sharp 19" wheels with meaty tires. The little 2.3-that-could is a hoot, so it's worth telling the world that it's under the hood, especially if its driver is able to drive around a 5.0 GT on track. S550 Mustangs look great in general; we swear there are subtle hints of last-gen Aston Martin Vantage here and there (call us crazy, we don't care).
On the inside, it was standard upgraded Mustang fare, with soft leather surfaces, hard plastic surfaces that were a tad chintzy, a nice steering wheel, and a great shifter size and position. The driving position was low slung as Mustangs always are, with good overall visibility. It was slightly-cavernous, in fact more than we remember in the BULLITT, but we didn't mind while rolling around in bright Southern California.
One thing that immensely threw us off was how this author's tall, 6'3" frame barely fit in it. There was very little headroom left once a decent seating position was achieved, and while we're only sporting a 34" waist, we felt pretty squished in the optional Recaro sport seats. Normally OEM Recaros, and S550 Mustangs in general, accommodate us very well. The Recaros that were in our BULLITT tester a few months back were immensely comfortable. But the ones in the Ecoboost pinched us at the hips, and we could never quite find the right comfortable position, which is disappointing for such a name in seats that are a $1,595 upgrade.
Driver aid technology was good: Ford's BLIS (blind spot information system) kept us well-aware of what was going on around us on the highway, and intelligent adaptive cruise control was one of the best radar cruise control systems we've used. It didn't awkwardly scuttle when we were inevitably cut-off on Southern California's 405 freeway, and adapted to slower drivers in front of us very smoothly.
A Great Sports Car
There is a stigma of owning a four-cylinder Mustang. No, it's not as loud and aggressive, and it makes significantly less power (though we're wondering what kind of power increases one can achieve in the aftermarket). It's also rental car-spec, which takes up a huge slice of the stigma pie for sure. But, if a consumer doesn't care, is happy with a low-to-mid-five-second 0-60 time, wants significantly-better fuel economy, digs on the idea of an angry baritone engine note with whistly turbo exclamations, and some significant handling and steering benefits, they really can't go wrong.
Because of its economy, sharp handling, good driver aids, and even good ground clearance, we'd call it a good all-rounder. Though, if a consumer is on the taller or wider side, and needs a decent-sized rear seat, maybe save it for a weekend/track beast only, or see how other seats feel. It'll surely get better track mileage than its significantly-thirstier V8 siblings.
This modern SVO does its four-cylinder ancestors proud; hopefully it reaches better enthusiast-acclaim than the original did.
Check out our POV video: