CarTronics: Escort Passport iQ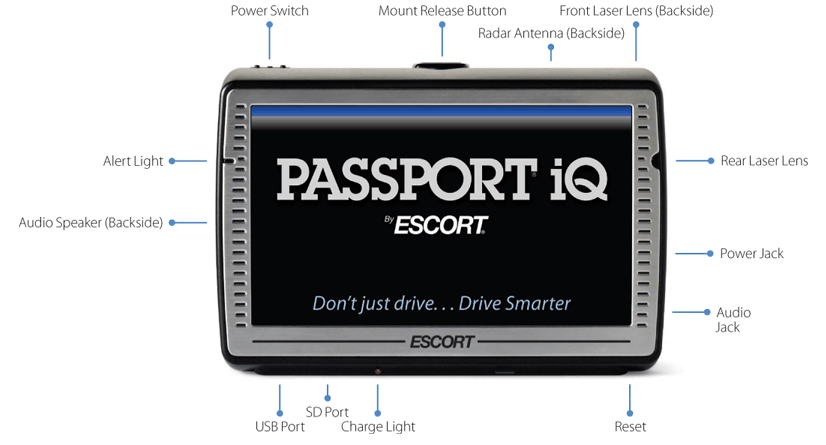 Two common pitfalls that afflict those on the road: getting lost and getting tickets. What if you could avoid both?
Here's the single solution that would be a great way to cash in some of those gift cards you got last week; the innovative Escort Passport iQ. It looks and functions like a portable GPS navigation device. Its bright five-inch LCD screen suction-cups to the windshield and displays map data provided by Naveteq, a major supplier of mobile device mapping software.
If you're driving by a Starbucks or Tim Horton's, their icons appear along the simulated roadside. The on-board database includes tens of thousands of points of interest. Data entry is touch-screen easy and the audio/visual directions are good, but not the industry's best.
So why would you want the $650 Escort iQ if it isn't the best GPS unit in existence? Because it's not just a GPS unit.
Housed in the 1.5-inch thick body is a super stealthy high-performance radar and laser detector. The iQ can sniff out the four major types of radar frequencies: X-Band, K-Band, Ka-Band, and Ku-Band. Additionally, the iQ features camouflaged front- and rear-looking laser sensors.
Known locations of red-light and/or speed cameras are pre-programmed into the unit. A subtle warning sounds when approaching known enforcement areas or areas with active laser or radar tracking, a welcome contrast to typically hysterical alarms emitted by other detectors.
Various screens display "threat detection" graphics. Even when the screen is in "detector" mode tracking radar and laser signals, GPS route instructions remain visible at the top of the display. An adjustable "over the speed limit" audio alert helps drivers slow down.
Practically, the Escort iQ also takes up less space and reduces in-car-cord-clutter compared to using a separate GPS unit and detector. Plus you can connect your phone to it via Bluetooth, so that it functions like a hands-free speakerphone, thereby eliminating one brought-in automotive device.