Ford Adding Start-Stop Tech Across Range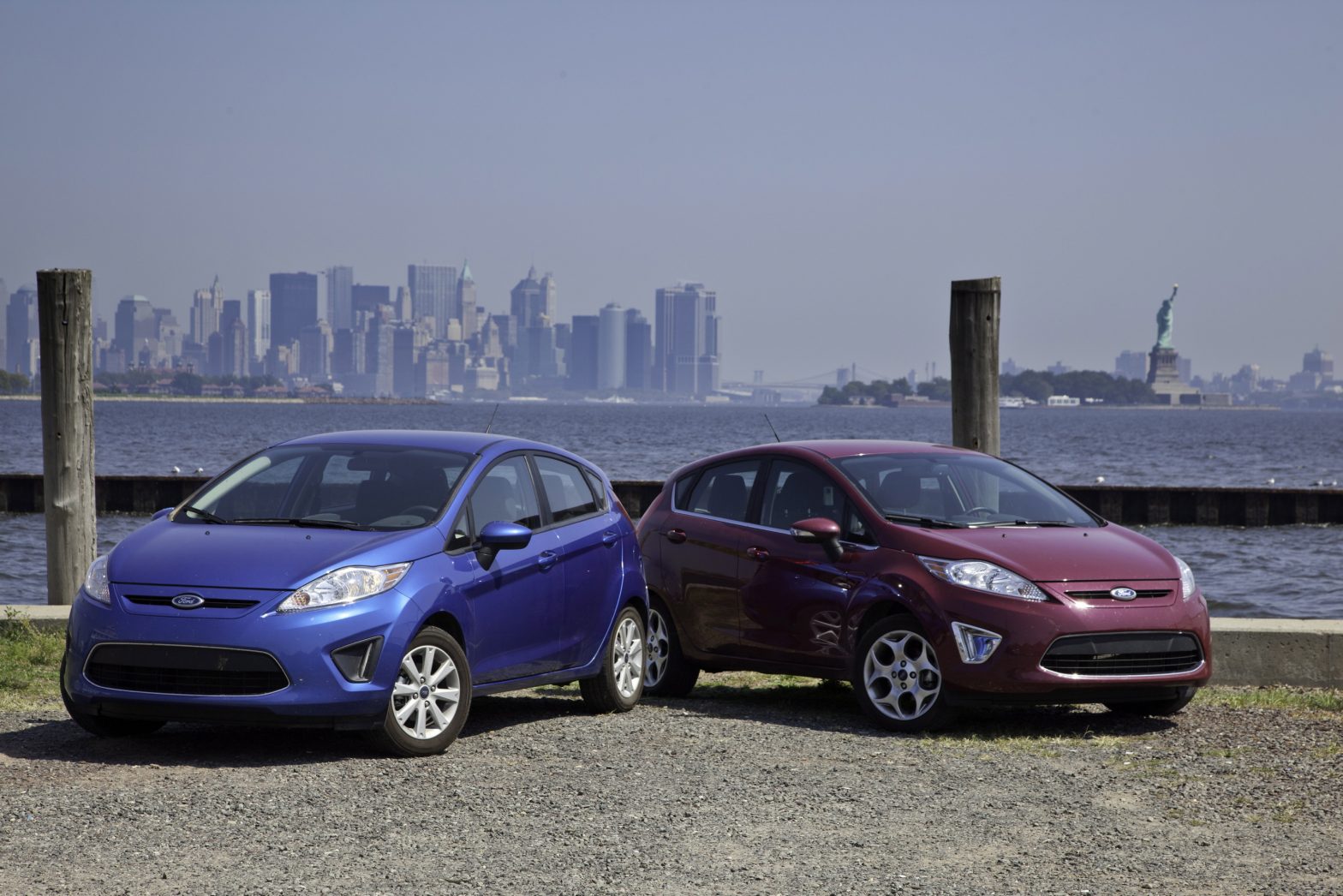 Start-stop technology isn't exactly new. The ability to seamlessly shut off the engine when at a stop, and then kick-start it back to life once the brake is released has been a standard feature on hybrids and B-segment European cars for some time. The tech has not, however, made the jump to larger, conventional vehicles. That all looks to change, with Ford announcing that the fuel-saving system will be appearing in its fleet of cars, crossovers, and SUVs within the next few years.
Start-stop should net drivers a ten-percent increase in fuel economy, while reducing tailpipe emissions to zero when at a stop. Those in extreme climates, like blizzard-ridden New York or the boiling South need not worry about a drop in comfort when the engine shuts off though, as things like the HVAC system and radio will still run.
Ford Europe already offers start-stop in its gas- or diesel-powered ECOnetic Mondeo and Ka, and will soon be rolling it out in the Focus, C-Max, and Grand C-Max. Ford's North American plans are a bit murkier though, as there is only a reference to a concept car equipped with the technology appearing at the 2011 North American International Auto Show. There is no indication as to when, and in what North American vehicles it will appear.
So why the wait in adding what seems like a pretty straightforward system? The answer is direct injection. DI's ability to spray exactly the right amount of fuel into the exact spot in the combustion chamber not only nets a nice increase in power and economy, but it also allows for very rapid engine restarts. These quick restarts are crucial to the overall refinement of a system like this.
When it debuts, start-stop will be a four-cylinder-only technology. It will eventually spread to V-6s and V-8s, giving Ford's overall fleet a nice economy boost.
Please scroll down for the official press release from Ford.
FORD TO EXPAND FUEL-SAVING START-STOP TECHNOLOGY FROM HYBRIDS TO CONVENTIONAL CARS, CROSSOVERS
* Ford's Auto Start-Stop system will be available for North American cars and utilities in 2012
* Ford's Auto Start-Stop system boosts city fuel economy between 4 and 10 percent
* Since 2004, Ford has sold more than 170,000 hybrid vehicles in North America with start-stop and is the leading domestic producer of the systems
* Ford has at least 244 worldwide patents on its Auto Start-Stop technology, proven on hybrids and soon to be added on cars, crossovers and SUVs in North America
DEARBORN, Mich., Dec. 27, 2010 – Ford's popular fuel-saving technology that automatically shuts off the engine when the vehicle comes to a stop – a feature found today on the Ford Fusion Hybrid and Ford Escape Hybrid and some Ford cars in Europe – will soon be added to conventional cars, crossovers and SUVs in North America.
Ford's patented new Auto Start-Stop system for gasoline engines will improve fuel economy for most drivers by at least 4 percent. The gain can be as high as 10 percent for some drivers, depending on vehicle size and usage. It can also reduce tailpipe emissions to zero while the vehicle is stationary or waiting at a stoplight. Ford has more than 244 patents for its Auto Start-Stop technology and will showcase the feature on a concept in January at the North American International Auto Show.
Auto Start-Stop is the latest example of Ford moving aggressively to bring affordable advanced fuel-saving technologies to all customers. Ford has already introduced electric power steering, dual-clutch PowerShift six-speed transmissions and other fuel-saving features as part of the company's commitment to lead or be among the leaders in fuel economy in every segment.
Ford's global Auto Start-Stop technology is smooth, quiet and seamless, and it requires no changes to the driver's behavior. In city driving when the vehicle is stopped, the engine restarts the instant the driver's foot leaves the brake pedal. When the engine is off, all of the vehicle's accessories function normally.
"For the driver, Ford Auto Start-Stop provides extra fuel efficiency without inconvenience, as it works completely automatically," said Barb Samardzich, Ford vice president of Powertrain engineering. "And, just like in our hybrid vehicles, the heater and air conditioner work as normal so drivers will not sacrifice comfort."
The global rollout of Auto Start-Stop is under way in Europe. The system, designed to work on both gasoline and diesel engines, is standard on the ECOnetic models of the Ford Ka and Mondeo, and is launching now on Focus, C-MAX and Grand C-MAX. The fuel-saving system debuts in North America in 2012 and eventually will be offered in all of Ford's global markets.
Many North American Ford customers are already familiar with Auto Start-Stop. A similar system has been installed on more than 170,000 gasoline-electric hybrid vehicles Ford has sold since 2004. Ford is the leading domestic producer of start-stop systems. In 2011, the version of Ford's Auto Start-Stop designed for gasoline-electric powertrains will be on the Escape Hybrid and Fusion Hybrid as well as the Lincoln MKZ Hybrid.
"Many of the same Ford engineers who designed the Auto Start-Stop system used on Ford and Lincoln hybrids are developing the Auto Start-Stop system for non-hybrid vehicles that will be sold around the globe," said Samardzich.
When Auto Start-Stop debuts in North America, it will be available on gasoline-powered cars and utilities with either a manual or automatic transmission as well as vehicles that use Ford's patented dual-clutch six-speed automatic transmission.
Ford's aggressive move to direct-injection EcoBoost™ engines is one of the technologies that enable the Auto Start-Stop system to work seamlessly, Samardzich said. The direct-injection system, which sprays the exact amount of fuel directly into the precise location in the combustion chamber, helps enable extremely fast engine starts, Samardzich explained. The system debuts on four-cylinder engines and will gradually be expanded to vehicles with V6 and V8 engines.
Auto Start-Stop does not require any additional vehicle maintenance. The system uses an enhanced 12-volt automobile battery and upgraded starter motor, said Birgit Sorgenfrei, program manager for Auto Start-Stop.
"Our hybrid owners tell us that start-stop is one of their favorite features," said Sorgenfrei. "When the engine is off, they know they are saving fuel and reducing emissions."
The system includes a light on the dash that alerts the driver when the engine is off and a special tachometer that moves the needle to a green zone when the engine is not running.
Ford engineers are making customer comfort a priority in engineering the system. A special electric pump keeps engine coolant circulating through the heater so drivers will stay warm in cold weather, Sorgenfrei said.
"Ford's start-stop technology conserves fuel and eliminates emissions at every vehicle idle opportunity once customer comfort and convenience are assured – this is good for the environment," Sorgenfrei said.
Auto Start-Stop is just the latest in a long list of fuel-saving technologies Ford has brought to market in recent years.
Ford's industry-leading suite of fuel-saving technologies include:
* EcoBoost engines, which combine turbocharging, direct injection and twin independent variable camshaft timing or Ti-VCT, with downsizing to deliver outstanding fuel economy without sacrificing performance
* Improved and highly fuel-efficient TDCi turbo-diesel engines in European models with low emissions and high levels of refinement
* Electric power steering, which eliminates the engine-driven hydraulic pump, lines and fluid
* Six-speed transmissions, which enable engines to run more efficiently by always selecting the best gear for fuel economy
* PowerShift dual-clutch automatic transmission, which efficiently sends the engine's power through the transmission without relying on a torque converter or hydraulic pumps
In 2011, Ford will be the only manufacturer in North America to offer four vehicles that get 40 mpg or more. Those vehicles, the Ford Fiesta, Ford Focus, Ford Fusion Hybrid and Lincoln MKZ Hybrid, are part of a dozen vehicles leading their sales segments in fuel economy, a record no other manufacturer can match.
"Ford Auto Start-Stop works so fast and so seamlessly, most drivers won't even notice it is there, though they will notice the benefits in their lower fuel bills," Samardzich said.