The 2020 C8 Corvette Is (Pretty Much) Everything We Hoped It Would Be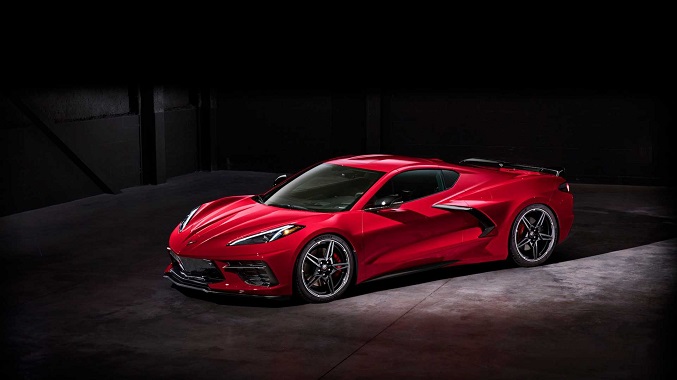 Last night in a de-commissioned US Marine Corps hangar in Irvine, California, the next generation of America's pride and joy RWD sportscar was officially unveiled to the world: the 2020 C8 Chevrolet Corvette. The buzz surrounding the new generation is perhaps the most significant in the US auto market for at least the past decade, and it all appears to be well-founded.
To be completely honest, we were a little concerned about how it would look as a midship. Photos of camouflaged test mules around the streets of Detroit and between the trees of the Nürburgring made it look a bit bulbous and awkward. Well, major props to Chevrolet for their autostereogram-like wrap job on the C8, because the production model looks incredibly beautiful.
The performance-to-value ratio is quite impressive with the new generation. Motor1 reports that folks will be able to get their hands on a base model for less than $60,000. That's a 6.2-liter LT2 V8 making around 490 horsepower, a rigid racecar-like frame that's 10% stiffer than the previous generation, midship handling, beautiful design, a Tremec 8-speed automatic gearbox, and perhaps one of the nicest GM interiors ever (finally, the blind designers have been fired), for $30,000 less than a stripper Porsche 911. Not that there's more than a sliver of overlap in the Porsche and the Corvette markets.
The new Stingray's 0-60 time is sure to raise a few eyebrows and induce a little anxiety among its European competitors as well: equipped with the Z51 Performance Package, it screams to 60 miles per hour in under 3 seconds. Sounds like a new rivalry between Bowling Green, Kentucky and Woking, Surrey could be a-brewin'.
Things we aren't quite as keen on, but can mostly forgive Chevy for nonetheless: no manual gearbox (it is soooo hard to let go), and the fighter-jet-inspired, descending-waterfall of vertical climate controls are a little gimmicky. Though, actually… imagining the driving experience that these items will help produce, especially braking and downshifting into our favorite corners on America's race tracks…we just hope the overheating problems of past Corvettes on track have been addressed here.
The hauling room in the new generation is very impressive, though it was a strength of the old car. Substitute the pictured golf bags (they really know their demographic) for 2 track gear bags, and there's probably a bit more room in the "frunk" for things like a portable jack, tire gauge, clean pair of jean shorts, etc. It wouldn't take the place of a Colorado, but we're willing to bet green money that it beats its European competition.
We're really excited to see these grace streets and paddocks around the country. That sub-$60K starting price might not be very realistic right off the bat with dealer markup (remember when the new Civic Type R debuted?), but even still, the C8 is looking like an excellent performance bargain. We're also on the edge of our seats for what the C8R is going to look like; hopefully jaw-dropping gorgeous, with jaw-dropping laptimes to boot. And at least tolerable fit and finish.