Review: Land Rover Range Rover Sport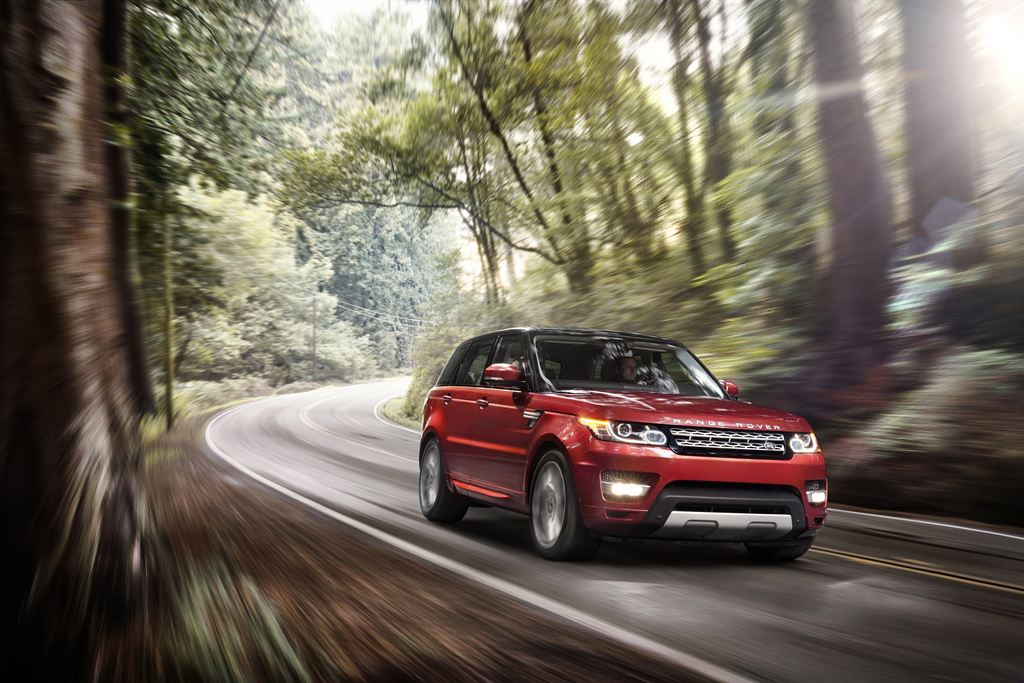 This is the Master Landing Page for the Land Rover Range Rover Sport. From now on, as we further review this car, we will be updating this page with whatever fresh content we create. Future drive reviews, updated specifications, videos, and other relevant information will all be found right here, in one convenient spot.
SUMMARY
First Look: 2014 Land Rover Range Rover Sport
This is the new, much-leaked Range Rover Sport, and more so than the new Range Rover, it appears to be an embiggened Evoque. Its profile is squatter, with a higher beltline than the upright Range Rover. That theme carries over to the front of the car, where its fascia is nearly a carbon copy of the Evoque, with a narrow front grille and squat, wraparound headlights.
The back is a similar story, with wraparound taillights, and a squareish shape. The beltline climbs up, and gives the back of the Range Rover Sport a chopped-top look, just like on the Evoque.
Don't take the previous passages as criticisms. We find the Evoque to be a great looking vehicle, and its styling features do translate well to the larger Sport.
Like the Range Rover, the Sport has been put on a huge diet. 800 pounds have been removed, thanks to a hefty amount of what the press release calls "aluminium." We think they meant "aluminum." Regardless, the Sport's structure is some 39 percent lighter than the old Range Rover Sport. Milling a few, select suspension components out of aluminum accounts for the further weight savings.
Like the Range Rover, the Sport will offer the choice of two engines: a 3.0-liter, supercharged V-6 borrowed from the Jaguar XF and XJ, and the 5.0-liter supercharged V-8 that we all know and love. Our friends in Europe also get a pair of V-6 turbodiesels, with a V-8 oil-burner being added later this year (lucky buggers).
With the six-pot under the hood, the Sport offers up 340 horsepower and an undisclosed amount of torque (probably the same 332 pound-feet found in the Jag XF 3.0). Those bemoaning the loss of Land Rover's naturally aspirated V-8 shouldn't be too upset; this new model gets to 60 miles per hour in 6.9 seconds, as opposed to the old 7.2 seconds.
Going whole hog with the 5.0-liter, supercharged V-8 will deliver a host of numbers we never tire of typing: 510 horsepower and 461 pound-feet of torque, and a sub-five-second 0-60 time.
The sole transmission is the beloved ZF 8HP, eight-speed automatic. Unlike the Range Rover, though, the Sport offers an honest-to-God gear lever instead of a pop-up dial.
Despite the "Sport" moniker, the Range Rover Sport still needs to be capable when the going gets tough. It features the same Terrain Response 2 system found on the standard Range Rover, which will automatically adapt the various off-road systems based on a variety of metrics. The Sport's fifth-generation air suspension is also from the Range Rover, allowing a wide degree of suspension adjustment and what will likely be a very comfy ride.
The Range Rover Sport is a remarkably important model to Land Rover. It's been the brand's best-selling model for years, with 380,000 units sold since it debuted in 2005. We'll see if the new model finds the same degree of success. Sales start in the third quarter of 2013.
Please scroll down for the official press release from Land Rover.
All-New Range Rover Sport Revealed
New, modern interpretation of Range Rover Sport completes three-model Range Rover portfolio
Transformational on-road dynamics with world's best all-terrain performance gives unrivalled breadth of capability
Impeccable composure and refinement delivering exceptional ride comfort
Superbly crafted, luxurious and more flexible interior with new 5+2 seating option
Weight saving of up to 420kg*, like for like TDV6 engine, brings agility and exceptional performance, with 15 percent CO2 reduction and greatly improved fuel economy
Features Range Rover premium chassis and lightweight aluminium architecture
Customer-focused technology package debuting Land Rover's 'connected car' suite of technologies
The all-new Range Rover Sport, revealed to the world today on the streets of New York, is the ultimate premium sports SUV – the fastest, most agile and responsive Land Rover ever. The Manhattan skyline was the perfect backdrop for this world premiere with more units of Range Rover Sport sold in the United States than any other global market and New York being the model's best-selling city.
Developed alongside the highly-acclaimed all-new Range Rover, the new Range Rover Sport now delivers the brand's best-ever on-road dynamics together with class-leading, genuine Land Rover all-terrain capability. The new, technology-packed, Range Rover Sport, presents customers with a more assertive and muscular exterior, more luxurious interior and the flexibility provided by the option of occasional 5+2 seating.
Exploiting Land Rover's breakthrough lightweight suspension design and innovative dynamic chassis technologies, the Sport's all-new, first-in-class aluminium architecture achieves a weight saving of up to 420kg*. This transforms the vehicle's dynamic performance, enabling it to blend agile handling with exceptional comfort, offering a unique mix of sporting luxury and a dynamic, connected driving experience, along with CO2 emissions reduced to 194g/km.
Speaking ahead of the official world premiere at the New York International Auto Show, Land Rover Global Brand Director John Edwards said: "The all-new Range Rover Sport is a vehicle that has been designed and engineered without compromise. With Land Rover capability at its heart, it is one of the most road focussed vehicles we've ever produced, but of course still offers unsurpassed all-terrain capability. It is a vehicle which is designed to be driven. We've taken ride, handling and agility to another level for Land Rover to deliver a truly rewarding, sporting, drive together with unmatched luxury, capability and versatility.
"Building on the success of the recently launched flagship Range Rover, the new Range Rover Sport also employs a vast array of new technologies which help to transform its performance, refinement and all round capabilities," adds Edwards.
Design: assertive, powerful and muscular
The dynamic new Range Rover Sport has a bold and progressive exterior design that is assertive, powerful and muscular, hinting at the improved driving performance, and positioning the vehicle clearly between the Range Rover and the Evoque through a clear, shared design DNA.
Land Rover Design Director and Chief Creative Officer, Gerry McGovern, said: "The new Range Rover Sport is the ultimate luxury SUV. A new Range Rover Sport for a new era. Relevant, sustainable and utterly desirable. Alongside the all-new Range Rover, and the Range Rover Evoque, the new Range Rover Sport represents the third distinct product in Land Rover's product revolution. Firmly establishing it as a powerhouse British brand, with exceptional Design at its core."
With a fresh interpretation of the previous model's distinctive design, the new vehicle has a sleek and contemporary appearance combined with enhanced use of space. The new Sport is just 62mm longer than its predecessor, yet at 4850mm, it is shorter than other 7-seater SUVs and most E segment sedans, bringing greater manoeuvrability and ease of parking. However, a significantly longer wheelbase (increased by 178mm) provides greater room and improved access for rear passengers.
Shorter overhangs at the front and rear, plus additional width (+55mm) give the new vehicle a more modern stance.
With its 'faster' windscreen angle, streamlined and rounded profile and lower, dynamic sloping roofline, the new Range Rover Sport is 8 percent more aerodynamic than the outgoing vehicle (Cd 0.34). The new Sport is 149mm shorter and 55mm lower than the all-new Range Rover on which it is based and model-for-model weighs 45kg less.
While it was developed alongside the Range Rover and shares some commonality with its sister vehicle, the all-new Range Rover Sport benefits from 75 percent unique parts, a significant number of which directly influence the way the new Sport looks and feels.
To maximise personalisation, customers will be offered a choice of wheel designs ranging through 19-, 20-, 21- and 22-inches in diameter including the iconic "Viper's Nest" wheel design, now available for the first time across all Range Rover models.
Capability: the broadest range of abilities in an SUV
The new Range Rover Sport has been engineered to deliver dramatically improved on-road driving dynamics, with more connected and agile handling complemented by enhanced ride and refinement. The lightweight aluminium suspension is fully-independent, with wide-spaced double-wishbones at the front and an advanced multi-link layout at the rear.
Wheel-travel is class-leading (260mm front and 272mm rear) and provides exceptional wheel articulation of 546mm to deal with the toughest conditions. Maximum ground clearance is increased to 278mm (+51mm) and the upgraded air suspension system automatically varies between two ride heights, while the next generation ground-breaking Terrain Response® 2 system automatically selects the most suitable terrain programme.
Fifth generation air suspension provides up to 115mm of regular movement, from the lowest setting 'access height' (now 10mm lower at 50mm for easier entry and exit) to the standard off-road height. An automatic extension, triggered by sensors, and a manually-selected extension, both raise the Sport by 35mm, giving a total movement range of 185mm.
The re-engineered air suspension system with its new +35mm intermediate setting means that the off-road mode can remain available at much higher speeds (80km/h up from 50km/h) than was possible before, which is valuable in terrain with long, rutted dirt roads.
All-new, the electric power steering is characterised by a lighter, more direct steering feel. A choice of two full-time 4WD systems will be offered. One system provides a two-speed transfer case with low-range option, for the most demanding off-road conditions with a front-rear 50/50 percent default torque split, and 100 percent locking capability.
The alternative system is 18kg lighter and features a single-speed transfer case with a Torsen differential, which automatically distributes torque to the axle with most grip, working together with the traction control systems to deliver excellent traction in all conditions. The default front-rear torque split of 42/58 percent is designed to provide a rear-wheel drive bias for optimum driving dynamics.
Powertrains: four engine choices from launch, with new Hybrid to follow
At launch, all-new Range Rover Sport customers will have a choice of four engines – two supercharged petrol engines (5.0-litre 510PS V8 and the new 3.0-litre 340PS V6) and two diesel engines (3.0-litre 258PS TDV6 and 292PS SDV6). The powertrain line-up will be expanded later in this year by the addition of a high performance 4.4-litre 339PS SDV8 diesel version. In addition, an innovative, high-efficiency diesel Hybrid model will be available to order later this year for delivery in 2014.
Across the range, acceleration times for the 0-60mph dash start from sub-5.0 seconds, while fuel consumption is cut by up to 24 percent – depending on model – and CO2 emissions start as low as 194g/km. All petrol and diesel engines in the new Range Rover Sport are paired with the advanced electronically controlled ZF 8HP70 8-speed automatic gearbox.
The weight reduction measures on the new Range Rover Sport open up the future possibility for the fitment of a smaller, lighter power plant, such as a four cylinder engine. A model which could have an overall weight of less than 2000kg, a reduction of over 500kg* from the previous lightest model.
Sustainability: first in class withlightweight aluminium construction
The all-new Range Rover Sport is the first vehicle in its segment to feature an advanced all-aluminium body structure, which not only contributes to outstanding agility and driving dynamics, but also delivers significantly reduced weight and enhanced sustainability.
Engineered in parallel with the highly-acclaimed new Range Rover, the new model's lightweight aluminium body structure employs a combination of pressed panels, plus cast, extruded and rolled aluminium alloy parts, so the strength is concentrated precisely where the loads are greatest. The vehicle's platform is 39 percent lighter than the previous model's.
In 2014, the new Sport's improvement in efficiency will be raised to a new level with the introduction of an ultra-efficient diesel Hybrid achieving CO2 emissions of 169g/km.
All models across the range are fitted with an advanced intelligent Stop/Start system which improves fuel consumption by up to 7 percent.
Interior: modern and luxurious with a strong sporting character
The new Sport provides an interior with distinctive Range Rover Sport design cues, superior detailing and craftsmanship.
A design benchmark in its segment, the Sport interior offers a unique blend of style and understated luxury with strong, elegant lines, top quality materials and an extra dash of sporting character. Strong, architectural forms within the interior have been enhanced by a cleaner, purer surface treatment, beautifully executed with more luxurious soft-touch surfaces in key touch points around the cabin.
The sporting ambience of the interior is also reflected in the smaller diameter, thicker steering wheel, vertical gear shifter, higher centre console, configurable mood lighting and more generous seat bolsters. The Sports Command Driving Position (CDP) combines the supreme sense of confidence and control offered by the Range Rover, with a more sporting seating position similar to the Evoque.
Interior packaging is optimised to create a more spacious rear cabin with 24mm more knee room, while occupants also benefit from the wider cabin. New, neatly integrated third row, occasional 5+2 seating can be specified. These powered seats leave a flat floor with no loss of boot space and are split 50/50.
Technology: customer-focused vehicle and safety features
The new Range Rover Sport has been developed as the ultimate 'no compromise' vehicle that will fit perfectly into its customers' lifestyles. It has been engineered to incorporate the latest developments in customer-focused vehicle and safety technologies to enhance comfort, confidence and safety behind the wheel.
New or enhanced chassis technologies for the new Sport include Adaptive Dynamics featuring continuously variable dampers (CVD), and on more powerful models, a dedicated Dynamic mode in the Terrain Response® 2 system for enthusiastic on-road driving. This system is combined with twin-channel Dynamic Response active lean control, a Dynamic Active Rear Locking Differential, and Torque Vectoring by Braking, which transfers torque to the outside wheels during cornering, reducing understeer.
The new Range Rover Sport offers a comprehensive connectivity package enabling customers to stay seamlessly connected to their vehicle, business and family lives.'Connected car' technology allows the driver to check the status of the vehicle via an App installed on their smartphone and also provides support features such as Stolen Vehicle Tracking, Emergency Call and Land Rover Assist Call. Finally, a high bandwidth Wi-Fi Hotspot can be installed in the vehicle so that passengers can use the internet and get the best data connection for their smartphones or tablets.
A new, optional colour Head-Up Display presents key vehicle and navigation data without the driver needing to look away from the road, using laser technology for superior clarity and contrast.
The new model introduces a digital camera system which supports three driver assistance features that help deliver improved driver awareness: Lane Departure Warning, Traffic Sign Recognition and Automatic High Beam Assist. Another unique innovation on the Sport is the new Wade Sensing™ feature that provides 'depth' information when driving through water, made even more beneficial to the driver now that the Sport's maximum wading depth has increased by 150mm over the previous model to 850mm.
Conclusion
The all-new Range Rover Sport, with its greatly enhanced versatility, is destined to continue the outstanding success of its predecessor, which quickly became one of Land Rover's most popular models following its introduction in 2005, with sales exceeding 380,000 units to date.
Designed and engineered at Land Rover's development centres in the UK, the new model will be produced in a state-of-the-art low-energy manufacturing facility at Solihull, UK.
On sale during the third quarter of 2013, the new Range Rover Sport will ultimately be introduced in 169 markets worldwide. Most markets will offer customers a choice of four equipment levels (S, SE, HSE and Autobiography), plus new 'Dynamic' versions of the HSE and Autobiography. An extensive choice of colours, finishes and details will enable customers to create the ultimate bespoke SUV.