Review: 2020 Honda Civic Type R Touring — Pulse-Raising Precision And Power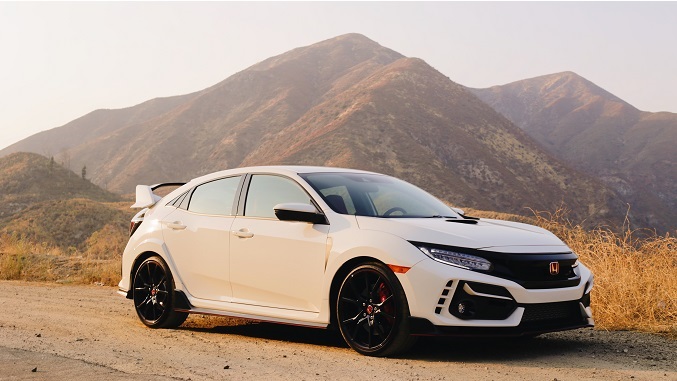 All photos by Peter Nelson
Who doesn't love a hot hatch? Take a small economy car with great utility, add some nice turbocharged power, sporty handling, and an aggressive baritone exhaust tone, and it's almost guaranteed we enthusiasts will get a kick out of it.
But what about when there's a newish kid on the USA-market-block that comes all the way from Swindon, UK, has a wild price tag, and even wilder bodywork? The 2020 Honda Civic Type R has only been here since the 2017 model year, and is the first Type R badge we've seen since the iconic DC2 Acura Integra. It's thoroughly impressed reviewers, professional drivers, and track day enthusiasts, and has even been racking up trophies all over the globe in touring car racing.
Do the specs match the price tag and bodywork? Our initial thought about the Honda Civic Type R pre-testing, and after driving such wildly-fun new hot hatches as the Hyundai Veloster N, was, is it really worth the premium over the Veloster N when they're pretty close in power, weight, lap times, and even TCR racing podiums? The Type R comes in at $37,950 out the door, whereas the Veloster N is a whole eight-grand cheaper when equipped with its available Performance Package. Plus, at least in TC America TCR-class, the Veloster N has been cleaning up with top-spots on the podium.
Suffice to say, we had an eye-opening and pulse-raising week with the 2020 Honda Civic Type R Touring. Huge thanks to Honda for throwing us the keys; the all-day price of our tester was $37,950, with no added options or accessories.
Exterior
Positives: it stands out, great race-car-for-the-road looks, great-looking wheels
Negatives: it stands out, it looks a bit bulky from some angles
Let's get this out of the way first. People have commented quite a bit in disdain and affection over this FK8-generation Civic Type R's bodywork. Its huge spoiler, massive side skirts and front splitter, pushed-out arches, race-car-inspired blank plastic bits that don't do much (though the front ones as of 2020 have inlets for improved cooling), massive 20" wheels with minuscule 30-series tires; there's a hell of a lot going on. Plus, it looks a bit bulky from certain angles, and all that lower bodywork just means an increased chance of scraping it up in daily driving.
The Honda Civic Type R's styling is not for everyone, but we appreciate it being something different. It stands out, and isn't another grey/black/white hatchback that blends in with the rest of traffic. It's the most TCR-car-for-the-road-looking compact on sale today, kind of like how the 2020 Lexus RC F looks like a GT Daytona car for the road. Race-car-for-the-road styling always gets a thumbs-up from us, as long as it's got some wild, race-car-for-the-road performance to back it up.
Does its performance indeed match its styling? Let's dive right in.
Engine and Transmission
Positives: Great power, especially above 4,000 RPM
Negatives: None
Under the wide front hood of our tester was Honda's latest K-motor, the turbocharged K20C1 four-cylinder (made in Ohio, by the way), pushing out 306 horsepower and 295 lb.-feet of torque. Sent through the Type R's six-speed manual transmission, it helps the 3200 lb. hatch reach 60 MPH from a stop in five seconds flat. This engine is an all-around gem; smooth idle, great tone with fun turbo noises, little lag, decent mid-range torque, and brilliant torque from 4200 RPM to its 7000 RPM redline.
It revved up and down very quickly, making rev-matching a total joy when combined with its excellent pedal placement, and pulled like a freight train above 4200 RPM with an accompanying angry, baritone scream. Throttle response and the K20C1's mood changed a bit between each of the Type R's modes: Comfort was slightly relaxed but not annoyingly laggy, Sport was enthusiastic, and +R was sharp and a bit more aggressive. The exhaust wasn't obnoxious however; it was sporty and louder-than-average in +R mode, though didn't make any obnoxious burbles, crackles, or pops (which we usually dig, but they get a tad old after a while). Fuel economy was very good as well: it's rated at 22 MPG city and 28 MPG highway; we saw a combined of 23 after a week of having a heavy right foot.
When it came to connecting the K20C1 to the six-speed box, Honda definitely went out of their way to make shifting and balancing the clutch and gas pedal a far better experience than in the significantly-cheaper Si. We regarded Si's inputs as decent, but not ideal due to its rev-hang between shifts and 90s-gaming-joystick-feeling shifter.
We'll spare you the bolt-action rifle comparison, and just say that shifting the Type R was incredibly fun. It engaged each gear with a solid, precise, positive feeling, and could be shifted quickly and effortlessly. In everyday commute driving, we found ourselves resting our hand on the lower-right side of the shifter boot and moving the stick between gears entirely with just our hand and wrist. Clutch action was light and it was easy to find the take-up point, too. Like other modern manuals, the ECU would automatically blip the throttle coming off the clutch, which made shuffling along in slow traffic less of a pain.
Suspension, Handling, Steering, and Braking
Positives: tons of feel and precision, tight steering, great compliance, strong brakes
Negatives: none
Like the Si, the Type R had excellent steering feel for a modern electric rack, but it was even better. It ironed out major imperfections but translated surface topography very well, which synced up brilliantly with its taut, sharp response. The smallest of inputs made the noise change direction; not in a twitch or scary way, but rather with a solid and confidence-inspiring feel.
This steering feel and action then synced up brilliantly with its suspension. The Type R's adaptive dampers changed a bit between its Comfort, Sport, and +R modes; we appreciated that Sport was the default upon startup. In Sport and +R, the best way to describe how it steered and handled is knife edge; it had a ton of sharpness and precision, absolutely no body roll in R+, and made slicing through tight canyon roads an absolute blast. Taking a quick look at the Type R's front suspension, it makes sense, and also helps justify its premium over the Si and competing Veloster N. There's a ton more than just default hatchback MacPherson stuff between the front brake rotors.
The Type R took cutting through technical roads to another level by rewarding precision driving and quickly pointing out flaws. In +R mode with traction control off, the angry hatch would quickly understeer if too much throttle was applied mid-corner or at corner-exit. Smooth inputs made it hustle through sections significantly faster than being ham-fisted and jerky. We know this is standard procedure for any car, but it was more apparent than usual in the Type R. The front-end changed direction with incredible precision, and never exhibited any drama if we were carefully and remembered our FWD-fundamentals. Long sweepers were truly pupil-dilating; thanks to its huge 245/30/20 Continental tires, limited-slip differential, the amount of speed it could hold or gain through a long sweeper and stay firmly planted was impressive, and made us wonder if the massive rear wing had a hand in this.
Compliance in general was very good. When cranked up to +R mode, it was definitely rough on anything that wasn't smooth, fresh tarmac, but it wasn't nearly as punishing as the Veloster N when set to N mode. Comfort wasn't annoying like Comfort or Eco programmed by other makes, meaning it wasn't too over-dampened and anemic. Sport was a great inbetween, and our primary choice. It helped smooth out technical sections of road up in the mountains that had a choppy, weathered surface, but still translated excellent feel and had almost no body roll.
The big Brembo brakes worked flawlessly; grabby but not too grabby, excellent pedal feel, easy modulation, and great stopping power for normal street driving as well as repeated hard braking on tight canyon roads.
Bringing all of the sensations produced by the Type R to our fingertips was a well-appointed interior, which was also an excellent place to be for this tall author.
Interior
Positives: Sports-car-like driving position, comfortable, the most tall-person-friendly hatchback we've ever been in, good tech, little windows-down wind noise, great sound system
Negatives: Seats had little adjustability, no blind-spot monitoring or LaneWatch
The Type R's interior was a comfortable place to be, and possibly the most tall-person-friendly hatchback interior we've ever sat in. With an Arai GP 5W racing helmet firmly attached to this 6′-3″ author's noggin, there was plenty of headroom with the seat set to a performance-driving position, which is frankly unheard of. Normally we have to make do with reclining the seat back a bunch, or investing in a low aftermarket solution. The same went for the rear seats: there was a lot of room behind the unadjusted front seat, with nice seat bolstering and forward visibility to boot. Combined with a low, sports-car-like driving position, the front seat's great leg bolstering and decent torso bolstering really improved spirited driving; we felt like we were in something a bit smaller and more low-slung than a 3200 lb. five-door hatchback.
Adding to the fun behind the wheel, this was an excellent windows-down cruiser at almost every speed. There was very little wind noise on the highway up to about 80 MPH, and even then, its 12-speaker, 540-watt sound system didn't need much cranking to overcome the mild buffeting. Sound quality was excellent; we don't think we had ever cruised with the windows down, listening to podcasts during highway commuting before.
Interior materials were nice: the new-for-2020 alcantara-clad steering wheel was grippy and comfortable, dash plastics were fairly solid, the shifter was a heavy-feeling piece of aluminum, and all buttons and knobs generally felt good.
Visibility was good, though the passenger side rear-three-quarter was tough to see out of while making lane changes. While the Type R comes with Honda Sensing driver assistance tech, it didn't have LaneWatch like the Civic Si or Fit, which is when the turn signal stalk is set to blink left, it displays a camera view in the infotainment screen of the driver's blindspot). The Type R had no blind-sport monitoring either, which is unfortunate considering the Type R's just-about-40-large price tag.
Driver-aid tech was excellent; we raved about Honda Sensing in our Si review, and it's still brilliant in the Type R. It's easy to set, Lane Keep Assist doesn't awkwardly shuffle around in the lane trying to find the center, and one can upshift and downshift while radar cruise control is on.
All-Around Top Notch
We thought we were impressed with the Hyundai Veloster N we drove last year (and recently as a little refresher), but the Type R is indeed just a slight cut-above. Whether it's worth the premium is up to the consumer. Affordability, how much loud bodywork they like, and brand loyalty come into play as well. The Type R is sharp yet comfortable, roomy yet sporty, fast yet economical, grippy yet wild; it fulfills the requirements of a hot hatch quite well, and takes the hot part to a new level with its sporty, race-car-for-the-road styling. Plus, it's incredibly versatile with as much as 46.2 cubic feet of cargo room, making it a strong contender fir not just daily-able fun, but weekend trackday beast status as well.
Check out our POV video: