Review: 2016 F80 BMW M3 6-Speed — Building Upon Brilliance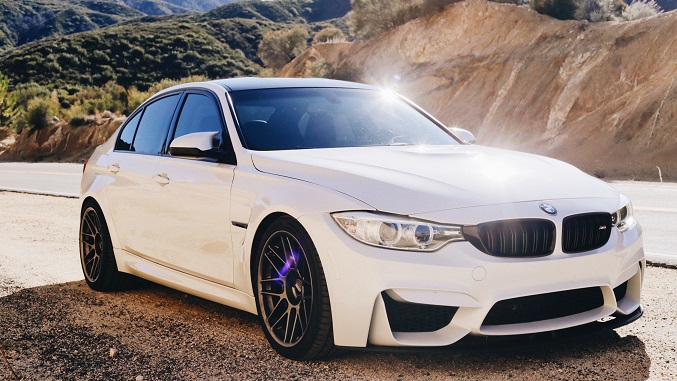 The old adage that BMWs are the kings of the road has always been a pretty accurate statement. They're designed to tick off the miles on long stretches of highway, cruising comfortably and confidently at a high rate of speed, and have the ability to pass and overtake with ease. In addition, they eat up corners and form excellent foundations as racecars. In terms of which model is the best representation of this, the M3 wins hands down.
Sure, there are bigger, more comfortable M options, like the new 2020 M8, and various X-Series Ms (which possess alphanumeric names that are more than two characters… we won't count them), as well as some modern muscle by other manufacturers that give the M3 a run for its money. The M3 has always been the authoritative measuring stick; the king that everyone else has thrown down a ton of money trying to de-throne, and haven't quite succeeded yet.
The latest, F80-generation M3 is one of the best. Everyone has their generational preferences, but when it comes to a performance 4-door all-rounder with modern amenities and technology, the F80 wins. Plus, it has the latest generation BMW S engine under the hood: the 425 horsepower, twin-turbo S55.
Recently, we were given the opportunity to test one of these modern Bavarian brutes. In fact, ours had three pedals and 6 manual gears, too; we were beyond excited to hit the road and have some fun.
We got our hands on this 2016 BMW M3 6-speed thanks to Lang Racing Development. Lang is a performance and racing shop in Lake Forest, California, that specializes in BMW and Porsche tuning, and have established themselves as one of the best in Southern California. They have an amazing facility and offer a very extensive list of services; there's nothing they can't do when prepping a BMW, Porsche, or other performance car.
The F80 they lent us is actually for rent on Turo. Lang's plan is pretty cool: rent it out and make a little scratch, but also utilize it as their development car for F80 performance upgrades. Their aim is to pump out a very, very high number of horsepower from its S55 engine and modify it into a track beast. As it gets more and more built up, they intend to offer it for rent for track duty as well, which isn't something seen very often. As we'll discuss, it's a brilliant base chassis to start with.
Business ought to be good on Turo, as this essentially-stock (for now) F80 was truly a blast to drive for a few days. Here's a rundown of how it all went.
Engine: Power Everywhere, With That Signature BMW I-6 Feel
The 3.0-liter, all-aluminum inline-6 under the hood of the F80 M3 is truly marvelous. Power is generally available everywhere, with all 406 lb.-feet of torque at the right foot's disposal as early as 1850 RPM. Throw in maximum horsepower available at 5500 RPM, in an engine that likes to rev up quickly to its 7500 RPM redline thanks to its twin turbochargers and BMW's latest VANOS tech, and it makes for an engine with tons of character. Even mild, everyday-driving pulls up to 3500 RPM sound and feel brilliant, which remind its occupants on the regular that it's truly a sports sedan for enthusiasts.
Higher up in the RPMs, the engine's roar is thankfully very much like those of its E36 and E46 forefathers, as it possesses that signature, angry, baritone, BMW inline-6 growl that we all love. This F80 was equipped with an aftermarket exhaust system by legendary German exhaust tuner Remus, which only improved the factory tone and didn't create any droning. When shifts were executed north of 6000 RPM, the turbos made glorious, very-audible blow-off valve sounds, too, adding to the Sturm und Drang of getting shoved back in the seat by the angry S55 engine.
Getting to 60 MPH is easily achieved in around 4 seconds, as the M3 weighs in at a fairly svelte 3,500-or-so lbs.: not as svelte as an Alfa Romeo Giulia Quadrifoglio, though far lighter than a Lexus RC F. When traction control is turned off and Sport Plus mode is selected, the large sedan really comes alive: the rear end easily steps out when the revs go above 4000.
Thanks to the M3's well-balanced chassis, letting the rear end step out is quite achievable and incredibly fun at low speeds while turning onto larger streets, trail-braking deep into quickly ending left turn arrows, and taking off down empty, straight country roads. It would be even more blissful on track, and we now understand why we've personally witnessed drivers hang their F80 M3s' rear-ends out in front of us at Buttonwillow and Chuckwalla on multiple occasions.
If one seeks poise and control without the potential of looping one of these mighty sedans in the middle of a busy intersection, keeping traction and stability control on is a good move and makes any average schlub (like us) feel like Hans Stuck. While ripping around Southern California on major thoroughfares and fun canyon roads, it quickly became apparent where traction and stability control were stepping in. These nannies absolutely prevented future news coverage of a scorching wreck up in the San Gabriel Mountains, beautiful carbon fiber roof (standard on all M3s and M4s) and all.
Drivetrain
BMW did enthusiasts a real solid by offering 3 pedals in their current M cars, and its truly a treat in the F80 M3. They didn't produce as many of them, but bless them for doing it. Pedal placement was excellent, the shifter's action and engagement were very good and springy, and with the happy-to-spin-up S55 engine, it was quite easy to rev-match. Auto rev-match is easily defeatable with one quick press of a button. The solid, connected feel of the shifter had the signature BMW feel as well; any connoisseur of previous generations would feel right at home. Thanks to the ECU's tuning and low-end torque, wading through brutal bumper-to-bumper traffic meant only having to ease off the clutch to creep along, no addition of the right pedal necessary.
Suspension, Handling, And Brakes
Affirming the M3's title as King of the Road, its suspension and handling were excellent. Behind its 18" aftermarket Apex ARC-8 wheels is all-aluminum front double-wishbone front suspension, and all-aluminum rear multilink suspension, plus adaptive dampers; a Bauhaus-like masterpiece. Switching between Efficient, Sport, and Sport Plus modes, the suspension made noticeable adjustments that suited each one well.
In regard to sifting through the modes in general, we really enjoyed being able to quickly configure the engine, dampening, and steering very quickly (with the use of actual, physical buttons!), and play around extensively with different formulas. Our favorite by far was suspension set to Sport Plus, steering in Sport, and engine in Sport Plus. We dug the loud pipes save lives effect that also freaked out the squares while turning onto a big, open streets (or just made us look like jerks).
When all modes are quickly configured to Efficient for a chill, more efficient highway drive, the M3 has excellent highway manners and soaked up imperfections well, with no major tram-lining and excellent overall comfort.
The ride and handling were major symptoms of the M3 having This Is Too Easy Syndrome. What we mean by this, is the M3 handled so well and felt so tight that it reaches some very impressive cornering speeds (despite our tester's lackluster tires), and soaked up imperfections very well. The ride was solid-yet-sharp, making precision maneuvers a breeze. We had to re-adjust our internal gauges quite a bit, as we were expressing some colorful language while taking a peek at the speedometer during corner exit. This thing was too easy to comfortably rip down a canyon road in, or exit from the interstate at near-triple-digit speeds. Combined with excellent acceleration, this is all incredibly fun, though it could prove to be a huge burden if Johnny Law were to intervene. Also, see above where we mention the potential of becoming a fiery wreck on breaking news.
No surprise to anyone, the brakes were brilliant, despite being equipped with standard factory performance pads and fluid. We'd try to get a little more poetic about them, but they just simply worked so well; a little grabby, excellent pedal feel and modulation, and they brought the 3500 lb.-or-so sedan to a halt quite well.
Interior And Exterior
One of the M3's strongest suits is that it fits all kinds of body types, and is especially accommodating for tall folks. With the plush, comfortable, yet supportive sport seats dropped as low as they can go, there's plenty room for someone between 6'0" and 6'5", with real estate to spare for a helmet. The driving position was excellent, and the seats have a great range of adjustment in the lumbar region. Visibility was surprisingly excellent, with barely any hint of a blind spot looking through the right and left rear three-quarter, and it had an overall nice greenhouse. We felt like we were hunkered down in a genuine sports sedan, yet could see out of it with ease.
The dash and gauges all come together nicely for that signature clean, BMW look, and pretty much all surface materials felt great with of ton of stitched leather, as well some nice carbon accents and substantial-feeling plastics. From button presses to door handles, and the hood latch, the F80 was a fine example of solid German interior quality. Our one gripe was the rim of the steering wheel; it wasn't leather wrapped and felt a bit soft and chintzy, as if it might start to decompose and get sticky after some years and mileage.
Backseat space was excellent, even with no compromise made to the front seat's tall-dude-fitting position; an absolute rarity in modern vehicles of this size. The trunk was very spacious as well, with almost enough room to fit three 205/50/15 200TW tires. Good litmus test? We think so. We aren't sure if it was standard equipment, but the trunk came with big pieces of netting that fastened down quite securely. This is incredibly useful in a car that does so well in the twisties, changes direction well, and hits 60 MPH from a standstill in just over four seconds.
We prefer the look of the F80 M3 over the old E92; the front grille looks great, and its overall design is very athletic and uniform. Like a lot of German sedans, it seems to look a tad smaller in real life as opposed to in photographs. It's more chiseled-and-slender than big-and-bulbous, which is more the M8's territory.
Final Thoughts
We had a blast with the F80 M3 for a few days. Our mileage was pretty significant during just four short days: two fill-ups, one trip up to Bakersfield from Long Beach and back to pick up some free tires, a long afternoon up in the San Gabriel Mountains, three days of commuting, and every chance taken to just go for a quick spin. The M3's title as King of the Road is quite fitting; it was so easy to tick off the miles, and we were genuinely sad to give the keys back.
Speaking of giving the mighty sedan back to Lang Racing Development, here's a bit more on their strategy with turning it into an absolute monster. When asked why they picked it up and what their plans were, owner Andrew Lang gave us a thorough rundown:
We like that the F80 is a manual because most of our plans at the moment are about the engine and finding weak points with the platform. We already know the bottom end won't survive what we'll throw at it, so we are having some custom Carrillo rods and CP pistons made that can tolerate 1500 horsepower to give us the headroom we need. We are also going to be installing a crankshaft hub pinning solution of our own brand: our machinist is designing that product now, and we'll make it available online for retail when it's finished.
These cylinder heads come from the factory without any CNC porting on the intake, they're just cast, which leaves a lot of room for flow improvement. We are having a CNC program written to port the heads, and we're also going to be either designing, or using a Supertech valve spring kit to prevent valve float at high boost. Some Ferrea valves will be thrown in for fun as well.
For shoving the air into the motor, we are still on the fence about which turbocharger package to go with, as there are quite a few available. Pure Turbos Stage 2+, KRATOS, and DocRace are the three options I'm considering right now; leaning towards KRATOS. From our experience with customers' cars, this platform seems to run out of headroom due to the camshaft and cylinder head limitations at the top-end around 900 WHP or so. It runs out of fueling at around 700 WHP, so we are going to have to figure out a solution there. Right now I am leaning towards using the stock ECU with 100 octane. To add fueling, I'm thinking about using what a lot of people use for methanol, but I would just use fuel. I would run 100 octane in the tank + 100 octane port injection to add additional fueling over what the direct injection can do. I think this is the safest way to do things that won't confuse the ECU, but we'll see, this is all just theory at this point.
Of course we will need to figure out a better intercooler setup and a very free-flowing exhaust to get this to work. The exhaust will likely have to be custom.
We haven't even thought about suspension upgrades yet but that will likely be part of what we'll do, too, since we're not a drag racing shop.
Thanks again to Andrew and Jonathan over at Lang Racing Development; we wish you all the luck and success with this build strategy!
Check out our POV video below: