Quick Drive: 2011 Scion tC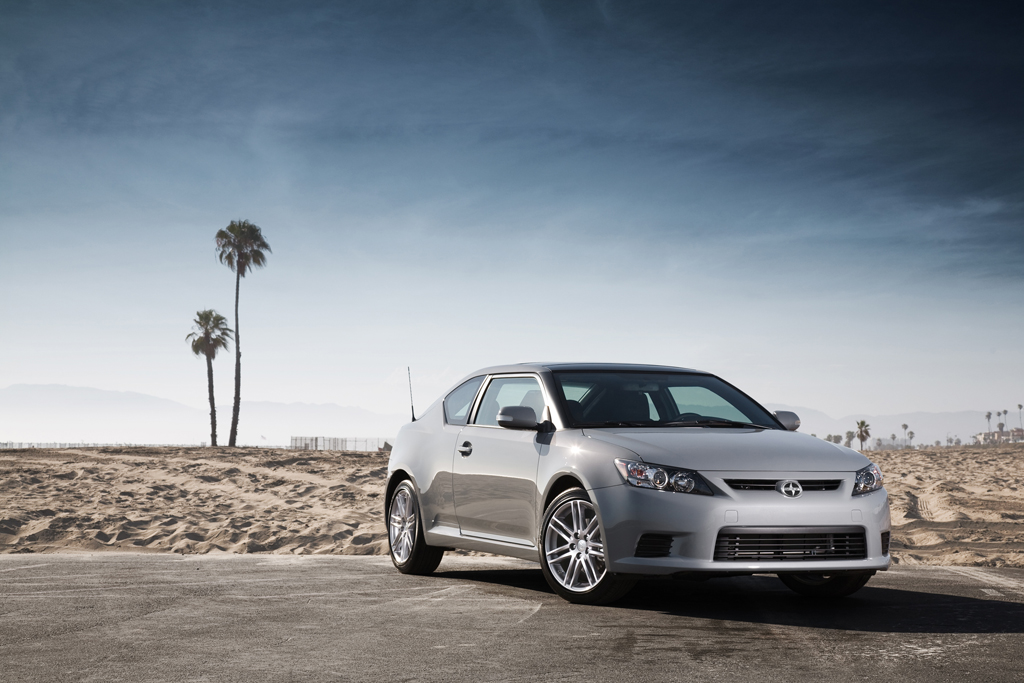 Wow, what an improvement!
The new Scion tC removes a lot of the things I didn't like about the last car. It feels a lot more solid, and less bouncy in the suspensions, which also gives it the nice characteristic of being a better communicator. Steering, while still a bit numb, doesn't feel like it uses a system of rubber bands to turn the wheels. The chewy, springy sensation in the pedals is also fixed, making footwork in the tC more accurate and, to a greater degree, more pleasant. Scion even addressed the front seats, building in a lot more bolstering and comfort this time around.
I also think the new tC has a more fitting look than before. The old tC too much resembled other cars on the road. Now, with its new design—particularly the front bumper and the fat C-pillar—give it a more imposing appearance. Still, if it were my money, I'd save up the three grand or so to get into the Honda Civic Si.
—John Beltz Snyder, Production Editor
In terms of driving dynamics, John is right, the 2011 tC is head and shoulders better than the first-gen model. It still has one particular issue that I was really quite annoyed by, though.
Everything feels tighter, more pinned down, and more responsive. That rubberiness that invaded many aspects of the last-generation, while not completely eliminated, has been seriously toned down. The six-speed manual is somewhat notchy, but there are certainly worse units out there. We'd like some shorter throws as well.
The suspension has thankfully been firmed up, and while it is somewhat uncomfortable on rougher roads, there is an acceptable tradeoff between handling prowess and overall comfort. This car feels far more confident in the bends than the one that it replaces, with noticeably less body roll.
I also (and I can't believe I'm saying this) need to single out the Camry-sourced 2.5-liter four-cylinder. It is excellent in this application. I wouldn't mind more power, but unlike the first-gen model, it's more of a want than a need. For most everyday purposes, it provides plenty of juice to get the tC motivated. It doesn't sound half bad either. Drone isn't really an issue, and it even sounds somewhat sporting under wide-open throttle.
One of the things that I genuinely dislike about the tC is the infuriating radio setup. This is far and away one of the most unintuitive and frustrating items I've ever experienced. It features the kind of small and mostly unreadable buttons that you find on cheap aftermarket stereos. The primary knob that handles the audio controls, volume, and station tuning can be pushed, spun, and tilted like a joystick. Not only does it make sifting through the various radio settings confusing, but a simple bump in the road means that turning up the volume can result in completely changing the station, or entering some random submenu. Scion, I get the brand's need to be edgy and cool and youthful, but that does not mean confusing, unintuitive, and stupid. If you are buying the tC (and you should, it's a big improvement), do yourself a favor and snag the touchscreen navigation with the integrated audio controls.
—Brandon Turkus, Test Fleet Manager
The handling performance of this tC is really remarkably compared to the outgoing car. I was most impressed by how fast the coupe was willing to rotate around a point—seriously close to shorties like the Mini Cooper and the Fiat 500 in this category. Much of that is down to the really quick steering ratio, I'm sure. I like it quite a lot.
Fast steering, flat cornering, and the above-mentioned hard-ish suspension seem to point to this tC being an even better platform for tuning than the last one. All of these underpinnings make the car feel like it could easily accept another 50 horsepower without batting an eye. Time for the TRD boys to get cracking on a supercharger kit, I think.
I should probably point out that I had no memorable problem with the stereo controls. Certainly, I didn't consider them outstandingly bad for a $20K car. Perhaps they have been specifically oriented for a Gen X audience (me), rather than the Gen Y crowd (Mr Turkus)? (I knew that Star Wars/Mud Honey/Janeane Garofalo test to turn the radio on seemed weird.)
—Seyth Miersma, Editor-In-Chief
Pros

New 2.5-liter gives the tC some added muscle in this generation
Much more solid driving dynamics than previous model
Quick steering makes tight roads a lot of fun
Cons
Still a little rough in terms of NVH compared to the competition
Interior fit and finish is only just acceptable at this price point
Ultimately still feels underpowered for an enthusiast driver (probably less so for a "normal" driver)