Quick Drive: 2011 Jaguar XJ Supercharged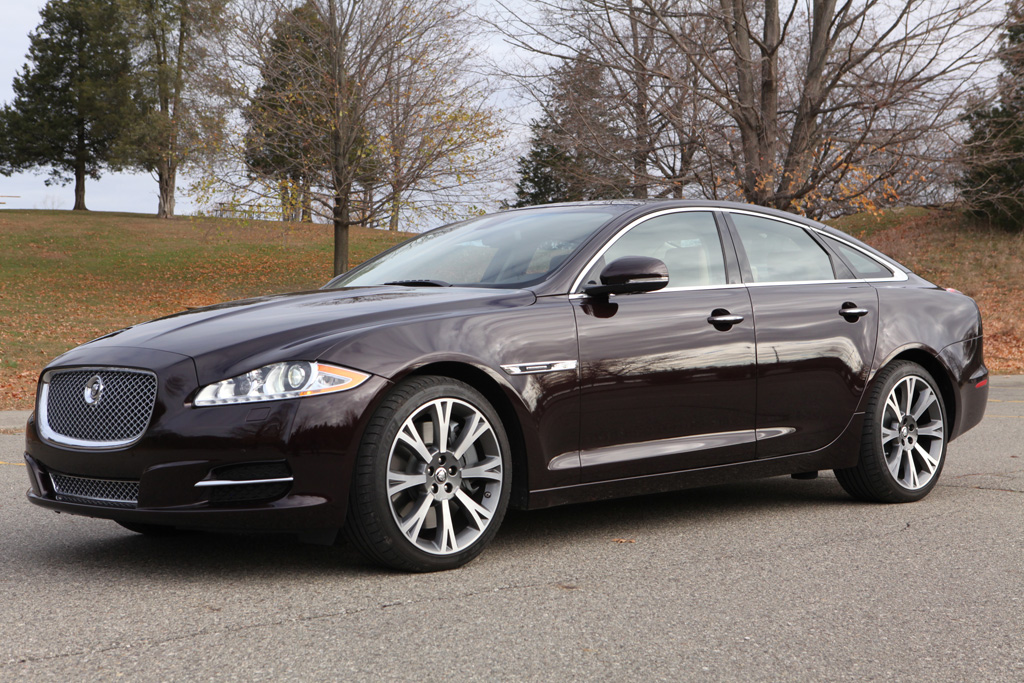 Photos by Graham Driver
I have, with many of my fellow Winding Roaders, been a fast fan of the 2011 XJ since its launch late last year. A phenomenal looking machine, that draws compliments and stares wherever I have the pleasure of driving it. Jaguar is one of those lucky automakers that seems to have been able to keep public opinion of its brand quite positive, despite having produced more than its share of poor vehicles. And now the Jag lineup is chock-a-block with class-competitive cars, so the latent adulation has real merit.
The XJ is a perfect flagship in this new golden era for Jaguar, so I was excited to have my first chance behind the wheel of one of the standard wheelbase versions. One would think that, save for the range-topping Supersport, this supercharged and more compact XJ should be the car to have for enthusiast driving. And that's true, at least up to a point.
Certainly the supercharged 5.0-liter V-8 doesn't disappoint. This is an engine that offers blink-fast acceleration when the driver asks it up, and doesn't have any issues pulling the large (but light for its size at 4281 pounds) car up to very high speeds. I should probably make two points here though:
1. While the supercharged motor is absolutely faster, the cheaper, lighter naturally aspirated engine (rated at 385 horsepower and 380 pound-feet) feels great in this application, too.
2. The weight difference between this XJ and the long-wheelbase car is only about 40 pounds. With the two being so close, the driving dynamics, as they relate to the engine and power delivery, are virtually identical.
There is probably a small, but evident difference in handling between this and the LWB car to be found, if we were to drive the two back-to-back on a very challenging stretch of roads, or on a circuit. But the XJL is such a fine handling car to begin with, that opting for the shorter version should really be a choice that is dictated by budget and need for outright room for the rear passengers, rather than by some notion of shorter meaning more nimble.
—Seyth Miersma, Editor-In-Chief
This was my first experience with the new XJ. And a few things really stuck out to me.
First, it's gorgeous on the inside. The dash is especially done well, sculpted in leather and wood. Sitting down in the front seat feels like bellying up to a cozy bar in a castle library. It's a beautiful blend of classic and modern styling, and it feels very rich, warm, and inviting. For the driver, too, there's the LCD display in lieu of a traditional instrument cluster, which is both unique and quite practical. Rear passengers also enjoy a nice, comfortable space in the XJ, but the driver's seat is definitely the place to be.
The supercharged engine is more than enough for this car. I was surprised at how much urge this thing had down low. A luxury car doesn't need this sort of speed, but I'm not complaining. The car can still be driven smoothly enough, but it'll snap your neck back if you're not careful. I'm not complaining.
The third thing that struck me was the quickness of the steering in the XJ. At low speeds, you don't have to toss the wheel too far to either side to get the car to rotate. Yeah, it has no bearing on it's actual turning ability (it has a turning circle of over 40 feet), but it definitely takes a lot of the pain out of driving in town It feels nimble, even, when combined with the quick response of the engine.
The new XJ really is an excellent package. It definitely earned its place on our
Top 12 Cars Of 2010.
—John Beltz Snyder, Production Editor

Pros
Stunning to behold inside and out
Wide use of aluminum makes for a very lightweight car relative to the competition
Supercharged V-8 is addictively torquey and quick to respond to throttle input

Cons

Isolation dulls the thrill on dynamic roads
Touch screen media and HVAC controls are not up to snuff in this tech-savvy market segment
We're still not convinced we love the video game-like all digital instrument panel