HOCO-What? Sparco Race Suit Review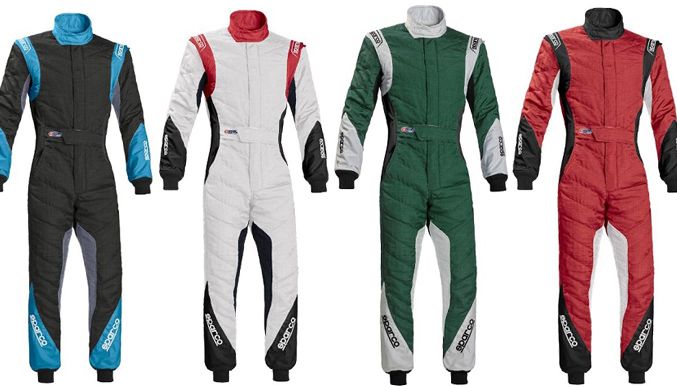 When we wrote our first racing suit buyer's guide, we emphasized what racers should look for in an ideal racing suit: a high level of protection, certification, light weight, good fit, and features. And while there are suits on the market that check off all those boxes, not many do.
Enter the Sparco Eagle RS-8.1 racing suit.
(2018 update: the Sparco Eagle RS-8.2 racing suit is now available. It has the same great features with added color options.)
Single Layer Suit with Multi-Layer Protection
The FIA-rated Sparco Eagle RS-8.1 suit is constructed with an updated and softer HOCOTEX material (readers may remember HOCOTEX from our review of the Sparco Victory racing suit). This Sparco-exclusive material creates a suit constructed with single layer fabric, but with the protection of a multi-layer suit.
Constructed for Comfort
With its thinner fabric, 360-degree arm gussets, and large side and back stretch panels, comfort was a high priority when Sparco designed the Eagle RS-8.1. The racing suit also comes with pre-curved arms and legs, providing better driver comfort when in a driving position.
The HOCOTEX construction also makes the Eagle RS-8.1 one of the lightest racing suits available.
Improved Heat Protection
The Eagle RS-8.1 has over 60,000 microcell air chambers, providing a 10-12% increase in heat protection (compared to the average 300 air chambers in a typical suit).
Retailing at $1650, the Sparco Eagle RS-8.1 is available in 6 colors, and can be found at any of Winding Road Racing's four retail locations as well as online at WindingRoadRacing.com. Also be sure to check out our entire selection of Sparco racing suits.