Gear Spotlight: Molecule Complete Care Kit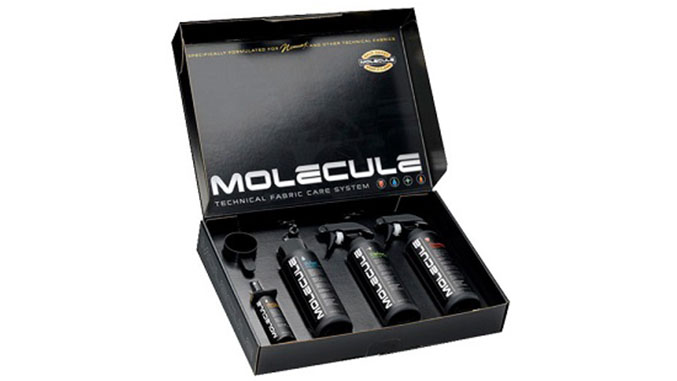 It's a truth that racers know all too well: particularly when the weather is hot, your racing gear can get pretty grimy both inside and out very quickly – even after just a session or two. Putting on a ripe suit is often a less than inviting proposition, but dry cleaning bills can also add up quickly. Washing your racing gear with the rest of your laundry is typically not recommended since the additives in laundry detergent that can attract moisture and oils, making the material less effective at keeping you safe. So what's the alternative? The Molecule Complete Care Kit – it comes with everything you need to keep your racing gear clean and stain free without the expense of dry cleaning or the hassle of hand washing.
What is it?
The
Molecule Complete Care Kit
is a system of cleaners designed specifically to refresh, protect, wash, and spot clean spot clean fire-resistant materials like racing suits, gloves, Nomex underwear, socks, balaclavas, and other technical fabrics.
Let's face it – racing gear isn't cheap, and the last thing you want to do is ruin your gear and/or make it less effective at keeping you safe by using the wrong cleansers to care for your equipment. The products in the Molecule Complete Care Kit have been specially designed to combat the soils of the racing environment and help protect your gear against the rigors of use that come along with racing.
Why would I want it?
When it comes to proper care for sensitive fabrics like Nomex and other fire resistant material, your choices are indeed pretty limited. Until recently, sending it off to the dry cleansers for a healthy chunk of change or hand washing (which is very cumbersome with something as large and bulky as a racing suit) were basically a racer's only recourse. But now with the Molecule Compete Care Kit you can spot clean and machine wash your racing gear like you would any other garment.
The antimicrobial formula in Molecule Refresher is also designed to reduce and/or eliminate odors from those materials as well, which is a nice gesture to offer your opponents when you're raising the trophy above your head from the podium.
What's included?
The Molecule Complete Care Kit consists of four main components:
Molecule Protector (16 oz. bottle): Bonds to Nomex fabric to help repel flammable stains and maintain breathability
Molecule Wash (16 oz. bottle): Effectively cleans your Nomex gear in standard washing machines
Molecule Refresher (16 oz. bottle): Contains an anti-microbial agent to inhibit the growth of bacterial odors
Molecule Spot Cleaner (4 oz. bottle): Penetrates deeply into Nomex fabric to dissolve and suspend tough spots and stains that can create combustible hot spots.
The kit also includes a measuring cup and Molecule's repellency test solution.
Where can I get it?