Gear Spotlight: GoPro Hero3+ Black Edition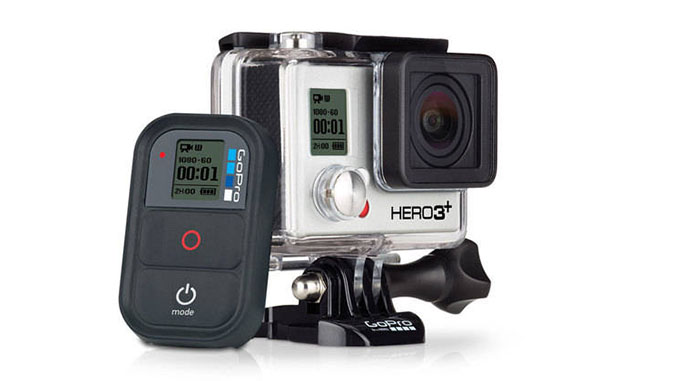 Recently, the staff here at Winding Road have been using the Hero3+ Black Edition to capture some of the footage shared on
our YouTube channel
. After spending some time with the camera and getting to know the device and its settings in detail, we've gotten a feel for where it really shines and where there's still some room for progress to be made.
What Is It?
The Hero3+ Black Edition is GoPro's current top-spec action camera. In terms of model lineup, the Hero3+ can be in
Silver
or
Black
editions, and both boast a number of improvements over the previous Hero models. All Hero3 cameras are 20% smaller and lighter than previous GoPro models, offer improved battery life and enhanced WiFi performance, higher quality audio recording, sharper imaging, and a new ultra-wide angle mode dubbed Superview.
Notably, the Hero3+ Black Edition includes a number of features that the Hero3 White Edition and Hero3+ Silver Edition do not. Perhaps most obvious advantage of the Black Edition is ability to record at 1440p at 48 frames per second, 2.7Kp at 30 frames per second, or full 4K resolution at 15 frames per second. None of these super-high resolution recording modes are available on other GoPro cameras of any sort at the time of this writing. The Black Edition is also capable of 12 megapixel photographs at 30fps burst mode, and both the Silver and Black editions are can utilize the new Auto Low Light feature when shooting in 1080p resolution. Also, while the Hero3+ Silver Edition and Hero 3 White Edition are compatible with the GoPro WiFi remote, the Hero3+ Black Edition is the only model with which that remote is included.
As the preeminent action camera maker for extreme sports, the GoPro includes a very substantial waterproof case to protect the camera from both water and impact damage, and a wide array of
mounts, extensions, straps and other accessories
are available to facilitate using the Hero3+ to capture footage in just about any situation.
Things We Like
There's really no reason to mince words here – footage recorded with the Hero3+ Black Edition, whether it's captured in ultra-sharp 4K or the more customary 1080p resolution, looks fantastic. Colors are vibrant, focus is sharp, and everything is generally more vivid than anything we've seen both from previous GoPro generations as well as the Hero3+'s current competition. The Hero3+'s new image processing chip locks in focus almost instantly in most situations, and problems with over or under-exposure which often plague action cameras as the lighting and other circumstances of a shot change are essentially non-existent, as you'll see in the video below:
GoPro also offers a setting called Spot Meter which will be of particular interest to those recording in-car footage, as it is designed specifically for this purpose, and helps focus the exposure toward the center of footage being captured. Additionally, the new Auto Low Light feature allows the camera to adjust exposure via intelligent frame rate changes based on lighting conditions.
All of this of course adds up to better looking footage, but beyond the technical abilities of the camera itself, we noted that GoPro's smartphone and tablet app is certainly worthy of its own praise. Available for iOS and Android devices, it is by far the most advanced, reliable, and user friendly action cam companion app we've used to date. GoPro touts WiFi connectivity that's four times faster than that of the previous generation Hero, and in practice, we've found that making changes to camera settings, previewing, and recording footage all happen with near-instant fluidity from both the app and the camera, making it a virtually hassle-free endeavor to check angles and settings and get the camera rolling when we were ready to start shooting.
Things We Didn't Like
Another improvement the Hero3+ sees is improved audio performance, with enhanced auto-gain functionality to make the microphone more sensitive across the range of volumes, along with advanced wind noise reduction technology to help prevent wind-distorted audio at high speeds.
We were excited to check this feature out, and it wasn't until we returned from a long recording session in a fairly well insolated sport sedan that we realized (perhaps somewhat obviously) that the waterproof case, which is the only case included with the Hero3+ cameras, inadvertently mutes all but the loudest sounds by creating a physical barrier against the outside world. Fortunately, other cases are available, including the
skeleton case
and the frame mount case, and audio when using either of these is on par if not better than any we've heard from the built-in microphone of an action cam. But, it is worth noting that because of this, you will not be able to reliably record clear low-to-mid level volume audio with the case included in the box.
Another issue of minor annoyance involves the WiFi remote. Aside from its rather cumbersome pairing routine, which seems like an odd necessity given that it's included with this camera, we discovered that you can not change between using the WiFi remote and the GoPro app on the fly. Instead, a setting on the camera must be changed to instruct the camera to attempt communication with one or the other, which means you'll likely end up ditching one of these features for the majority of the time you're using the camera. For us, the level of functionality offered in the app meant that the remote has essentially become a paperweight, and unless this limitation is somehow rectified through a firmware update, we don't see that situation changing any time soon.
Bottom Line
While it's not flawless, the GoPro Hero3+ Black Edition is the current king of the hill of action cams, and for good reason. The combination of excellent visual recording quality, a fast image processor, super-high resolution recording capability, a wide range of aftermarket accessories, and a function-rich and quick responding companion app make the Hero3+ Black Edition stand out in the market.
Specifications
GoPro Hero3+ Black Edition

Features

Interface

Mini USB, mini HDMI, microSD

What's Included

Hero3+ camera, standard waterproof case, WiFi remote, quick release buckle, verticle quick release buckle, 1 curved mount and 1 flat adhesive mount, 3-way pivot arm, USB charging cable

Price