Gamer: MotorStorm Arctic Edge Is A Good Blend of Fire and Ice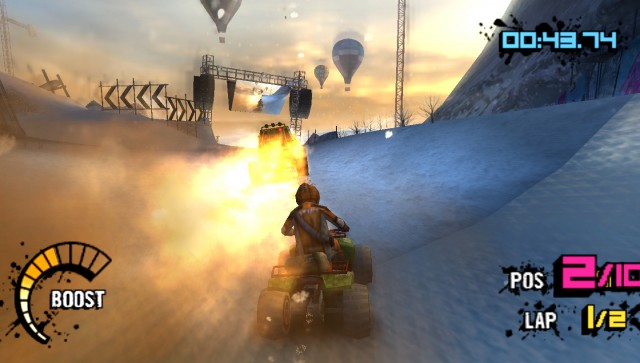 We're familiar with the MotorStorm franchise mostly from the early PlayStation 3 title (simply called MotorStorm), which provided us with hours of explosive entertainment. Really, we exploded a lot. From using too much boost. Same with the sequel, MotorStorm: Pacific Rift. Knowing we would surely have a blast with it, we were excited when we received our copy of the new PlayStation Portable title, MotorStorm: Arctic Edge, to test out.
The newest MotorStorm title takes place in harsh climate and terrain of the Alaskan North. Glaciers, ice roads, and mountain peaks play host to eight different vehicle types (24 customizable vehicles in total), ranging from motorcycles to snowplows, in twelve different courses. Game modes include career mode, time attack, free play, and online multiplayer.
The arcade style of MotorStorm: Arctic Edge may turn off some of the more technical-minded fans of true racing simulators. The vehicles are based in reality, but aren't necessarily based on actual models. The races pit different classes together on the same course. Motorcycles versus buggies versus snowmobiles versus big rig trucks is a common lineup. Furthermore, the tracks are works of pure fantasy, including ramps, tunnels, and inaccessible mountain peaks as the stage for this madness.
The driving itself is unrealistic, as well. Especially early on in the game, we found ourselves almost never using the brakes. Wide-open throttle was the standard, with plenty of time spent holding down the boost button for even more insane propulsion. True, if you hit something hard enough, you crash, and usually pretty spectacularly. In a moment or two, however, you're back on course, flying through the mountains with flames coming out of your tailpipes.
The tracks offer quite a bit of excitement and variety. Each track is full of forks, some leading to shorter, but more treacherous paths, others offering more straightforward lines. The choices within the tracks are meant to level the playing field for the different classes of vehicles racing together. For instance, the snowmobile might do better taking the twisty high road, while the garbage truck may want to simply barrel along a snow field. The tracks are made of varying surfaces, which also add an element of traction (or lack thereof) to the competition.
As the game goes on, the artificial intelligence gets smarter, and the races quickly become more difficult. When, before, we just picked whichever vehicle was the most fun to drive, we found ourselves sacrificing entertainment as our desire to win grows stronger. Game mastery, at least for this title, we outgrew our simple need to kill time. We found ourselves momentarily frustrated as we adjusted to the learning curve, but soon found ourselves becoming more focused and more precise, and again finding a special joy from becoming more successful racers.
MotorStorm: Arctic Edge may not be for purists of racing simulation, but it also is not a title we would brush aside. Heck, we even have trouble putting it down. The game play evolves nicely, with hazards and obstacles posing more of a challenge as the player is forced to increase speeds to advance through the ranks. The courses are and vehicles vary enough to give a wide range of racing experiences. The game modes allow for more competitive racing style at times, or a more casual diversion at others. While this MotorStorm title may not push the boundaries of what we're used to from the franchise, we think the formula works well. MotorStorm: Arctic Edge is simply fun, which is the most important thing, right?
And explosions. They're important, too.