Driven: 2015 Nissan GT-R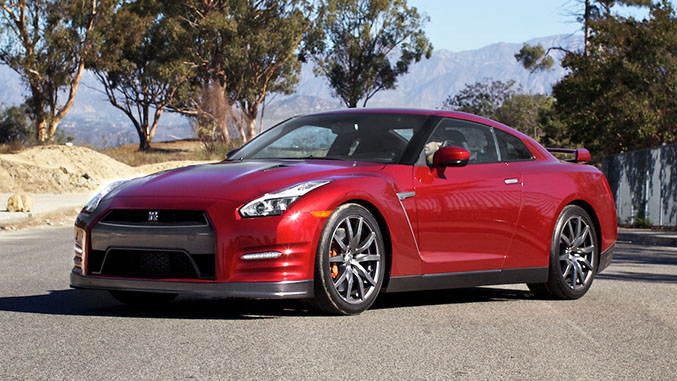 It's been seven years since the R35 Skyline first made landfall in the US, and in that time, year-over-year changes to Godzilla have been largely incremental. But while none of GT-R's updates have been revolutionary, with each revision of Nissan's supercar it has gotten consistently faster and, theoretically, easier to live with. We decided to get behind the wheel of a 2015 model, here coated in the new-for-2015 Gold Flake Red Pearl pant, to see what Nissan's engineers have come up with to face the recent onslaught of new contenders for the budget supercar crown.
What's the idea behind the 2015 Nissan GT-R?
When the R35 GT-R finally landed in American showrooms in 2008, it was an instant sensation. Unlike previous Skylines, the R35 was no longer forbidden fruit for US drivers, and the performance capabilities offered at the price were simply unprecedented. A thoroughly Japanese design, the GT-R performed its duties as a sports car with such efficiency that it earned a reputation as being a vehicle that does more of the driving for you than you might want it to. Considering its sophisticated all-wheel-drive system and the various stability and traction control systems employed to run it, that reputation wasn't without warrant, but it also overlooks a key characteristic of well-sorted driving aids – they make it easier to go fast. And with a car like the R-35, that means that they make it easier to go extremely fast.
Who might want a car like that?
Originally the Porsche 911 was seen as the GT-R's most direct competition, but in the last seven years, the competitive field has widened substantially – we now have Vipers, Corvettes, and even Camaros that will seriously give Godzilla a run for its money on a road course, and do so for similar or even less money. But the R35 still occupies a fairly unique space within the performance car realm. Few cars launch out of the hole like an R35, and its all-wheel-drive configuration inspires confidence both when driven hard in the canyons and when navigating inclement weather – something few other performance cars of this caliber can boast.
Like Porsche fans, GT-R enthusiasts need little convincing of the car's merit, and considering that most of the Nissan's direct competitors at this price point utilize a rear wheel drive configuration, driver preference ensures that most allegiances have already been made before ever pressing the start button. But that doesn't mean the GT-R is without its own brand of intrigue.
How does the drivetrain of the GT-R perform?
Since landing in the States, the output of the GT-R's 3.8-liter twin-turbocharged V6 has gone from 480 to 545 horsepower. It was anything but slow to begin with, but at this point the power, and how it dishes it out in R mode, borders on outrageous. In a good way, of course. Turbo lag continues to be kept to a minimum and can often be avoided altogether if the gearbox is instructed to keep the revs on boil, during which time any stomps of the throttle are a test of one's courage simply due to how flat-out relentless the GT-R's acceleration is throughout the power band.
Undoubtedly the GT-R's mission is that of a performance car first and a daily driver second, as the first thing you'll notice is the fairly substantial amount of clatter coming from the gearbox when you fire up the car. Putting it in gear doesn't really ease any fears about the six-speed dual clutch transmission's behavior either. When the GT-R first debuted, the clunky, bucking around town mannerisms of this F1-derived gearbox were easily dismissed – especially once you turned up the wick on an open road. In 2014, however, drivers have had a number of years to get exposed to more refined units elsewhere, as well as traditional automatic gearboxes that offer far more refinement and nearly identical shift performance.
This isn't so much to say the GT-R's transmission doesn't play its role as a performance gearbox well – shifts happen with near-instant authority when set to R mode and dictated through the paddles – but in terms of daily drivability, there's no denying that world has moved on to more refined designs, and this is clearly a mechanical element of the GT-R that could benefit from some modernization.
Driven around town with the transmission set to Normal mode, the GT-R is quick to upshift in order to offer more relax manners and increase fuel economy, but it also results in muted throttle response that can sometimes lead to overzealous downshifts due to the need to dip deeply into the throttle for substantial response. We found ourselves switching back and forth between manual and automatic modes a bit more than we normally do in similar performance cars simply to skip the tenuous communication between our right foot and the motor when we needed to perform a quick pass in traffic or other time-sensitive maneuvers.
How does it handle?
The GT-R features a three-way adaptive suspension system, offering Comfort, Normal and R mode damping. Even in the standard trim of our tester (as opposed to Black or Nismo specification), the GT-R is still a bit punishing over the imperfect roads found around Los Angeles. In Normal mode bump steer is evident over pavement ruts and potholes, and while switching to Comfort eases the issue somewhat, it's still a fair distance from what we'd normally call compliant. R mode is unyieldingly stiff and will likely only be useful to masochists when driving around town. But clearly, driving around town is not what this suspension was designed for.
Any of the GT-R's flaws were quickly forgotten once we got out to Angeles Crest Highway. With all settings switched to R mode, the Nissan is clear to perform its true purpose – effortlessly dispatching swaths of twisty tarmac. That aggressive suspension tuning is at home here, providing roll-less cornering that insisted we push harder, while the 20-inch Dunlop Sport Maxx GT tires rarely offered any protest to our inputs.
When it came time to reign in the formidable pace the GT-R is capable of, the Brembo monoblock calipers (six piston in front, four in the rear) paired with the full floating cross-drilled and ventilated rotors made short work of the task, though it is worth noting that they still can't completely hide the GT-R's 3800 pound curb weight. Nevertheless, the brakes performed admirably throughout our time with the GT-R and pedal feel was reassuringly linear and consistent both in traffic and out on the back roads.
How comfortable is the 2015 Nissan GT-R?
When it comes to comfort, some elements simply must be foregone if performance is truly your top priority in a car. The seats in the GT-R, for instance, are genuine sports car seats, placing you deep into the bucket with excellent lateral support and side bolstering. But in order to provide the cradling that's required of a great sports car seat, it comes at the price of some grand touring comfort. This isn't to say that the GT-R is punishing to drive like a normal car, but for a long distance journey, it also likely wouldn't be toward the top of our list of choices.
For all of its meticulous engineering, it's slightly odd how little consideration for ergonomics went into the GT-R's interior design. The window switches, for instance, require one to crane their hand around the door handle to access them. Also, for all its deep customization capability and available performance data, the infotainment system is just a bit of a chore to use, making normal operations more of a hassle than they really need to be. Using the steering wheel controls simplifies many of these tasks, but it also doesn't change the fact that the overall design of the center stack looks like a bit of an afterthought.
Nissan engineers have dialed some refinement into the GT-R over the past seven years though, and new-for-2015 additions like the four-LED adaptive front lighting system and revised suspension damping for improved ride quality are definitely welcome improvements, but it's also abundantly clear that the GT-R has not gone soft.
Anything else?
Despite any imperfections, we have much to be thankful for with the R35 GT-R. In 2008 this car put the rest of the automotive world on notice with its incredible performance and (at the time) shockingly low price tag, forcing other brands to step up their game in response. And step up their game they did.
In the interim, the GT-R has been steadily improved, and variants like the
GT-R Nismo
still remain among the world's fastest supercars. But for many, their commutes do not include a hot lap around Laguna Seca, and while Nissan's steadfast commitment to performance excellence is admirable, and in certain context also extremely rewarding, it's clear that the GT-R could benefit from a more comprehensive refresh to address some of the real-world driving that most buyers will use the car for the majority of the time. But until that happens, we'll also be more than happy to continue putting up with a creak or two for the moments where the GT-R truly shines, as they are, in fact, very much worth the trouble.
2015 Nissan GT-R (Premium)
Price: $101,770 / $106,650 (as tested)
Engine: 3.8-liter twin turbocharged DOHC V6
Output: 545 HP / 463 LB-FT
0-60 MPH: 2.8 seconds (est.)
Fuel Economy: 16 city / 23 hwy / 19 combined
On Sale: Now