Reiter Engineering and KTM Tease New X-Bow Race Car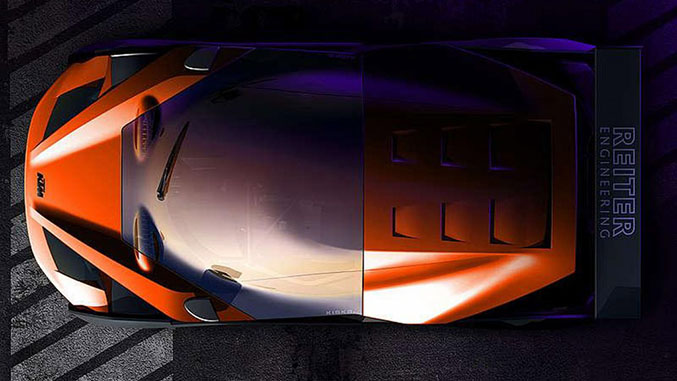 Reiter Engineering, a motorsport firm famous for its Lamborghini Gallardo and Chevrolet Camaro GT3 race cars, is prepping a race-ready version of the KTM X-Bow, and is set offer the turnkey racer all around the globe, including the United States.
The as-yet unnamed sports car is not the first time the two companies have collaborated – back in 2008, the X-bow GT4, which was driven by German Christopher Haase to victory in the Sports Light European championship, marked the first joint engineering project between the two firms. Though KTM had a hand in the new car's design, Reiter will be responsible for building, selling, servicing and supplying parts for the racer.
Reiter Engineering owner Hans Reiter had this to say about the development of the new car:
"Now is the ideal time to introduce a revolutionary new vehicle concept into international customer motorsport. This is an opportunity I did not want to miss and I presented my ideas to KTM. I'm convinced that the new model will attract a lot of interest and will be very successful internationally."
Specifications for the new car have not yet been revealed, but it's said that the car will be designed for international motorsport rather than a one-make series and club events – for that sort of track duty, we already have the
X-Bow RR
. Check out the press release below for more details.
REITER ENGINEERING AND KTM: NEW VEHICLE PROJECT FOR CUSTOMER RACING
10.11.2014 /
Reiter Engineering GmbH & Co KG and KTM Sportcar GmbH are working together on a racing car that will be available to customers in Europe, the USA and Asia. The construction of the vehicle and all of the logistics, including sales and supply of spare parts will be in the hands of Reiter Engineering.
The joint motor racing project represents a continuation of the successful partnership between Reiter Engineering and KTM Sportcar that dates back to 2008 when the cooperation resulted in overall victory in the "GT4 Sports Light European Championship". At that time German driver Christopher Haase won the European GT4 Championship title driving a KTM X-BOW GT4, fighting against tough international competition.
Hans Reiter, responsible in recent years for the highly successful deployment of the Lamborghini Gallardo GT3 and the Murcielago GT1 racing cars, and who last season caused a stir with the GT3 variant of the Chevrolet Camaro, commented on the cooperation with KTM saying: "Now is the ideal time to introduce a revolutionary new vehicle concept into international customer motorsport. This is an opportunity I did not want to miss and I presented my ideas to KTM. I'm convinced that the new model will attract a lot of interest and will be very successful internationally. My thanks to project partners KTM Sportcar, KISKA and KTM Technologies who have energetically supported us in realizing the project."
Hubert Trunkenpolz, member of KTM's Executive Board, is looking forward to the return of a KTM car to international motorsport: "With the X-BOW BATTLE we have established a highly successful one-make series competition for our customers who are also motorsport enthusiasts. We are very aware that among them, and among many other like-minded enthusiasts, there is a demand for a racing car that can compete in international races. With this in mind, Hans Reiter came to us with the challenging idea of developing a completely new X-BOW for use in motorsport. We enthusiastically support this development in the knowledge that Reiter Engineering is an internationally recognized team that develops, constructs and markets highly successful racing cars. We are hundred percent convinced that the result will be a real 'READY TO RACE' product in the best KTM tradition!"
www.reiter-engineering.com