Driven: 2010 Ford Super Duty F-250 By Roush Propane Powered Vehicles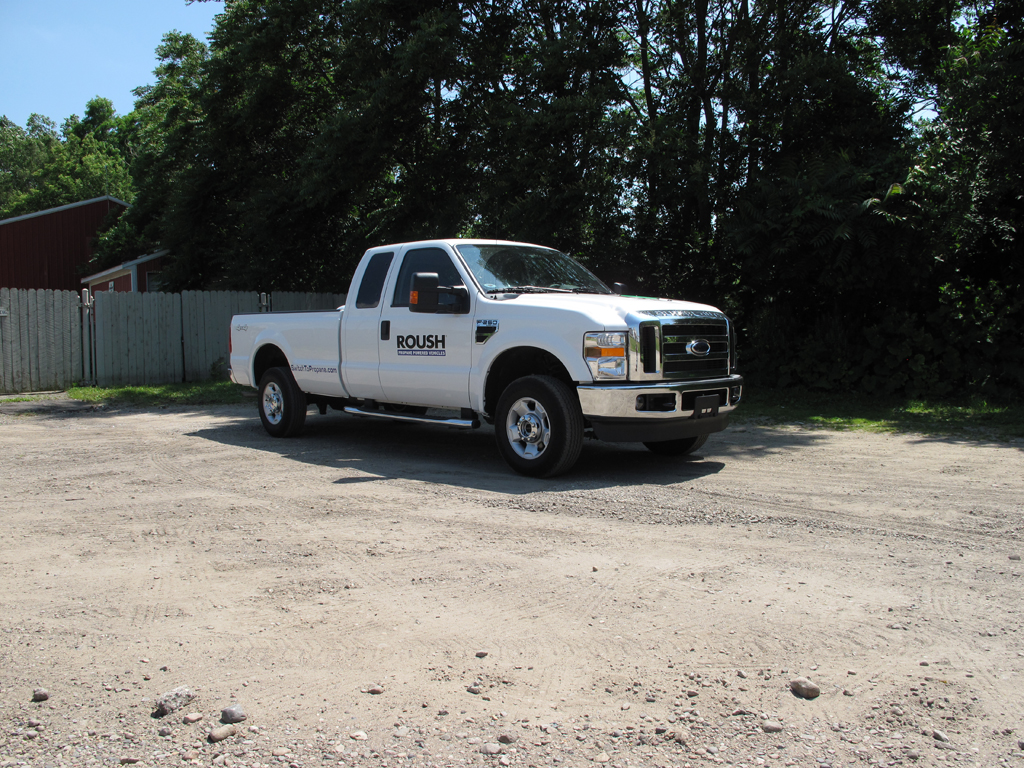 The Ford F-250 is a truck we have reviewed a few times before. The model that we have today, however, is quite a bit different. Rather than the traditional gasoline- or diesel-powered F-250, our tester is powered by liquid propane gas (LPG), courtesy of Roush Propane Powered Vehicles. Although the F-250 isn't the most involving vehicle we have ever driven, we could hardly turn down the opportunity to spend a week with an alternative fuel vehicle. Here is what we discovered.
LPG consists primarily of propane. Propane, in its natural form, is an odorless and tasteless gas that is released as a byproduct during the processing of natural gas and the refining of petroleum. It can be easily stored and transported via rail, truck, or pipeline.
The process of converting a gasoline-powered internal combustion engine to run on LPG isn't easy. The conversion will take a certified mechanic roughly sixteen hours to complete. For $9995, you get a fifty-five gallon fuel tank, a billet aluminum high-pressure fuel rail, new fuel injectors, a propane fill system, new fuel lines, and Roush PCM calibration. If you don't want the world to know about your propane, Roush will gladly install a hidden twenty-three gallon tank, which can be fitted in the place of the regular gas tank, but will cost an additional $1050.
As for on-road impressions, the LPG F-250 drove just like a standard F-250. Twist the key, get a momentary pause as the fuel system was pressurized, and the truck fired right up. Rev the engine, and you get the sound of Ford's 5.4-liter V-8. Gun the throttle, and away the truck goes. Acceleration and throttle response match up with the gas powered model. Roush claims that there is no loss in horsepower, torque, or towing capacity, and impressions from the road seem to bear that out. After the drive, park the car and turn it off, just like a normal vehicle. You will notice, especially after a long drive, that the tank groans. This is the system sucking the remaining propane out of the engine and back into the tank.
We stopped at our local U-Haul (yes, gassing up at a U-Haul is as weird as it sounds) for a fill up. U-Haul requires that an employee operate the pumps, so we were left watching. The fueling system on the LPG F-250 sits behind the stock fuel door, and consists of a hitch that the fuel pump latches on to. Think of mating a keg and a tapper, and you have the right idea. Twist a valve on the handle and fuel starts flowing. After a few minutes (LPG fuels at roughly the same speed as gas), we were ready to pay the bill. For 302 miles, we burned through 35 gallons of propane at a cost of $2.92 per gallon. That works out to $102.20 for the fuel, an additional $17.79 in tax, and 8.62 miles per gallon. We should note that LPG lowers mileage by about ten percent, due to a lower Btu output than gas. In other words, it will take more fuel for the same power.
Due to these prices, propane may not be the best option for the individual. If, however, you run a fleet of vehicles propane makes a lot more sense. As with many products, buying more means it will cost less. This is true with propane, with wholesale prices being almost half the price of retail. Purchasing facilities for on-sight refueling saves time, and a considerable amount of money, which is perfect for a municipal official or business owner looking to trim the budget.
Also, government tax incentives for alternative fuel are abundant. A quick run around the internet got us to the IRS website, where we found that all Roush vehicles are eligible for tax credits for $2500 to $8000. In the case of our F-250, we would have received a $2500 tax credit.
LPG also has many environmental benefits. Emissions are cut significantly: hydrocarbons are reduced by sixty to seventy percent; carbon dioxide is cut by twelve percent; nitrogen oxide is down twenty percent; and carbon monoxide can be cut by sixty percent. Cancer-causing agents like benzene and toluene are reduced by up to ninety-six percent compared to gasoline.
If you are running a fleet and want to reduce your environmental impact, LPG is a good way to do it without sacrificing the abilities of your vehicles.
2010 Ford Super Duty F-250 By Roush Propane Powered Vehicles
Engine: V-8, 5.4 liters, 24v
Output: 300 hp/365 lb-ft
Weight: 6554 lb
Towing Capacity: 12,500 lb
Base Price: $25,300
On Sale: Now