Comparison Test: 2011 Chrysler Town & Country vs. 2011 Honda Odyssey vs. 2011 Nissan Quest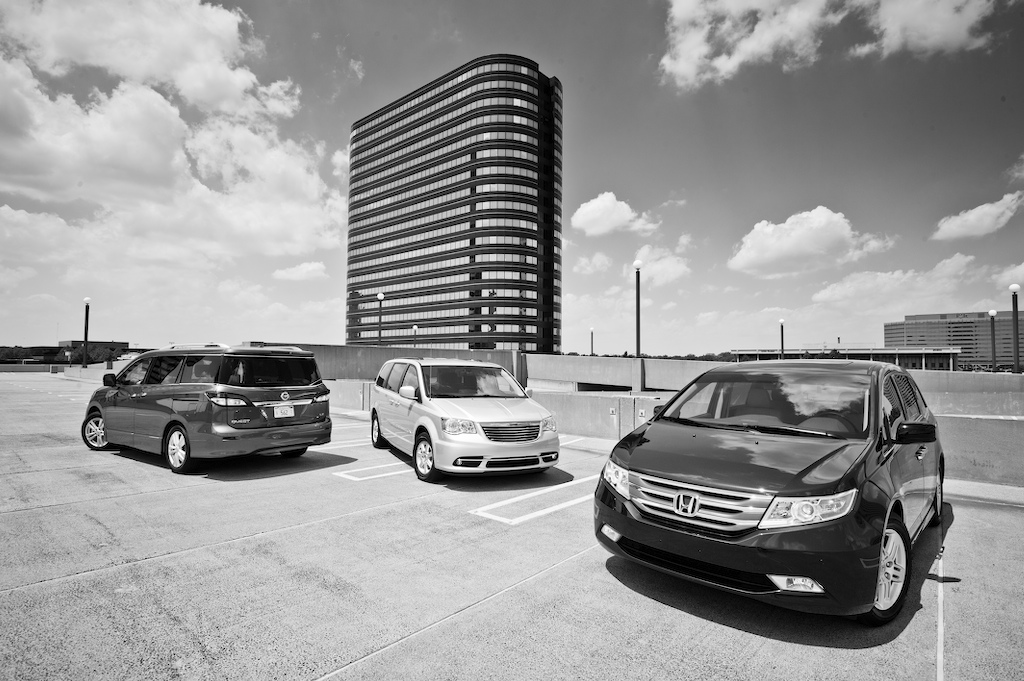 (photo credit: Chris Amos)
—Ypsilanti, Michigan
In the world of the workaday enthusiast, minivans don't usually come to mind as the fun, stylish vehicle that drivers are clamoring to own or drive. The segment is, however, not without its charms. Especially with the advancement of technology, minivans are seeing more and more in terms of entertainment, convenience, and other ways to keep its occupants assuaged—not always an easy task when some of those occupants are antsy children. Often, it's the addition of children—and, ultimately, belongings—to one's life that makes a person begin to see the values of the kind of vehicle they swore they'd never own.
Also—and we're not judging here—some people simply like minivans. We have even had staff members with a fetish for a big breadbox on wheels. Others love the space they afford and the amount of seats they offer. Sometimes, the affinity is partly ironic, but most often it's not. And as we find in this very comparison between the Nissan Quest, Honda Odyssey, and Chrysler Town & Country, minivans needn't suck to drive.
It is for these drivers that we have put together this test—the ones who have given in to the crushing reality that necessitates bringing a minivan into their lives, but who don't want their very driver's soul sucked from them the second they drive one off the lot. We've taken a close look at the factors that go into scoring for our very own Involvement Index and Comfort Index, and rated these three vehicles accordingly.
Comfort
1. Nissan Quest
2. Honda Odyssey
3. Chrysler Town & Country
The big Nissan Quest makes a bold styling statement from the outside, with its large, boxy proportions. As you would expect, though, this translates into good interior space in this not-so-mini minivan, and also helps to give it the edge in comfort for this comparison. The large front seats were very comfortable to sit in, providing a good balance between support and cushiness. Also, the front and side visibility in the Quest are outstanding, with that huge windshield, elevated ride height, side windows that let you see the ground almost directly next to you, and huge side mirrors giving a good look at what is beside and behind you. More than in any other vehicle, we felt like a captain of a starship, commanding the Quest confidently down the road.
The cockpit and rear rows of the Quest had that air of high-quality Nissan that we've seen in some of its more expensive vehicles. While not quite as opulent as the Murano CrossCabriolet, the leather and soft plastics are both nice to behold and to run your fingers across. Any nicer, and the manufacturer would have to slap an Infiniti badge on the front of the van. The dash, gauges, and instrumentation were cleanly laid out and attractive, with less visual glare than those of the other minivans we tested. We expected good things from the 13-speaker Bose audio system, but with the volume turned up, sounds were distorted quite a bit.
Getting in and out of the Quest was a simple task, with wide opening doors. The rear sliding doors of each vehicle we tested could be opened via key fob or by pulling on the handle, but only the quest offered a button on the door handles to more easily perform the same task. The second row was adjustable, making it easy to adjust the amount of room based on third row passengers. The third row could be folded flat with a touch of a button from the rear cargo area, and the second row could also fold flat, where the other cars offered the more finicky removable second-row seats (which were truly miserable to deal with during our time with the vehicles, with temperatures over 100 degrees).
In terms of the ride quality, the Quest did a decent job of soaking up our broken Michigan roads. Isolation is the key here, and though some bumps in the road made their way audibly into the cabin, there was no resonance or lingering vibration inside the vehicle. The Nissan exhibited a bit more body roll than the other vans at low speeds, but it remained progressive as g-forces increased, instead of exhibiting the on/off nature of the Honda's suspension movements. When cruising at highway speeds, the Quest displayed a palpable floating sensation, which is fine when you want to absorb surface irregularities, but can be worrisome to those more sensitive to motion sickness.
Inside the Honda Odyssey, things are a little more cramped up front. The passenger seat doesn't move back very far, and a long-legged navigator might feel pretty restless even after a shorter drive. In the rear seats, particularly the third row, it feels perfectly capable of accommodating passengers comfortably. Even an adult can sit in the back of this minivan without jamming their knees into the back of the second row. Getting into the third row isn't as easy as the other vehicles, though, but it's not particularly difficult, either. In all, though it wasn't quite as roomy as the hulking Nissan, it the Honda used its space cleverly for maximum comfort in a slightly more compact package. Tricks like the "cool box" up front that keeps drinks and snack cool, or the center second-row seat that can be used as a center armrest/console (complete with cupholders), are good examples of this. Materials throughout the Odyssey's cabin were pretty good, including touch points instrumentation, though just a touch less refined than the feel of those in the Nissan competitor.
On the road, the Odyssey follows the Quest pretty closely in terms of comfort. It easily neutralized bad roads, transferring very little motion or noise back into the cabin. A little wind noise was audible, but it wasn't overwhelming. It accelerated well, and what noise came into the vehicle was pleasant and useful. Unfortunately, trying to mask sounds with the stereo was disappointing; the audio quality was tinny and pretty lifeless. In corners, it felt rather comfortable and flat when turning at low speeds, but higher cornering speeds created more uncomfortable body roll than seemed appropriate (a scourge for its overall involvement, too, as we'll get to in a bit). Visibility was pretty good, but the Odyssey didn't offer the commanding view that the quest did. Driver assists such as blind spot detection and a helpful backup camera made navigating the minivan's natural habitats of highways and parking lots much less stressful.
Coming up third in terms of comfort is the Chrysler Town & Country. We noticed right away that this interior feels small, especially when compared to the Nissan and Honda. Headroom is in short supply throughout the vehicle. Furthermore, front legroom was a bit cramped, with narrow wells impeding on our lower legs from the center of the vehicle. The second row is decent, with two captain's chairs providing a goodly amount of personal space, as well as easy access to the third row. That last, row, though, is not a pleasant place to spend time. Again, the headroom was an issue, and when we tried to cram ourselves behind the second row seats, we found it nearly impossible. Clearly, the Town & Country would be better suited to a more urban setting, where its compact dimensions are valuable for the sake of navigating traffic, and where not a lot of time is spent ferrying a vanload of people over long distances.
Materials in the T&C weren't quite up to snuff, either. While we liked the use of stitched leather, heavy use of hard, black plastic throughout the cabin really brought down the perception of quality. Audio quality, though, was probably the best of all three cars, sounding the richest and fullest at all volumes. To make things worse, we were not particularly fond of the Chrysler's cartoonish navigation display. The other vans' infotainment systems were simply better to use, and more visually appealing.
Finally, the Chrysler offered the least cosseting ride of all three competitors, transferring every bump in the road to the occupants via seat of the pants. While the engine provided a pleasant, masculine note, and wind noise was kept to a minimum, any vibration through the suspension transferred into the cabin and resonated, creating quite a bit of audible shuddering. Clearly, Chrysler didn't spend as much time fine-tuning the Town & Country for a more premium interior experience.
Involvement
1. Chrysler Town & Country
2. Honda Odyssey
3. Nissan Quest
We'll be up front about these three family haulers when it comes to driving involvement: the Chrysler wins. Boasting a nice power advantage on the Nissan and Honda (283 horsepower and 260 pound-feet of torque versus 260 horsepower 240 pound-feet for the Nissan and 248 horsepower and 250 pound-feet of torque for the Honda), the Chrysler's Pentastar V-6 felt more urgent and sounded decidedly racier than either of the other two vans.
That said, the extra power didn't always translate to actual movement, as the Town & Country felt slower in the middle of the rev range, thanks to its eco-minded transmission gearing and a slightly tubbier curb weight (4652 pounds versus 4560 and 4548 for the Honda and Nissan, respectively). Off-the-line thrust was competitive, though, and Chrysler's AutoStick system worked reasonably well.
What the Chrysler lacked in outright speed, it made up for in handling and road feel. Compared to the Honda and Nissan, the T&C felt better planted, and behaved more predictably on our handling roads. There was less body roll than the other two vans, and the steering felt the most intuitive and easy to acclimate to. It delivered the most feedback of our three testers, and had a nice weight behind it, befitting of such a large vehicle. On-center feedback wasn't so great, but it did deliver better than the Honda or the Nissan.
We also have to commend Chrysler on giving the T&C the most engaging driving environment of our three vehicles. The tight driver's seat might not be the greatest for long-distance driving or for those who enjoy the occasional extra hot dog, but it did a fine job of supporting us during aggressive driving. We've raved before about the excellent leather-wrapped steering wheel that's been popping up across the Chrysler line-up, and we're happy to report it's just as good in a minivan application as it is in a SUV, convertible, or sedan.
The second spot went to the Odyssey. With the lowest horsepower output in this test coming from its 3.5-liter V-6, the Honda failed to deliver acceleration that could match the Chrysler, though it certainly felt stronger at the low and high ends of the rev range. Thanks to its six-speed automatic, it was still a good bit better than the Quest, and didn't get confused as the T&C did when left to shift on its own. We wouldn't have minded a stronger exhaust note, though, as it would have added to overall driving involvement.
The Honda wasn't the willing dance partner that the smaller Chrysler was, although again, it was friendlier than the Nissan. Body motions, with the exception of lateral control, were quite good, albeit soft. There was more vertical motion over road imperfections than in T&C, which made the Odyssey more difficult to position on the road. As for that lateral damping, it was progressive enough to a point, but would often become sloppy in decreasing radius turns.
Further compounding things was the utterly lifeless steering. Besides lacking feedback, it felt rubbery and disconnected, two traits that certainly don't inspire driver confidence.
While the Quest occupies the third spot here, it's only marginally worse than the Odyssey. For a start, it's hampered by its road presence, which is decidedly bigger than our other two vans. It consistently felt longer, wider, taller, and generally more ungainly, making our handling route rather difficult.
The suspension certainly doesn't help things along, as it is simply too soft for a vehicle of this size. Too much brake or accelerator resulted in the Quest pitching fore and aft, limiting stability, while lateral body control was only very slightly better than the Honda. Speaking of that diving front end, the brakes on the Nissan were the most difficult to work with, lacking linearity or a good sense of feel.
In the realm of CVTs, this one isn't bad. Of course, a CVT that "isn't bad" is most often equal to having an automatic that rates just above "terrible." Punching the throttle resulted in a slight lag, followed by a screaming engine, without much sensation of actual speed. This thing was noisy, and not in a particularly good way (as it is on the similarly equipped Nissan Maxima). The Quest felt consistently slower than either of our other two cars.
Again, we understand that these are minivans, and that for the most part, involvement isn't a terribly high priority. At the same time, these vehicles are tasked with hauling around families, and sometimes that intuitive steering, sharp handling, or brisk acceleration can be the difference between a near miss and pricey accident. (Not to mention just having a bit of fun.)
Pricing
1. Chrysler Town & Country, Nissan Quest, Honda Odyssey (tie)
So which of these haulers represents the best actual value? Well, if the absolute lowest MSRP is what you're looking for, than the Nissan Quest is the perfect vehicle for you. That being said, you won't be getting much in the way of creature comforts on the S trim. With a price of $27,750, it's roughly $300 cheaper than the Honda and about $2500 cheaper than the Chrysler. For that money, you get the same 3.5-liter V-6 and CVT that motivates our tester, but not much else. Audio needs are handled by a four-speaker stereo, although an auxiliary audio jack is available for iPods and other MP3 players. The cloth interior still features a second and third row that can fold completely flat, allowing a great deal of storage room. The S trim also comes standard with Nissan's Intelligent Key and push-button ignition.
Jumping to the SV, the Quest replaces its sixteen-inch steelies with sixteen-inch alloys. Manual sliding rear doors are replaced with powered units. Bluetooth is standard, as well as a more powerful, six-speaker stereo, with a USB jack and a 4.3-inch touchscreen display. The leather-wrapped steering wheel also receives audio controls. While the SV costs $30,900, the more luxurious SL can be had for $34,350, and it really starts to pile on the goodies. For a start, it's the cheapest way of snagging Nissan's $2100 rear-seat entertainment system with seven-inch display. Also available is a thirteen-speaker Bose stereo with satellite radio for $1300. Other upgrades include eighteen-inch wheels, a power driver's seat, and all seven thrones are wrapped in leather. A dual-opening sunroof is also available, for $1350. At the top end is the LE (which is what we've been driving). For $41,350, this is probably as close as you'll get to an Infiniti with a Nissan badge. The only available package is the dual-opening sunroof, priced at an identical $1350. Everything is else is standard, including navigation and the rear-seat entertainment system.
If you have a bit more coin to toss around, the base Chrysler Town & Country Touring comes very nicely equipped, with a standard 6.5-inch touchscreen with a 30-gigabyte hard drive, sixteen-inch alloys, the excellent Pentastar V-6, and power doors and liftgate, for $30,260. The T&C stands out by offering a variety of options regardless of trim level. Even the base Touring can be had with a nine-inch, rear-seat entertainment system (only $1300!), navigation, an intelligent key, a heated steering wheel, heated first and second row seats, a load-leveling and height-controlled suspension and Bluetooth.
For $32,260, customers can snag the Touring-L, which adds leather-trimmed power seats, rear sunshades, and seventeen-inch wheels. The options do change a bit, though, as the only rear entertainment system is a dual-screen setup, giving second and third-row passengers their own nine-inch display. You can also snag SiriusXM's Backseat TV, granting your rugrats access to SpongeBob SquarePants on the go, as well as some other kiddy programming. Functionally, the Touring-L is available with a power-folding third row. The top end of the Chrysler family is the Town & Country Limited, which adds HID headlamps, Nappa leather, standard heated second-row seats, Bluetooth, a dual-screen entertainment system, Backseat TV, and Garmin navigation for $39,825. Notable options include the aforementioned power-folding third row, and not much else.
Honda takes an entirely different approach to Chrysler or Nissan. There are no options. There are no packages. There are only seven, set-in-stone trim levels for you choose from. At the bottom of the range is the $28,075 LX, which is slightly better-equipped than the Quest S, with a five-speed automatic (as opposed to the six-speed we sampled), five-speaker stereo, an auxiliary audio jack, power driver's seat, and power doors and tailgate. We are glad to see that Honda's third-row Magic Seat is standard, offering easy one-handed stowing.
Moving up the Odyssey EX, you'll be spending $31,225. For your greenbacks, you'll get a seven-speaker stereo with a two-gigabyte hard drive, seventeen-inch wheels, and a tri-zone climate control system. Spend $34,725, and you can snag an EX-L. For that extra $3500, your family hauler will come with satellite radio, Bluetooth, and eight-inch display, heated leather seats, a leather-wrapped steering wheel, a front-mounted cool box, heated exterior mirrors, and tinted rear windows. For $36,325 and $36,725 respectively, you can get a rear-seat entertainment system or satellite navigation tacked on to your EX-L. You can't get both unless you move up to the $41,030 Touring trim. Besides making navigation and a DVD player standard, Touring also includes a six-speed automatic transmission, a seven-speaker, 15-gigabyte stereo, a USB jack, and eighteen-inch wheels. At the top of the Odyssey range is the Touring Elite. For $43,325, you get HID headlamps, a blind spot warning system, and an ultra-wide rear-seat entertainment system (as opposed to the standard size screens in the lower trims). Audio needs are handled by a 650-watt, 12-speaker, surround-sound system, with a 15-gigabyte hard drive for storage needs.
So which of these three vans represents the ultimate value for families? That will be largely up to the buyer, based on their needs. We really enjoyed the sheer number of choices you can make with the Town & Country. The ability to pick and choose options allows families to decide what features they need most, and to a certain degree, allows forward planning. They can pick features that their family might grow into, or avoid paying for things that might not see much use a year later (for example, not ordering a DVD player if the kids are older and family travel doesn't happen as much). The downside to the T&C comes from a relatively poor fuel economy rating of 17 miles per gallon in the city and 25 on the highway. That's two city miles lower than the other two vans, while the freeway rating is three miles per gallon lower than the Honda. On the up side, the Chrysler has a one mile per gallon advantage over the Nissan on the highway. According to independent sources (Edmunds), the Chrysler is also prone to higher depreciation than our other two vans, losing $18,846 in value in the first five years.
We also admire the sheer level of equipment offered on the Quest. The choice of a few different packages allows some level of customizability while still delivering a high level of content. The Quest boasts an identical city mileage figure to the Honda, but loses four miles per gallon on the freeway (19 and 24 respectively). It also depreciates only slightly quicker than the Odyssey, losing $14,216 over five years.
As for the Odyssey, we don't like being pigeonholed into one particular trim. It also seems too expensive to get into navigation and DVD-equipped models compared to our other two vans. After driving the top-end Touring Elite, though, we can certainly understand the appeal of the big Honda. It's properly plush. The Honda boasts the best fuel efficiency of our three testers, while also holding its value better, with only a $13,640 loss.
So we have a dilemma about the winner of pricing. On the one hand, we love the customizability of the Chrysler, but its poor fuel economy and higher depreciation hurt it. On the other hand, the Honda and Nissan both boast higher fuel economy and lower depreciation, but due to the lack of options, you may end up paying more for a vehicle than you originally intended, just to get a few options that you want. For pricing, it seems we have no real choice but to call it a draw.
And The Winner Is…
If we're going to play it strictly by the numbers—black-and-white, cut-and-dry—we couldn't really recommend one of these minivans over the other. Perhaps, in a black-and-white world, we shouldn't, because different buyers are going to weight the different categories differently, and are going to have differing opinions about which is the "better" vehicle (each car has its buyer, after all). But, numbers alone rarely tell the whole story.
So, the Chrysler Town & Country may be the most engaging of the three minivans tested, and the Nissan Quest may be the most comfortable, but the best all-arounder, combining drivability, comfort, and value, would be the Honda Odyssey. Despite its elastic steering feel and tendency to roll when pushed, it was still sprightly and entertaining to drive, at least as far as minivans are concerned. Its motor was characterful and entertaining, while its automatic transmission shifted cleanly (though we would have loved a manual mode, here). Also, in terms of comfort, it only narrowly missed the top spot garnered by the substantial Nissan. The Odyssey gives the clear sense that Honda really thought things through here, with roomy accommodations for the rear passengers and lots of convenience and storage options.
Is the Honda Odyssey the best at anything? No. But it's not the worst at anything either—not even close. For a functional vehicle with real-world usage in mind, we'll take a solid, well-rounded offering over something bipolar in nature any day.
2011 Chrysler Town & Country
Engine: V-6, 3.6 liters, 24v
Output: 283 hp/260 lb-ft
Weight: 4652 lb
Fuel Economy, City/Hwy: 17/25 mpg
Base Price: $30,260
On Sale: Now
2011 Nissan Quest
Engine: V-6, 3.5 liters, 24V
Output: 260 hp/240 lb-ft
Weight: 4548 lb
Fuel Economy, City/Hwy: 19/24 mpg
Base Price: $27,750
On Sale: Now
2011 Honda Odyssey
Engine: V-6, 3.5 liters, 24v
Output: 248 hp/250 lb-ft
Weight: 4560 lb
Fuel Economy, City/Hwy: 19/28 mpg
Base Price: $28,075
On Sale: Now