Book Review: Legacy Drive By Paul Slavonik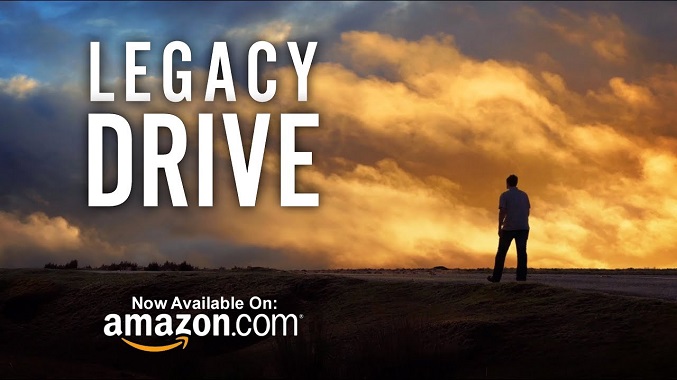 Motorsports literature seems to almost always be non-fiction. Whether it's a memoir by a successful driver, the story behind a team or manufacturer's success, a great rivalry, etc., these stories are always based on real events, real people, real decisions, and real success.
Motorsports fiction, on the other hand, doesn't get the spotlight as much. Garth Stein achieved a lot of success with The Art of Racing in the Rain to the point of it usually being the go-to referral for enjoyable, fictional motorsports lit based on actual eras of racing, and a solid referral it is! But there aren't a ton of other titles out there. Stein's book takes place during American sports car racing in the late-90's; there are so many forms of motorsport worldwide to set the stage for a good, very realistic fictional story, why can't there be more great reads of the fiction variety? Notably, more stories that check all of the boxes for enjoyable, emotional, and inspirational tales of overcoming hardship.
That's where Legacy Drive by Paul Slavonik comes in. It actually goes beyond popular racing in North America, but more on that later. Slavonik's story is initially rooted in American Trans Am, particularly in the TA2 class. The story begins with a solid intro to who's behind the wheel.
Bill Watson is a successful, middle-class family man who's new to piloting a TA2 Mustang in this series, and is also the son of an Australian Touring Car legend, William Watson. He's worked his way up and is ready to be a part of SCCA Pro Racing. Bill is also in a good place in life; his loving family is supportive of his racing effort and his father is the best mentor one could have. Living in Austin, Texas, they're well-positioned to easily get to a lot of the TA races throughout the Southeast, with our dear COTA in their backyard.
During Bill's 4th race at COTA, he takes a chance to gain some real estate and take the lead, but ultimately it backfires. Before COTA he had a heck of a drive at Road Atlanta. One of the best aspects of Slavonik's writing that quickly becomes apparent is his use of technical racing terminology – naming corners, outlining strategy, and just utilizing racer lingo in general. It's greatly appreciated, and will surely pique the interest of anyone who's found their way to this review on WR.com.
Another great aspect of the story is Slavonik's ability to make the book simply enjoyable to read. There are no dense, complex, or complicated themes: just good, descriptive writing, that sets the stage and puts the reader in the passenger seat. Both on- and off-track; as the story progresses and takes a turn towards drama, the story conveys deep, human emotion, and really make you feel for the characters. Full disclosure: tears are almost guaranteed to be shed.
We don't want to give away too much more of the plot, we'll let readers have the pleasure of turning the pages. What we would like to say, however, is this is a tale of dealing with life's circumstances and hardships, finding support in our families, and analyzing our fate. Bill's life takes a sudden, immense turn for the worse and experiences great loss. He has to find the strength to persevere, overcome, and do what's best for his family. What he finds out while working through this, is his father is not just a great racing mentor, but can offer a lot of support and guidance as well, as he has been through similar. Bill quits racing as he determines it was what led to such tragedy in his life.
He soon finds out that his father's support doesn't stop at emotional support: he's able to call in a massive favor that could be the best chance Bill has to heal and provide a better future for his family. This involves moving to the other side of the world, diving right into a new culture, and doing everything he can to get back on his feet. The pure, human idiom of "what goes around comes around" comes into play greatly; by living a good, helpful, and caring life, people will come through in your time of need.
Through hard work, dedication to his family, and slowly re-gaining his passion for racing, life doesn't necessarily go back to normal, but the Watson family perseveres and slowly rebuilds. He gets back in the driver seat when he's ready, and quickly finds out all of that deep experience in racing wasn't for nothing; some great success is to be had. The past is not forgotten, it rather strengthens the foundation for the future. Bill is put through the ringer with life lessons, including the fact that he has to keep his family and close friends abreast of his feelings and health.
Additionally, there are lessons of faith, hope, self-determination, family, grieving, loss, and more; the book really is a bit of an emotional rollercoaster. This is not a bad thing: it keeps readers wanting to turn the pages faster, to find out what happens, and root for all of the characters involved. Readers will not only want to provide a hug, but also scream and cheer from the stands.
Readers might start making comparisons to Garth Stein's The Art of Racing in the Rain as they move through the pages. This is very understandable, as there are some similar themes here and there. Not just surrounding the development of a racecar driver but also dealing with great loss. Though this is unfair; Legacy Drive takes a much different direction in fictional motorsports lit and deals with these themes quite differently. It also contains a lot of very descriptive racing action (we're not saying Stein's book is lacking in any way in this department, there are just more phyiscal pages in Legacy Drive).
Particularly, fans of Australian Supercar racing will really dig the plot and racing action. This includes a lot of ink dedicated to Bathurst, one of the world's greatest and most legendary endurance races. Or, it could be a great first-introduction to these, as even fans of series and classes at the opposite end of the racing spectrum (B-Spec is the first to come to mind, power-to-weight-wise) will enjoy the action written in Legacy Drive's pages.
We recommend this book to anyone looking for solid, enjoyable fictional motorsports literature. The character and plot development is great, it tugs at the heart strings, and even induces a smile and/or laugh (be careful if you're self-conscious of laughing out loud while reading in public). The story isn't always sad: there's a good amount of comic relief which adds to the characters' likeability. There are lessons to be reminded of, there is inspiration to be found, and just good ol' entertainment. It should be on the podium of any racing enthusiast's reading list.
Copies can be found here on Amazon. We thank Paul Slavonik very much for the heads-up and opportunity to read his latest book. He's self-publishing it as well – we especially wish him all the success.