Base Versus Loaded: 2011 Porsche 911 Carrera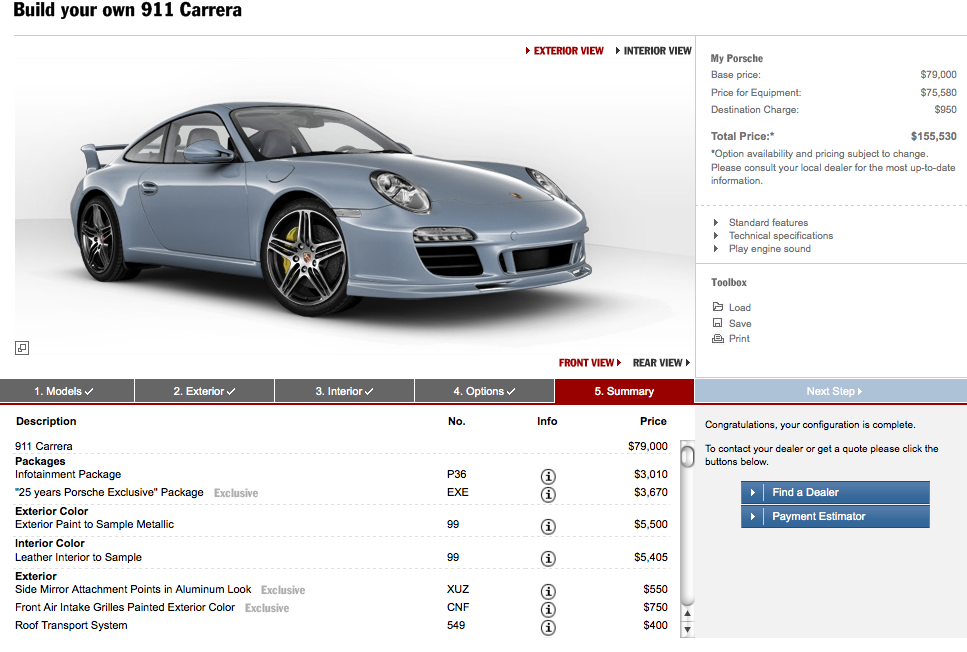 Since we first started compiling these Base Versus Loaded pieces, we knew that the high-end German automakers were really going to be where it was at for sky high optioned-up pricing. And, within that world, it seemed clear that Porsche would be a real champ for add-ons. So it is.
Starting with the very core of the Porsche lineup, the very basic 911 Carrera, we were able to almost double the MSRP with options added on. That's right, $80K for the car and another $75K and change for things like PDK, ceramic brakes, and, you know, a fire extinguisher. (Actually, at $140 bucks the fire extinguisher might be one of the bargains of this spec sheet!)
Seriously though, Porsche has an attitude of ultimate customization towards its products, and one of the world's best, most time-sucking car configurators as well. Also, we are encouraged by the fact that the most expensive 911 additions are all performance based.
Please note that there may be, we hate to admit, some way to make the Carrera just a few ducats more than our "loaded" price of $155,530. We got pretty deep into this thing before we realized that custom interior painted pieces were sometimes more than carbon fiber versions, or Alcantara versions, but sometimes not. We went with our guts in an attempt to not make our heads explode—if you can find a higher 911 Carrera final price, post it in comments (just make sure you have six hours set aside to figure it out.)
Base
Price: $79,000 (911 Carrara) + $950 (destination and handling) + $0 (options) = $79,950
Loaded
Price: $79,000 (911 Carrara) + $950 (destination and handling) + $75,580 (options) = $155,530
What Does $75,580 Buy?
Packages
Infotainment Package – $3010
– Bose surround sound system
– Porsche Communication Management with navigation module
– XM Satellite Radio
"25 years Porsche Exclusive" Package – $3670
– "Package comprises: taillights with clear glass look mirror attachment point finishers and model designation with paint finish in exterior color fuel filler cap with Aluminum Look finish storage compartment lid with smooth-finish leather in interior color with embossed model designation Porsche crest embossed on front seat headrests floor mats with leather edging in color of choice and embroidered "25 years Porsche Exclusive" logo key pouch in smooth-finish leather in interior color with "25 years Porsche Exclusive" logo door sill guards in stainlesse steel, Black and chrome-plated, with illuminated "25 years Porsche Exclusive" logo"
Exterior
Custom Exterior Paint to Sample Metallic- $5500
19" Turbo Wheel, Forged, Two-Tone Wheels – $2440
Wheels Painted Basalt Black Metallic – $1815
Bi-Xenon(TM) headlights incl. Porsche Dynamic Light System (PDLS) – $690
ParkAssist System (Rear) – $530
Rear Window Wiper – $360
Automatically Dimming Interior and Exterior Mirrors – $420
Roof Transport System – $400
Aerokit Cup – $5990
Front Air Intake Grilles Painted Exterior Color – $750
Side Mirror Attachment Points in Aluminum Look – $550
Headlight Cleaning System Cover Painted Exterior Color – $295
Side Stripes with Model Designation – $775
Performance
Porsche Doppelkupplung (PDK) – $4080
Porsche Ceramic Composite Brakes (PCCB) – $8150
Porsche Active Suspension Management (PASM) – $2090
Limited Slip Rear Differential – $950
Sport Chrono Package Plus – $1480
Sport Exhaust System – $2810
Interior

Adaptive Sport Seats In Leather With Driver Memory And Leather Interior – $6350
Leather Interior To Sample – $1750
Instrument Dials in Speed Yellow – $860
Sport Chrono Timer Display in Speed Yellow – $500
Heated Seats (Front) – $525
Heated Steering Wheel – $250
Seat Belts in Speed Yellow – $540
Fire Extinguisher – $140
Instrument Surround Painted Deviating Exterior Color – $440
Gear Lever / PDK Selector Trim Painted Deviating Exterior Color – $295
LED Rear Footwell Lighting – $415
LED Door Storage Bin Lighting – $370
Additional Interior Package in Carbon – $4930
Center Console in Carbon – $1625
Seat Belt Outlets on B-Pillar in Carbon – $450
Switch Panel Trim Strip in Black Alcantara(R) – $775
Thicker Steering Wheel in Black Alcantara(R) – $1295
PDK Selector and Handbrake Lever in Black Alcantara(R) – $1880
Audio And Communications
6-Disc CD/DVD Changer – $650
Telephone Module – $295
Voice Control – $595
Electronic logbook – $650