WR TV: 2015 Kia K900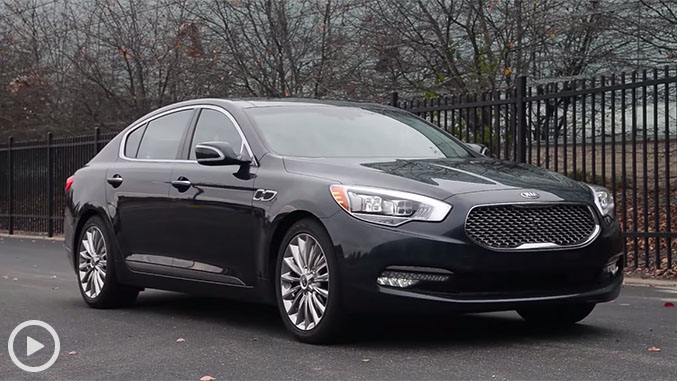 Much like the
Hyundai Genesis
, of which the K900 is the mechanical twin of the outgoing 2014 model, Kia is fighting an uphill battle to convince luxury car buyers to overlook a badge commonly associated with economy cars and give this sedan a chance. Fortunately for the Korean automaker, it has two very effective strategies in play: make a good car, and substantially undercut the sticker price of similarly equipped models of its rivals.
Like the V8-powered Genesis (both current and outgoing), the K900's drivetrain consists of a direct injected 5.0-liter motor which outputs 420 horsepower and 376 pound-feet of torque, and routes that power the rear wheels by way of a
ZF-sourced
8-speed automatic transmission. It's enough to get the 4500-pound K900 to 60 mph from a standstill in a respectable 5.5 seconds while returning fuel economy numbers of 15 mpg in the city and 23 mpg during highway cruising.
Scott McKee, Kia's PR director, says that the K900 is focused around "at-ease luxury" rather than the tautness of many of its Germanic counterparts, with effortless comfort taking top priority much in the way it did in the American luxury sedans of yore. Items like a configurable 12.3-inch TFT gauge cluster, front and rear individual climate controls, and heated/cooled seats all around are amenities one might expect to see in a vehicle made for the 1% set, but even loaded to the gills with every conceivable option including the VIP package, which adds items like a 16-way adjustable driver's seat, a full color heads up display and a 360-degree Surround View parking system, the K900's MSRP hits a comparatively paltry $66400. Let's have a closer look at the K900 inside and out, then take it out on the road:
Have you subscribed to the
Winding Road Magazine YouTube channel
yet? We post new videos like these every week, so give us a click if you want to make sure you don't miss any of the latest clips.