Video: Chevrolet Announces Performance Data Recorder for 2015 Corvette Stingray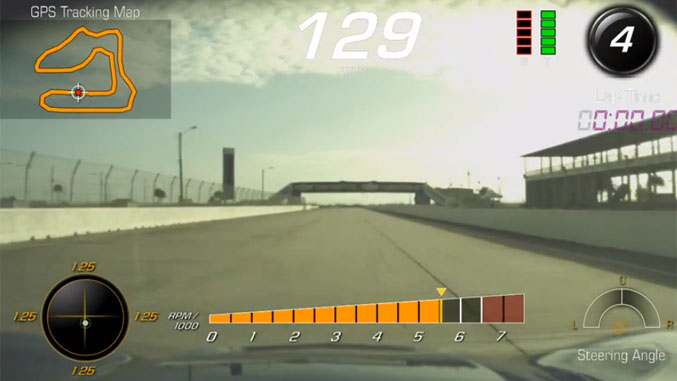 Chevrolet announced at this week's Consumer Electronics Show that the 2015 Corvette Stingray will come with an optional Performance Data Recorder, which will not only give 'Vette drivers a chance to review valuable track data to improve their performance, but will also almost certainly translate into exponentially more Corvette-based dash cam videos for the Internet to enjoy in the very near future.
Co-developed with Cosworth, the PDR utilizes a windshield mounted 720p camera positioned above the rear view mirror and can record up to 13 hours of data to an SD card via an SD reader housed in the glove box. That footage can then be viewed on the navigation screen in the center stack, giving drivers immediate feedback on their performance. The PDR offers a multitude of telemetry data, including the ability to compare consistency between laps, as well as lateral grip, engine revs, steering position, speed, and high-speed GPS information.
Check out the video below for more information on the PDR:
Fast Feedback: Corvette Performance Data Recorder
• Industry-first system features integrated video, audio, and motorsport-inspired telemetry recording capability
• HD-quality videos can be reviewed in-car (when parked), or downloaded to a personal computer for sharing via social media
• Data can be uploaded to Cosworth Toolbox telemetry software, similar to that used by Corvette Racing, to improve driver's techniques and lap times
LAS VEGAS – At the Consumer Electronics Show today, Chevrolet announced an all-new, industry-first Performance Data Recorder will be available on the 2015 Corvette Stingray. The fully integrated system enables users to record high-definition video, with telemetry overlays, of their drive experiences on and off the track.
"The Performance Data Recorder combines the ability to record and share drive videos with the power of a professional-level motorsports telemetry system," said Tadge Juechter, Corvette chief engineer. "Drivers can easily record and share their experiences driving down the Tail of the Dragon or lapping Road Atlanta. In addition, with the included telemetry software users can analyze their laps in incredible detail, and find opportunities to improve their driving and lap times." The Performance Data Recorder (PDR) system was developed with Cosworth, the British motorsports-engineering company that also supplies the Corvette Racing team's data acquisition and telemetry electronics system. It will be available with the start of regular 2015 Corvette production, later in the third quarter of 2014. Pricing will be announced closer to launch.
The PDR system includes three major components, all seamlessly integrated into the Corvette Stingray's interior. First is the 720p, high-definition camera, mounted within the windshield header trim, which records the driver's point-of-view through the windshield. Audio is recorded via a dedicated microphone in the cabin. Second is a self-contained telemetry recorder. The system uses a dedicated GPS receiver that operates at 5 Hz, five times faster than the in-dash navigation system, for more precise positioning and corner traces. The recorder is also hard-wired into the Stingray's Controller Area Network (CAN) to access vehicle information, ranging from engine speed and transmission-gear selection to braking force and steering-wheel angle.
Finally, the system features a dedicated SD-card slot in the glove box for recording and transferring video and vehicle data. Recording time depends on the capacity of the memory card, but an 8GB card can record approximately 200 minutes, while a 32GB card stores up to about 800 minutes – more than 13 hours of driving time.
The PDR system can record video with three data overlay options, each rendered in real time:
• Track Mode – shows the maximum level of data on the screen, including speed, rpm, g-force, a location-based map, lap time, and more.
• Sport Mode – shows fewer details on the overlay, but includes key data including speed and g-force
• Touring Mode – no data overlay; it simply records and displays video and audio of the drive
• Performance Mode – records performance metrics, such as 0 to 60 mph acceleraiton, 1/4-mile speed and elapsed time, and 0-100-0 mph runs. The video can be viewed on the Corvette Stingray's eight-inch color touchscreen (when the car is parked), or downloaded to a computer for further editing, and sharing video via social media sites.
For users who want a more in-depth understanding of their performance, the PDR vehicle data can be opened in the included "Cosworth Toolbox" software, which combines Cosworth's professional-level motorsport data analysis with an easy-to-use graphic interface.
The Cosworth Toolbox application overlays recorded laps on a Bing-enabled satellite map of the track, and features an easy-to-use interface to compare selected laps in detail, for any requested point on the drive. Comparisons include corner traces, vehicle speed, and cornering force to help drivers improve their driving consistency, and ultimately lap times.
The ability to review laps between track sessions can identify immediate adjustments for quicker laps in the next session," said Juechter. "It's like having a 32-GB crew chief trackside, proving you with real-time feedback to improve your driving skills."
About Chevrolet
Founded in 1911 in Detroit, Chevrolet is now one of the world's largest car brands, doing business in more than 140 countries and selling more than 4.5 million cars and trucks a year. Chevrolet provides customers with fuel-efficient vehicles that feature spirited performance, expressive design, and high quality. More information on Chevrolet models can be found at www.chevrolet.com.
About Cosworth
Cosworth leverages its brand and motorsports-inspired engineering and manufacturing capabilities to supply electronics and powertrain technologies to premium high-performance vehicle manufacturers. Cosworth was founded in 1958. With headquarters in Northampton, UK, the company employs staff across Europe and the USA. Cosworth can be found at www.cosworth.com.