Spy Shots: Mercedes-Benz SLK AMG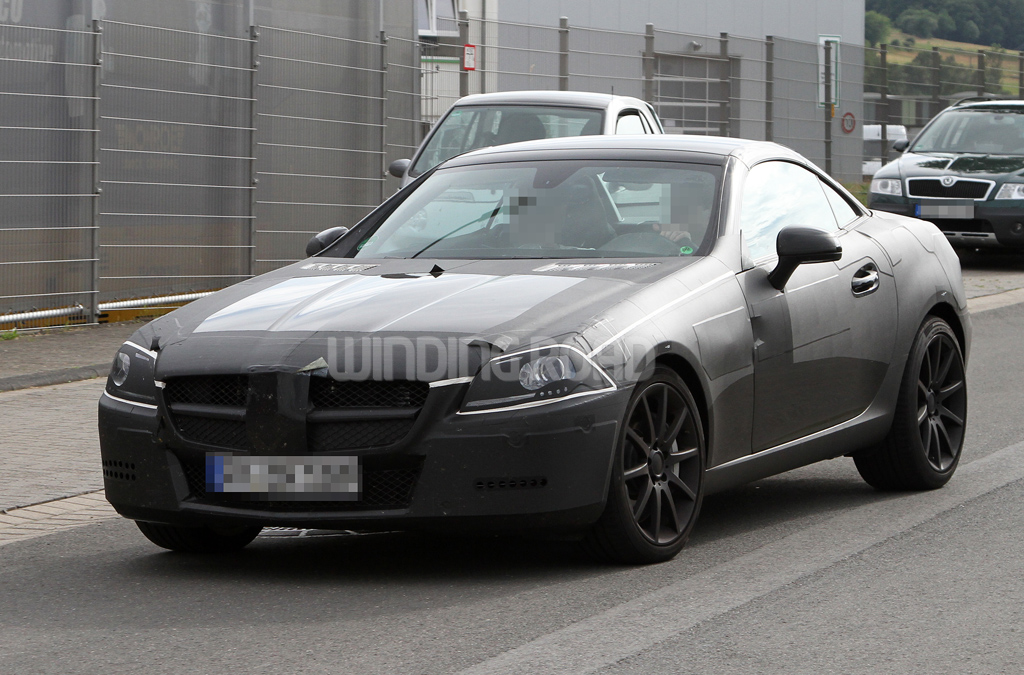 The current Mercedes-Benz SLK55 AMG is no slouch, producing 355 horsepower and 376 pound-feet of torque from its 5.5-liter V-8. However, with the introduction of BMW's not-quite-M-spec Z4 sDrive35is, Stuttgart might be feeling a bit of pressure to enhance its little roadster/monster, which is where these spy shots come in. This is a prototype of the next-generation SLK AMG, set to debut around 2012.
The quad exhausts, big brakes, and subtle rear spoiler are clear indications that this car has been touched by AMG. The new SLK looks to be getting a styling similar to the rest of the Mercedes range, with clear influences from the SLS AMG most noticeable in the headlights, taillights, and front grille.
The rumor mill is talking about V-6s and V-8s, both fitted with a pair of turbochargers, but according to our spy shooter, based on engine note, this car was packing a V-8. Whether it was the current car's 5.5-liter, the larger AMG-spec 6.2-liter, or an all new, force-induced engine remains to be seen.
Looking at these different scenarios, we can speculate that if the current 5.5-liter is fitted, we can expect at least 355 horsepower. If the 6.2-liter is under the hood, based on the output of the C63 AMG (the lowest power application of this motor), 450 horsepower isn't out of the question. If it is some sort of new biturbocharged motor, power could be just about anywhere.
Expect the SLK AMG to debut under 2012.
Scroll down for comments from our spy shooter.
The Mercedes guys and their friends over at AMG are pretty busy during the summer it seems. After bringing you the first spyphotos of both the new GL and C-Class Coupe on Friday it's now time for the first photos of the AMG version of the new SLK.
Clear visible giveaways are the bigger brakes and of course the massive quads exhaust pipes at the rear. The front spoiler will also get bigger air intakes and a different design than the standard SLK.
And for lucky guys like me who got to hear it, the sound is great. The current SLK 55 AMG has a mighty 360 horsepower and a not so wild guess is that the V-8 in new one will get some more power under the hood. Some rumors are talking about a twin-turbo V-6 and others about a twin-turbo V-8 for the AMG, but this one sure sounded like a V-8. So if the rumor about the twin-turbo V-8 is right we might expect some 400-450 horsepower in this small roadster. As we know from earlier spy photos of the standard car, the interior will get a lot of the SLS look, with the AMG version looking even sportier.