Ford Builds Upon SYNC Technology, Introduces MyFord Touch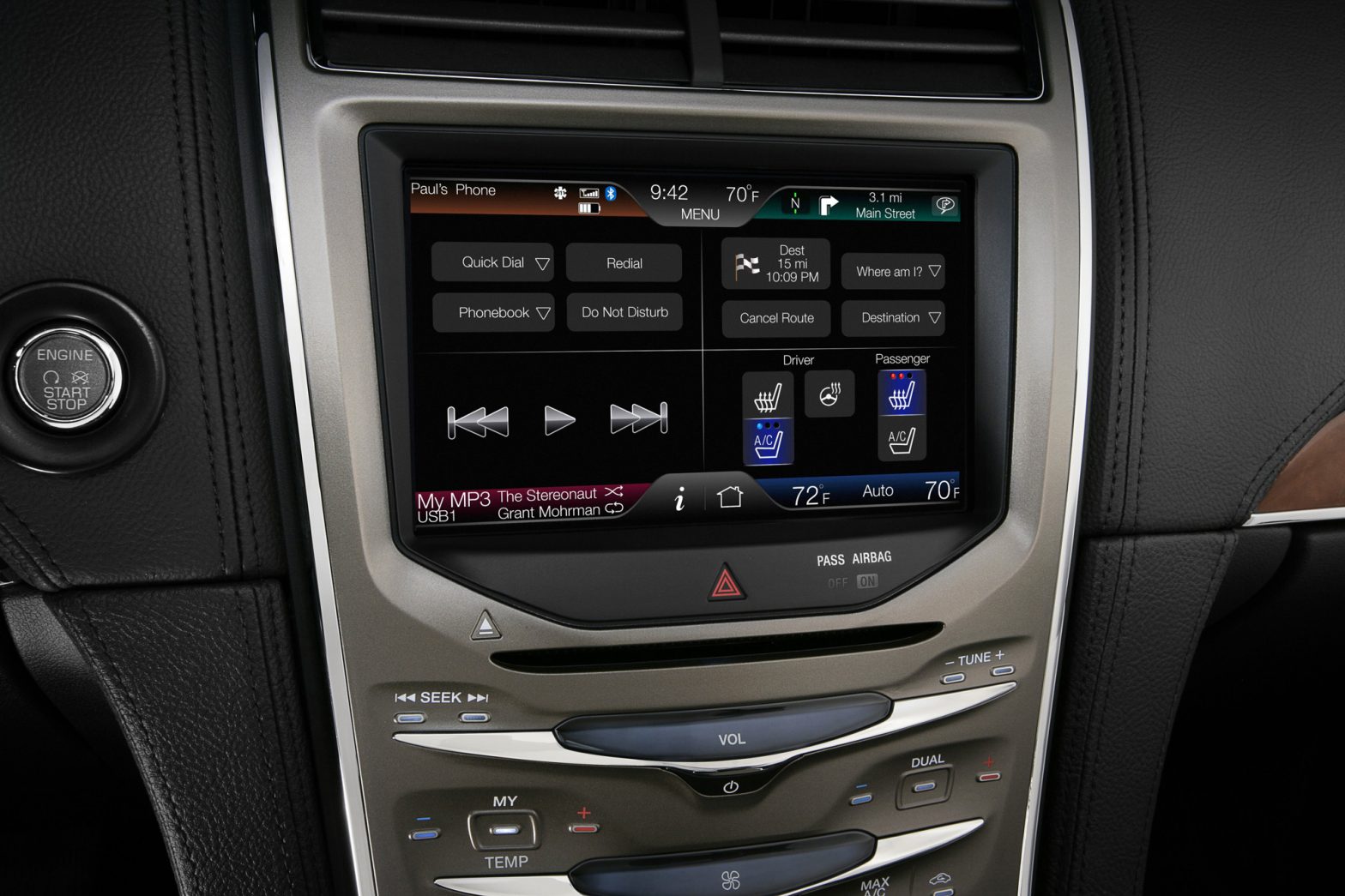 Ford's SYNC system was a huge step forward for the automaker, showing that the Blue Oval folks are serious about making sure that the cars rolling off their assembly lines have the best, most up-to-date technology available. Now, Ford debuts the all-new MyFord Touch system (see also: MyMercury Touch, MyLincoln Touch), which will be implemented into 2011 model year vehicles like the next-generation Ford Focus and the refreshed Lincoln MKX (both of which will make appearances at the Detroit Auto Show).
MyFord Touch is not only integrated into the eight-inch LCD screen found on the center stack, but is also displayed on two 4.2-inch screens on either side of the speedometer in the instrument cluster. Naturally, the center stack interface is fully touch-screen operational, whereas the smaller gauges are operated by two five-way switches on either side of the steering wheel. The left side displays fuel economy, mechanical status, and safety features, while the right side shows audio settings, climate control, phone communications, and navigation menus.
The center stack uses a four-corner, color-coded layout, so phone, navigation, climate, and audio information are always in the same place — thus getting rid of the hassle of hunting for certain information in a complicated interface. Drivers will have the ability to personalize their home screen layouts, as well. Moving below the LCD screen, Lincoln vehicles will use a sliding, touch-screen interface for audio volume and HVAC fan speed.
MyFord Touch obviously brings a host of new functionality to Ford, Lincoln, and Mercury vehicles, but we musn't forget that SYNC is the underlying feature in all of this. That means voice recognition, Bluetooth, a USB/SD media hub, wireless internet connectivity, navigation, climate control, audio control, and special applications and services are all on hand.
It's a cool system, this MyFord Touch. And if you'll be at the North American International Auto Show over the next few weeks, we invite you to give it a whirl for yourself. Click through the gallery to see images of all the MyFord functions, and scroll down to read the official press release.
MYFORD TOUCH DEFINES INTUITIVE DRIVER EXPERIENCE: ADVANCED CAPABILITIES ALL VOICE-CONTROLLED NOW
– New MyFord™ driver connect technology redesigns the driver's interface with the car, matching modern consumer electronics screens and controls that have become the standard for ease-of-use and rich graphic displays
– MyFord Touch™ organizes functions and settings with minimal menu layering for quick access – including personalization of relevant information to minimize driver distraction
– MyFord Touch interface and graphics are powered by the next generation of Ford SYNC®, built on Microsoft'sWindows Embedded Auto platform. Advances include improved voice recognition, more connectivity ports including SD Card slot and WiFi capability
– Lincoln to receive MyLincoln Touch technology as standard equipment on future models beginning this year with the 2011 Lincoln MKX
LAS VEGAS, Jan. 7, 2010 – The new MyFord Touch driver connect technology announced today at the 2010 International CES is designed to be powerful yet intuitive for drivers, blending strengths of the most proven interfaces in consumer electronics – including MP3 players and mobile phones – with a new generation of Ford's award-winning SYNC system.
"MyFord Touch, combined with new SYNC functionality, creates an experience that will cause people to fall in love with their vehicles again," said Derrick Kuzak, Ford group vice president, Global Product Development. "It's not just a technology; it's an experience – one we hope will have people across the globe looking forward to spending time behind the wheel of their vehicle."
MyFord, which will be branded as MyLincoln Touch and MyMercury Touch on respective Lincoln and Mercury brand products, redesigns the in-car interface, mirroring how consumers interact with most devices in their lives using touch-sensitive buttons, touch screens, thumb-wheel controls and voice recognition.
In that respect, MyFord is instantly familiar. Using reconfigurable displays and simplified voice commands, though, MyFord also can present multiple layers of information, just as the driver wants it.
"MyFord really is about managing information," said Jason Johnson, Ford user interface design engineer. "Driving is the priority when you're behind the wheel, so we've made it possible to simplify the content management so customers can drive with minimal distraction. In the end, what MyFord displays is really up to the driver."
MyFord Touch layout
MyFord Touch retains the traditional car interior layout that has existed for decades – instrument cluster in front of the driver, center stack dividing the dashboard – and adds even more voice control plus full-color LCD screens for much of the visual information presentation. The information presented is customizable by the driver using a combination of voice controls, touch-screen technology and five-way cell phone-style buttons mounted on the steering wheel.
MyFord Touch displays information using two 4.2-inch full-color LCD screens flanking an analog speedometer and an 8-inch touch-screen LCD at the top of the center stack. A five-way switch on each side of the steering wheel crossbar – similar to the one found on most mobile phones and MP3 players – controls the information displayed on the corresponding instrument panel screens.
"The steering wheel has all the necessary functions available in a very compact area, right where your hand falls as you grab the wheel," said Johnson. "The five-way buttons will feel familiar to anyone who has used a mobile phone or MP3 player. Drivers aren't forced to use a quirky or unfamiliar interface like a joystick or rotary knob."
The left display, which is controlled by the left five-way controller, features information and settings for the vehicle: fuel economy, mechanical status, safety features.
The right display, controlled by the right five-way controller, contains infotainment information: audio settings, climate control, phone communications and navigation menus.
Those same right-hand functions also appear in the vehicle's center stack, now augmented with capacitive switches and touch-screen technology, which subtly replaces most traditional knobs and switches.
Lincoln center stack applications will take touch-sensitive technology to the next level with fingertip "slider" controls for audio volume and fan speed. Occupants will slide a finger along the touch-sensitive slider bar to adjust settings as an LED chaser gives a visual representation of volume or fan speed.
Available touch-screen display
The 8-inch touch-screen center stack display is the key interface on MyFord Touch. Designers employed a four-corner solution for its layout, representing the four activities most important to customers: phone, navigation, climate and audio/entertainment functions.
Regardless of what menus customers are viewing, a single touch on the appropriate corner will always bring up the desired functionality, and in most cases, a voice command also can be used to adjust the controls.
With the four-corner layout, functions are where they're expected to be, and they're always visible on the screen, so it's clear and easy for users to understand where they are in the system.
Color also is used to give drivers intuitive visual cues between the central 8-inch MyFord Touch display and the instrument-panel-mounted 4.2-inch display. Phone and communications functions always are presented with an orange background, navigation with a green background, climate control with a blue background and audio/entertainment functions with a red background.
SYNC – behind the scenes
Behind the displays of MyFord Touch driver connect technology, the next generation of Ford's award-winning SYNC system runs the show, built using the Microsoft Windows Embedded Auto software platform.
SYNC has evolved from a standalone module providing voice-activated control for mobile devices to a fully integrated platform for Ford vehicles with MyFord – a technology that will become the global interior architecture for all future Ford products.
Features available through MyFord Touch, powered by SYNC include:
Media Hub
– Additional USB port for a total of two USB 2.0 inputs
– SD Card slot
– RCA A/V input jacks
Internet Connectivity
– Full WiFi capability including Internet "hot spot" connectivity and a built-in browser for use while in "Park" (late availability)
– Integrated browser supports tabbed page navigation, "drag" to pan and scroll and a provides a 3-D carousel for bookmark browsing
– Support for on-screen and USB-connected keyboards
– RSS feed aggregator and text-to-voice reader
– Mobile in-car WiFi "hot spot" capability through USB-installed air card or USB mobile broadband modem
Phone
– Phone book contact photo download and 3-D carousel browsing
– Birthday reminders
– Enhanced error correction and reporting
Voice Recognition
– Direct speech commands and "flattened structure" for quicker, more responsive voice control
– Voice-command activation of selected climate control functions
– Voice commands will be available for most radio functions, including AM/FM, HD RadioTM Technology and SIRIUS/XM® Satellite Radio
– SIRIUS Game Finder application will facilitate automatic voice tuning for desired sporting events using commands such as "Tune to Detroit Lions game" or "Show NBA games"
Navigation
– Improved visual presentation of SYNC Traffic, Directions & Information app including directional arrows, street names, and distance markers
– Map-based navigation app provided by TeleNav via an optional SD Card
– SD Card navigation includes SIRIUS Travel LinkTM services such as weather maps, movie listings, gas prices, and sports scores
– SD Card navigation also adds cities point-of-interest information including ratings and amenities
– Map data includes 3-D visual landmarks
Climate Control
– MyTemp personalization allows the driver to store a preferred temperature, which is then accessible with a single touch of the MyTemp button
– Different MyTemp settings can be programmed to different keys; multiple drivers in a household can each have unique MyTemp settings
Audio
– AM/FM/CD, SIRIUS/XM satellite radio, USB-connected MP3 players and memory sticks
– New HD Radio capability
– Song tagging capability via HD Radio Technology, allowing listeners to identify song information and store it for later use
– Browse tracks by artist, scan lists of tracks with identical names, and browse through devices without having to change audio sources
– 3-D carousel album cover art and photo viewing displays allow easy scanning of available material, especially combined with Gracenote Media Management
– Media player equipped with new "Podcast" source category
– Enhanced Bluetooth® audio support including metadata, which allows additional command and control functions for capable mobile devices
Vehicle Setting Personalization
– Ambient lighting color control using a 3-D carousel browser
– Custom welcome messages
– Saved and transferrable user profiles that can be ported between Ford vehicles equipped with MyFord
– Door keypad code control using on-screen menus
– Where available, Active Park Assist and Rear View Camera displays
– Image and video uploading via SD card slot or USB 2.0 ports
SYNC Apps & Services
– Traffic, Directions & Information offers personalized traffic reports, turn-by-turn directions, business search, sports, news and weather via SYNC and the user's mobile phone
– Downloadable destinations when coupled with the SD card navigation function; SYNC Service Delivery Network (SDN) will be able to send a destination directly to the vehicle
– Vehicle Health Reports will download service reminders and vehicle information directly to the in-car displays
– 911 Assist™ can call for help in the event of an air bag deployment; improvements allow SYNC to provide more precise location information and critical incident details directly to the call taker at the 9-1-1 call center, including the vehicle speed, the number of belted occupants and which air bags were deployed
Flexible, upgradable and ready for global deployment
Built using the latest technology from the Windows Embedded Business at Microsoft , the second generation of SYNC has been designed from the outset to be expandable, allowing it to grow and add new features without requiring new hardware. By employing a Media Hub for interfacing with external devices and media, Ford has helped ensure compatibility with future hardware innovations.
"The Media Hub is really the key to SYNC's new upgradability," said User Interface Design Engineer Johnson. "Take navigation: In the past, map data was stored on a hard drive and updates took hours to load from DVD. With SYNC and MyFord Touch, if you need a map update, you take the old SD card out of the Media Hub and pop in a new one.
"It'll be the first time an automaker will offer something that competes with the cost and ease of personal navigation devices," he added.
The system also has been configured for global deployment from the start, using one hardware package in all regions worldwide. The identical global SYNC hardware will be outfitted with branding, languages and regionally appropriate applications while the host vehicle is on the assembly line, all using WiFi technology.
MyFord technology will not be exclusive to high-end products. As new and refreshed Ford, Lincoln, and Mercury models continue to arrive on the world stage, all will be outfitted with an implementation of MyFord driver connect technology.
"MyFord will become part of the global DNA of Ford products," said Kuzak. "Across different models, different trim levels, even different countries, drivers immediately will know they're behind the wheel of a Ford vehicle equipped with the technology, safety and convenience features they expect."