BMW M5 Sets World Record For Longest Drift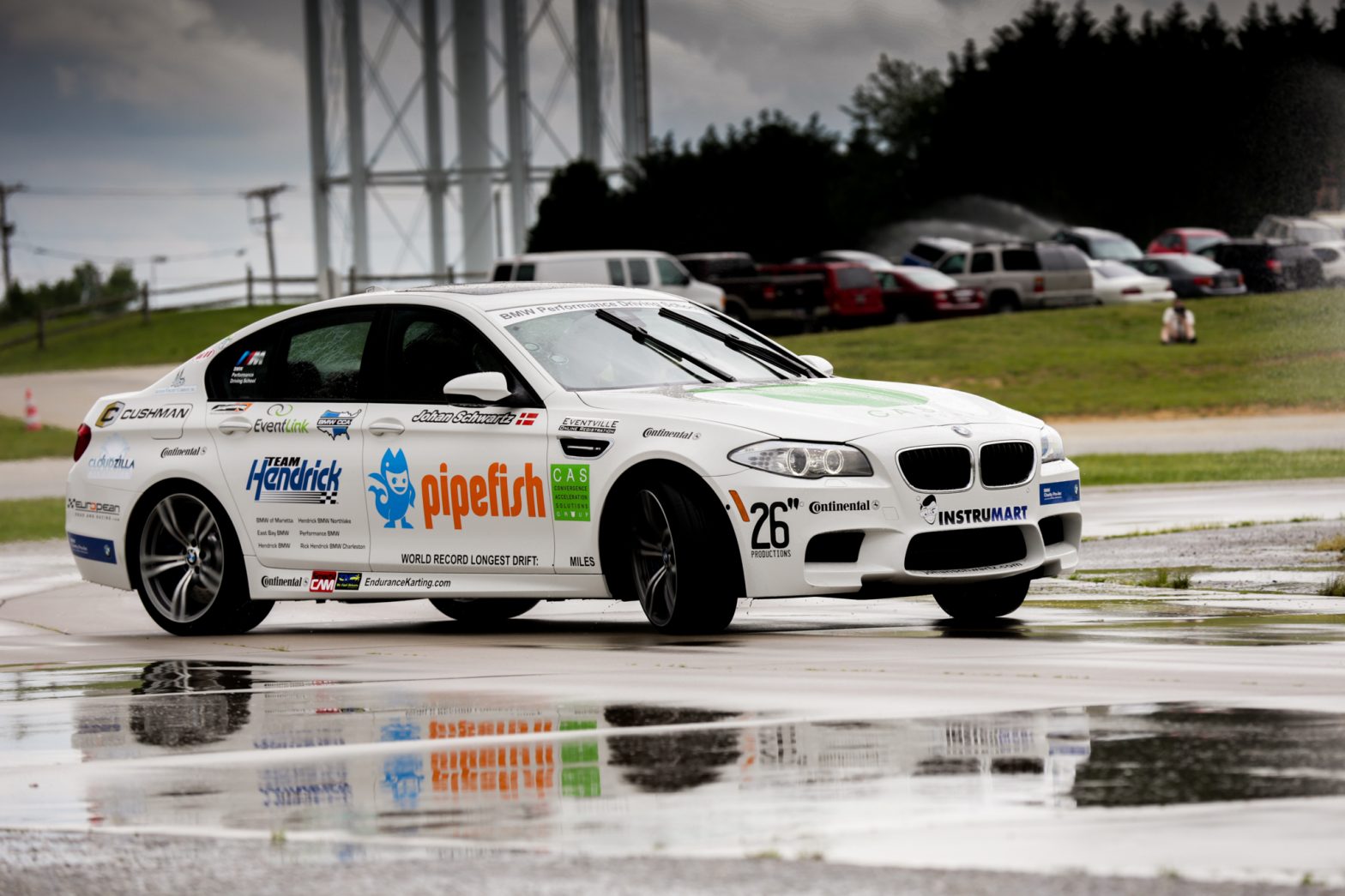 While other groups are out working on ways to
break
world
records
, BMW just set a new Guinness World Record for the longest sustained drift. A
BMW M5
sedan slid for 51.278 miles around a skid pad at the brand's
Performance Center
near Greenville, South Carolina.
BMW Performance Center Johan Schwartz was behind the wheel of the unmodified 2013 BMW M5, completing 322.5 laps around the skid pad, crushing the previous record of 47.71 miles (also set by an M5).
The record attempt was part of a fundraising program, which raised over $20,000 for the BMW Charity Pro-Am.
Scroll down for more details in the press release, below.
BMW Performance Driving School Sets Guinness World Drift Record With BMW M5 Sedan
Woodcliff Lake, NJ, May 14, 2013… The legendary BMW M5 Sedan shattered the Guinness World Record for longest sustained drift at the BMW Performance Center near Greenville, South Carolina on Saturday, May 11, 2013, with BMW Performance Center Instructor Johan Schwartz behind the wheel. The record-breaking attempt generated ­­­over $20,000 in charitable donations benefitting The BMW Charity Pro-Am.
The M5 exceeded the previous record set in February in Abu Dhabi by 47.71 miles. A total of 322.5 laps were completed around the 841-foot (circumference) Performance Center skid pad, providing a total distance-travelled of 51.278 miles. The M-DCT transmission-equipped 2013 BMW M5 Sedan was an unmodified car from the BMW Performance Center school fleet which began the record attempt with a fresh set of Continental ContiSport ultra-high performance tires (sizes 255/30/20 front, 295/30/20 rear).
Saturday's drift record attempt signaled the kick-off to a week of events leading up to the BMW Charity Pro-Am. Over $20,000 was raised for the BMW Charity Pro-Am which benefits over 150 different charities. Public attendees to the record attempt enjoyed drives in new BMW vehicles including the M6 Coupe, and many received a "hot lap" ride from one the BMW Performance Center Instructors. Test drives of the game-changing BMW X5 Sports Activity Vehicle® on the off-road course were also available. Additional information on the BMW Charity Pro-Am can be found at https://www.bmwusfactory.com/charity-golf/. [http://www.bmwusa.com/performancecenter]
BMW Group in America
BMW of North America, LLC has been present in the United States since 1975. Rolls-Royce Motor Cars NA, LLC began distributing vehicles in 2003. The BMW Group in the United States has grown to include marketing, sales, and financial service organizations for the BMW brand of motor vehicles, including motorcycles, the MINI brand, and the Rolls-Royce brand of Motor Cars; DesignworksUSA, a strategic design consultancy in California; a technology office in Silicon Valley and various other operations throughout the country. BMW Manufacturing Co., LLC in South Carolina is part of BMW Group's global manufacturing network and is the exclusive manufacturing plant for all X5 and X3 Sports Activity Vehicles and X6 Sports Activity Coupes. The BMW Group sales organization is represented in the U.S. through networks of 338 BMW passenger car and BMW Sports Activity Vehicle centers, 139 BMW motorcycle retailers, 117 MINI passenger car dealers, and 34 Rolls-Royce Motor Car dealers. BMW (US) Holding Corp., the BMW Group's sales headquarters for North America, is located in Woodcliff Lake, New Jersey.