Driven: 2013 BMW M5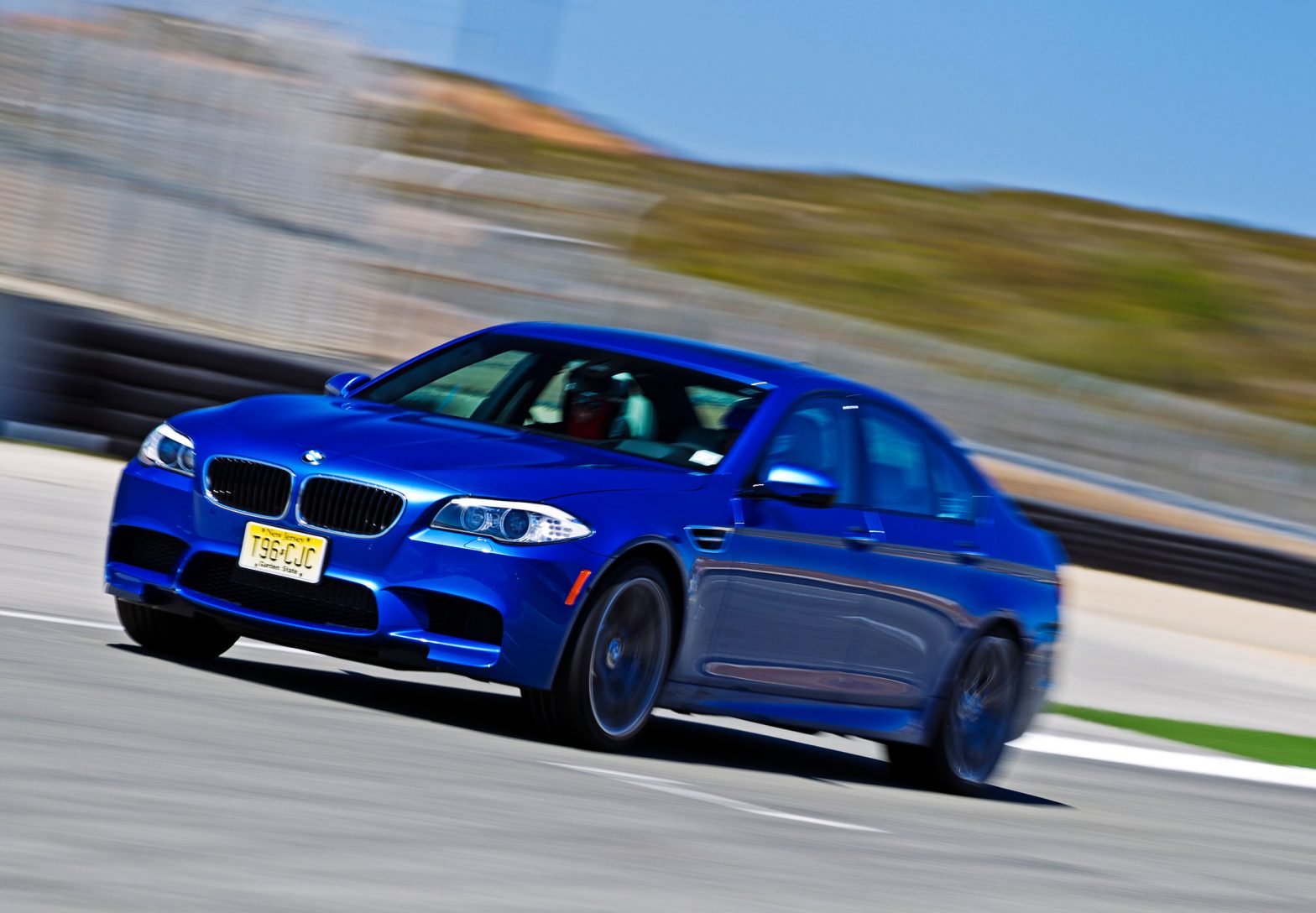 —Monterey, California
The last day of the Pebble Beach Concourse d'Elegance is by no means the end of the automotive spectacle on the Monterey Peninsula. Shipped out to California just in time to miss the vintage festivities, but with a full day to explore all of BMW's hottest models around Northern California and at the always-entertaining Laguna Seca (Mazda Raceway, if you must), we nevertheless were treated to a motive cornucopia on the roads around that track that is unlike any time and place on the planet. In other words: the Monday after Pebble offers car porn on a grand scale, wherever you go.
Within this setting it's almost liberating to drive a car like BMW's new M5, which falls neatly under the radar when
Gallardos
and
Italias
, and Shelbys are as thick on the ground as Ford Fusions on Woodward Avenue at 6 pm on a Thursday. Of course, "sleeper" status is largely a part of the M5's DNA, but we estimate that in less exotic-laden circumstances, this new, fifth-generation "F10" M5 is going to stick out as a bit of a performance vehicle. A bolder than ever selection of M graphics, 20-inch light alloy wheels (a $1300 option), blacked out twin-kidney grille, aggressively lowered front end, and more, all point to the decidedly wicked intentions of this 5er.
In the cabin, as well, we were treated to an experience that more than adequately conveys the M5's mission of combining luxury and menace. Seating (our favorite finish was the Sakhir Orange Marino leather) was widely adjustable, as is typical of BMW, with lovely conforming-yet-firm bolstering on the seat bottom and back. The chairs offered great stability in the high-g corners of Laguna Seca, without ever pinching/punching for longer stints on public roads. Better still (and a offering a serious one-up on little brother M3), the M5 does have real room for two rear-seat passengers. (We can't think of many better ways to scare your kids, your neighbors, or your boss's wife.)
We drove roads of all variety in the M5, and can report that, when appropriate, the M5 drives like a big car, too. BMW's class-leading adaptive suspension does a fantastic job of transforming this 5 from beast to buttercup, and when clicked into the softest settings, the ride is plush, smooth, and feels effortless. That's a huge compliment, considering the competence with which the M5 dispatches the very serious confines of Laguna.
While never fully giving itself over to race driving like the M3, and though it does feel slightly heavier, stiffer, and less willing than its cousin M6, this F10 M5 is a far better track tool than you'd hope to find in a car this size. M Dynamic Mode is a must before you set out on lap one—the various electronic nannies are too intrusive into and out of fast corners when left operable. With that "MDM" light lit, however, the rear end of the M5 loosens up, power is delivered fluidly and from the very early revs, and steering response is measuredly quick. The 5 has all the power in the world with which to pull itself out of corners like Turn 6 (the very fast, uphill lefthander that sends one hurtling towards The Corkscrew), and ample braking power to halt the progress of this two-ton thrill ship before the 90-degree Turn 11 allows one to leak out onto the main straight.
Laguna is a big, wide, fast track, and it lends itself quite well to the abilities of a big, heavy, very fast car like this M5. The tightly drawn track map of your local circuit might offer a bigger challenge here.
Certainly on the ultra tight, narrow, and brutally surfaced roads that pepper the hills of Laguna's general area, the M5 doesn't drive in a compact fashion, despite its mostly unflappable confidence. Where the still-rather-large sedan feels absolutely at home is on a flowing series of sweeping curves at speeds that range from fast up to faster-than-you-ought. There, on the big and mighty corners of the world, this Bimmer offers stoic grip, that can be judged with accuracy via feedback from the steering wheel and suspension.
But, given its head and room to run on those very tight roads, and the M5 begins to feel every bit of its wheelbase. The car won't rotate quickly enough at slower speeds (60 mph and below) to offer a lot of driver satisfaction on technical roads. And though information from the car flows nicely, the feel sometimes adds a bit of white noise with the suspension banging away, and big wheels doing little to absorb shocks from large impacts.
It's important to note that those last impressions were drawn from driving the car with its most aggressive suspension settings, and on roads that really are better suited for sports bikes (or at least sport compacts) than for large, maddeningly powerful, near-super sedans. Bring the pace down, and soften up the software, and you'll find a more forgiving ride, for sure.
Road or track, complex corners or never-ending sweepers, the underlying element of goodness here is the M5's stirring powertrain. The twin-scroll turbo-fed 4.4-liter V-8 engine puts out an astonishing 560 horsepower and 500 pound-feet of torque for its lucky operator to make use of—figures that are both significant upgrades from the last-generation's V-10.
Now, we understand that there are/will be M5 fans that will immediately (and almost always irrationally) lament the V-10's loss and the turbo V-8's installation. Just as fans of the third-gen car pined for the naturally aspirated 4.9-liter V-8 at the announcement of the V-10, fans of the second-gen gnashed their teeth at the loss of the indispensible inline-six, and so on. Reactionary Bimmerphiles notwithstanding, we're happy that BMW continues to look for added power and efficiency in its engine development.
So, of course, the 4.4 motor is a gem. The turbo feeds in enough air to prevent any real discernable lag from ruining your fun, and the engine spins up so fast that it would hardly matter even if there was a spot of power-lull below the first few thousand revs. Accelerative force is visceral and truly fun to deploy, with the sophisticated rear differential ably flowing power to the rear wheels over many a road surface and shape. The M5 pulls like a locomotive from low, middle, and high speeds; only the limited top speed of 155 miles per hour holds the car back from honest supercar speed.
And, after taking care to drive both the six-speed manual car and the seven-speed DCT in equal measure over the course of our afternoon test, we can confidently report that the stick shift is the lesser transmission. Other than the oddly hidden "park" setting (
see our M6 Convertible review for a similar complaint
), the DCT is more perfectly matched and sweeter to operate than its traditional counterpart. Certainly the DCT is faster to use on the track, and as direct and engaging as any similar system we've used to date. But, to be fair, it's the vast averageness of the 6MT that seals the deal. The stick shift feels balky to engage at any engine speed under, say, 6000 rpm. The throws are short enough, but the action between gates is strangely hesitant, with an odd bumpiness between first and second, especially.
Far be it from us to harsh on a manual trans option (we think our track record speaks for itself here), but in this case we'd stay away from the six-speed.
This is, at its heart, a pretty complete and wonderful example of what kind of magnificent car BMW can turn out when the company's sporting chops are on the line. It is not, in any respect, a "purist" driver's car (whatever that really means any more). It is, a technological statement of dominance from one of the world's finest engineering companies. A statement of belief, rendered in metal that BMW will continue to advance, to make cars that are capable and compelling, without needing to be shackled to what it has done in the past.
In the rarefied air of Monterey after Pebble Beach, with the scent of successes past still thickly mingling with salt tang and fog, we appreciate a company that is more committed to making new icons than it is to lauding those past.
2013 BMW M5 7DCT
Engine: Biturbocharged V-8, 4.4 liters, 32v
Output: 560 hp/500 lb-ft
0-60 MPH: 4.2 sec
Top Speed: 155 mph
Weight: 4387 lb
Fuel Economy, City/Hwy: 14/20 mpg
Base Price: $89,900