Mazda To Attempt World Record With MX-5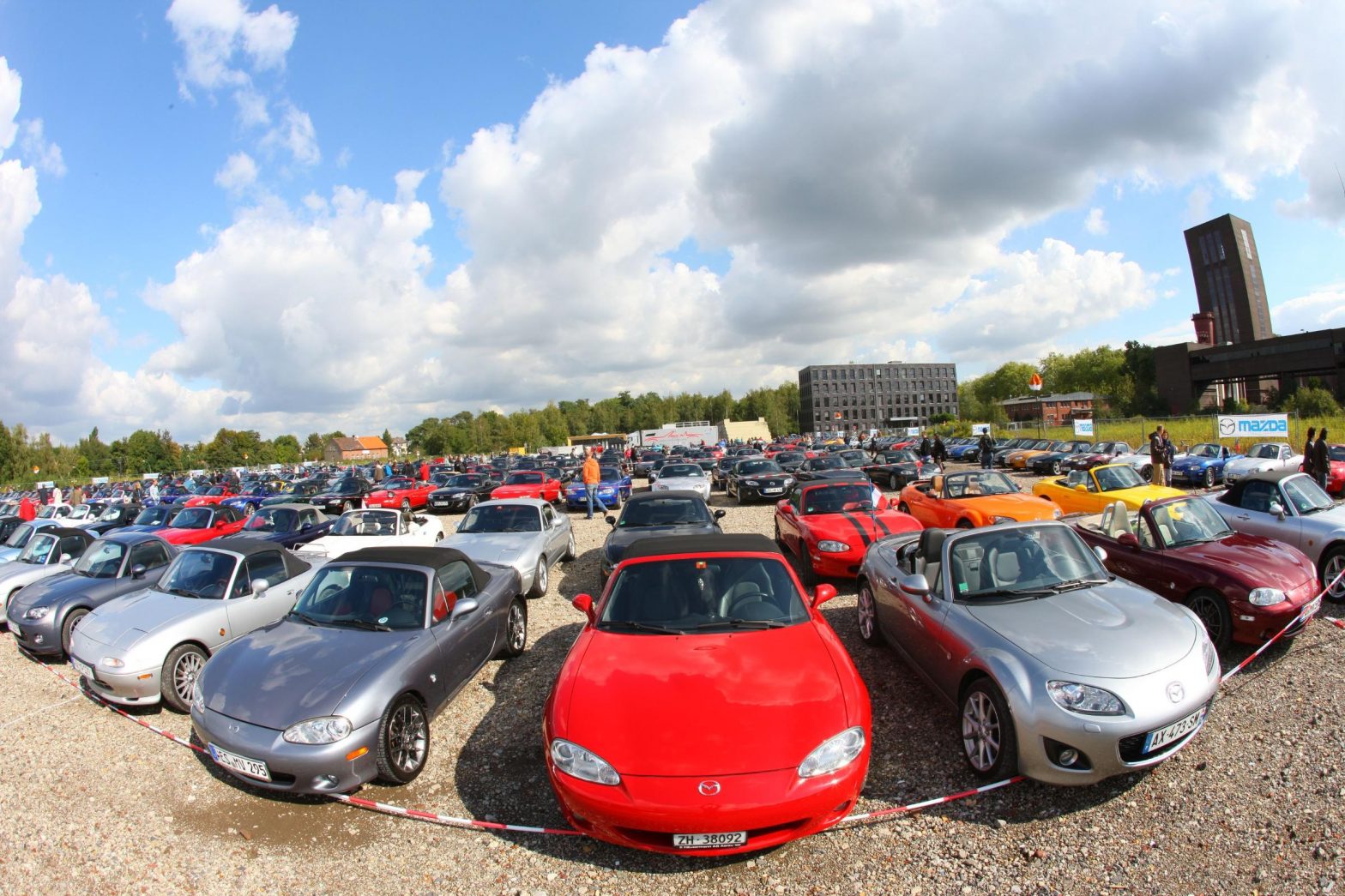 Next month, Mazda hopes to break its own Guinness World Record for "largest parade of Mazda cars" with a gathering of
MX-5
s in Lelystad, Holland. The event, called IMAX-5 2013, hopes to bring together close to 800 examples of the popular roadster at RDW Test Centrum for a drive through the Dutch countryside.
The previous record was set when 459 MX-5s descended upon Essen, Germany in 2010.
The MX-5 Miata has a strong following and
active community
, which makes record attempts such as this possible. The event also offers an opportunity for enthusiast to get together, share their love of their cars, and, in the case of the event on June 15 in Lelystad, try out some of Mazda's newer vehicles showcasing the brand's
Skyactiv technology
.
Scroll down for more information in the press release, below.
459 Mazda MX-5s set the 2010 world record in Germany
MX-5 drivers gather for the roadster's 20th anniversary in Japan in 2009
MAZDA MX-5 EYES NEW WORLD RECORD
Mazda's MX-5, the best-selling roadster of all time, is shooting for another Guinness World RecordTM on 15 June 2013 in Lelystad, the Netherlands. The event, organised by Mazda is called IMAX-5 2013, and the goal is to shatter the existing record for the "largest parade of Mazda cars" – 459 Mazda MX-5s – set in Essen, Germany in 2010.
IMAX-5 2013, hopes to attract as many as 800 MX-5s to the RDW Test Centrum in Lelystad to join the procession, which starts at 4:30pm and will follow a 15km route through the fascinating Dutch polder landscape near Lelystad. In addition there will be a variety of activities offered at the event grounds after the gates open at noon, such as opportunities to test drive Mazda's new SKYACTIV models and experience their cutting-edge
i-ACTIVSENSE safety technology. Participants can also test their skills on different race simulators, take in a special display of some of the finest MX-5s on hand and even receive a free inspection of their own roadsters. Further activities include track demonstrations of the Ribank Mazda MaX5 Cup racers as well as Van Herck Racing's three-rotor-engined Mazda3 20B. Finally, the evening will feature a film shown at Europe's largest drive-in cinema.
With total sales approaching 1 million cars, the Mazda MX-5 has put smiles on a lot of people's faces over its 24-year history. It has also given rise to many celebrations along the way, when the 500,000th, 700,000th and 900,000th unit rolled off the assembly line, for example, and on the MX-5's 20th birthday. And there's no end in sight.
All interested MX-5 owners are invited to register for IMAX-5 2013 online at www.imax-5.nl. The €30 admission per car (and up to two people) includes a warm meal and two drinks per person. Space is limited to 800 cars – MX-5s only – and tickets must be purchased in advance.
Programme schedule:
12.00 – 14.00: gate opens, registration
14.00 – 15.30: gate closes, start of activities
15.30 – 16.00: demonstrations of the Ribank MaX5 Cup cars and the Mazda3 20B
16.00 – 16.30: activities and preparation for MX-5 world record
16.30 – 17.30: Guinness World RecordTMattempt
17.30 – 20.00: activities and dinner
20.00 – 22.00: drive-in cinema
22.00 end of program
# # #