Flip This Car: 1994 Buick Roadmaster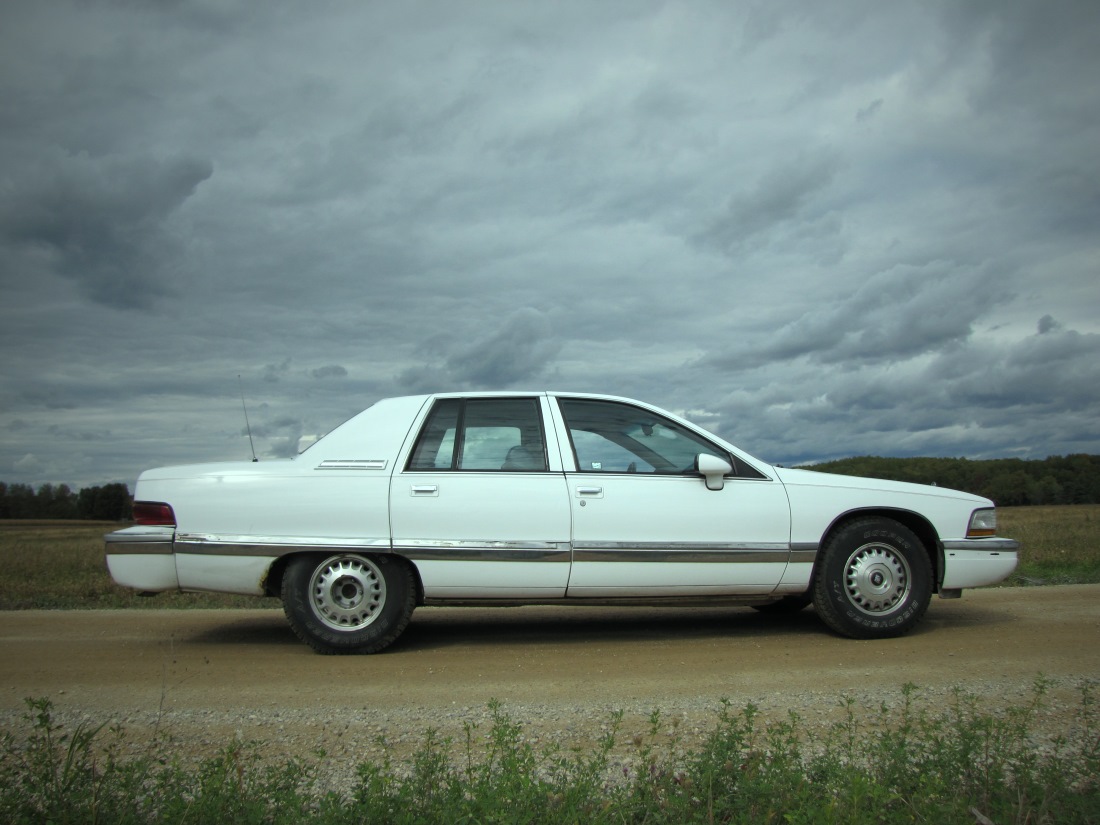 And so begins the next adventure in the realm of inexpensive automotive tomfoolery. A fond welcome back to those who tagged along for the
1989 Taurus SHO adventure
, and to those wondering what a somewhat scruffy, 16-year old land battleship is doing on the pages of
Winding Road
, here's the deal. This is my car—my name is on the title, and for the next few months, it will not only be my daily driver, but a machine in which I fully intend to have a bit of fun before hopefully selling for a profit.
Of course, when I say fun, I actually mean finding new and creative ways to enjoy piloting a body-on-frame, 4200-pound beast. I won't give away all the crazy plans just yet, but I can't rule out requiring the services of a co-driver before signing away the title. That is, provided I can keep the big boy healthy, which will also be my responsibility. As with the previous
Flip This Car
series, I have tools, a garage, and internet access to assist my limited mechanical knowledge, but repairs outside my comfort zone will take precious dinero away from the party fund, so I'll be very aggressive in trying to handle problems on my own. To make this even more of a challenge, the Roadmaster is my first ever B-Body machine, so I'm well and truly starting from scratch. That's why I've already enlisted the help of the folks over at
ImpalaSSforum.com
, and I suspect I'll have quite the post count on their forums by the time this car leaves my possession. Either that or I'll have started a mid-Michigan Roadmaster club. The neighbors would love that.
At this point, some of you might be wondering why a Roadmaster owner would seek out Impala SS enthusiasts for help. Still more of you might be wrestling with the idea of a Buick Roadmaster being anything other than a numb, bloated, long-distance cruiser. It's true that this car is very much the antithesis of Winding Road, but it does have a rather notable saving grace. Pop the hood, and nestled between the wheel wells sits the same engine that powered the 1994-1996 Impala SS, not to mention the Camaros, Corvettes, and Caprice cop cars of the day. I'm speaking of the 350 cubic-inch LT1 V-8, producing 260 horsepower and enough torque to fog entire neighborhoods with 150-foot burnouts, and that's without brake-torquing. This car might weigh two tons, but the way it builds speed is more addicting than LSD. That is, if you can keep the rear tires from smoking themselves into oblivion, which admittedly is also highly addictive. I already have a tire guy on speed dial, and I suspect the local PD is aware of my presence as well. What can I say? This car is a bad influence, and so far, I love it.
I also love it because it's surprisingly rust-free for a Michigan car. Details on what's good and bad will be offered up in part two, but for now, just know that it has 142,000 miles, it drives remarkably smooth and straight down the road, the engine feels strong, and it has been a turn-key car for the two weeks I've spent behind the wheel. That is, turn-key for the most part; I dropped some coin for a transmission service and shift solenoid that turned out to be a PCM problem (which is still awaiting replacement), and within 24 hours of purchasing the car I simply had to attack the nicotine-soaked interior with a gallon of industrial-strength cleaner. Should any of you be seeking new incentives to quit smoking, spying some of the before-and-after interior shots in the gallery just might do the trick.
In the meantime, the beast and I will be enjoying a very different kind of smoking. God help us all once I get the absurdly quiet factory mufflers off this thing.