First Look: Ford Fiesta RS WRC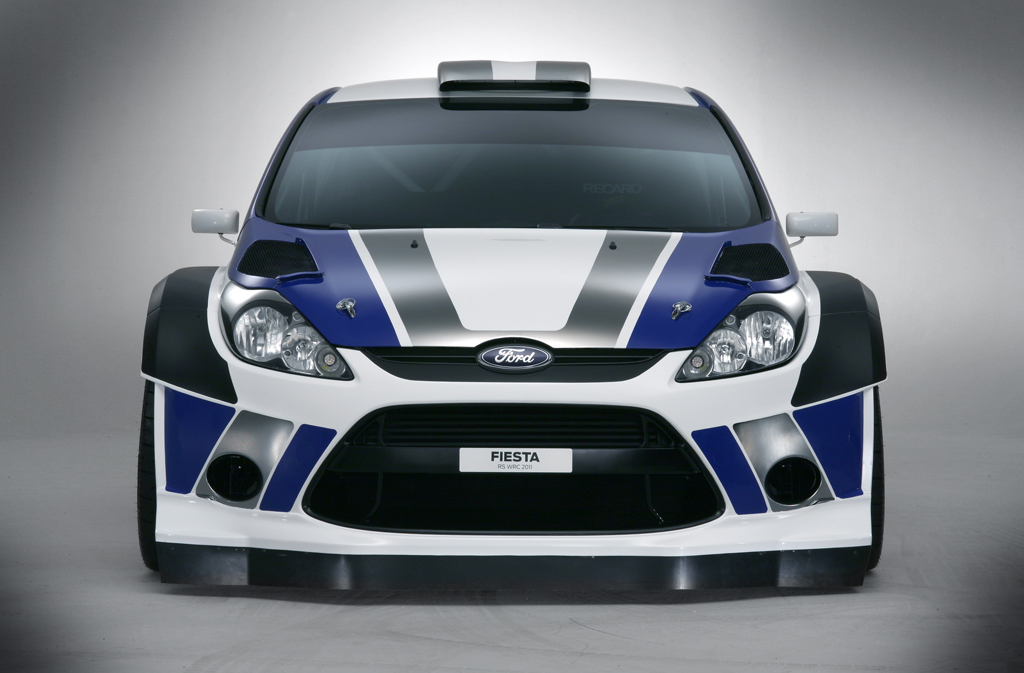 If this car doesn't make you just a little bit excited about rally racing, you should really check your pulse. The Ford Fiesta RS WRC is set to compete in the 2011 FIA World Rally Championship, and will make its first competition appearance at Rally Sweden, starting on February 10. It's already covered almost 1900 miles in testing, and will begin final gravel shakedowns this week in Spain.
Based on the winning S2000 Fiesta rally car, the Fiesta WRC is set to replace the current Focus RS WRC. Ford hasn't released the power output for the Fiesta's 1.6-liter four-cylinder, but after looking at it, we don't really care. This thing looks mean. With its blue-and-gray paint scheme, massively flared wheel arches, and a rear wing that wouldn't look out of place on a fighter jet, this new Fiesta is quite the stunner.
The interior is delightfully spartan, with nothing but a pair of Recaro seats, a steering wheel, some pedals, and a small vehicle information display for the co-driver. We are smitten. The Fiesta RS WRC will be piloted by the teams of Mikko Hirvonen and Jarmo Lehtinen, and Jari-Matti Latvala and Miikka Anttila for the BP Ford Abu Dhabi World Rally Team.
Please scroll down for the official press release from Ford.
PARIS SHOW PREVIEW FOR ALL-NEW FORD FIESTA RS WORLD RALLY CAR
Ford's new challenger for the 2011 FIA World Rally Championship, the all-new Fiesta RS World Rally Car, made its first global public appearance at the Paris Motor Show today.
The Fiesta RS WRC will make its competition debut in Rally Sweden, the opening round of the 2011 FIA World Rally Championship, on 10 – 13 February.
For Paris, the preview model has been finished in a striking blue and grey livery, specially developed for the show by Ford of Europe's design team. The new World Rally Car, derived from the best-selling Fiesta road car, is being developed by Ford of Europe and its rally partner M-Sport.
Using as a base the Ford Fiesta S2000 rally car, which won the legendary Monte Carlo Rally on its debut last January and other international and national rallies in 2010, Ford of Europe's design team and M-Sport have worked together to fine-tune the styling of the bodywork and aerodynamic package of the new Fiesta to create an exciting replacement for the outgoing Focus RS WRC.
Although detailed changes may be made as the Fiesta RS WRC car continues its development programme through the balance of this year and in time for the commencement of the team's specialised pre-season testing, the final car will share the eye-catching appearance and acclaimed 'kinetic design' styling cues synonymous with Ford's latest road vehicles. The interior will also be instantly recognisable as a Fiesta RS WRC rally car as it contains a number of production parts.
A new era for the World Rally Championship
The Fiesta RS WRC competition car will form part of a new era for the world championship. The Fiesta rally car will boast four-wheel drive transmission and a 1.6-litre turbocharged engine, based on the all-new Ford EcoBoost engine family, to comply with new regulations.
The new Ford EcoBoost engine family features direct petrol injection and turbocharging to maximise performance and efficiency. "The introduction of Ford's latest engine technology to its rally programme reinforces further our commitment to motorsport. It also demonstrates our continued support for affordable competition by using an off-the-shelf production engine on which to base our WRC power plant," said Mike Norton, Ford of Europe's Motorsport Manager.
Specialist engineers from Ford and M-Sport have co-operated closely in the development of this 1.6-litre engine, with highly-respected French tuner Pipo Moteur bringing additional expertise to the power plant.
The Fiesta RS WRC appearance at the Paris Motor Show precedes the car's first major test programme with the full 2011 engine specification on gravel roads in Spain next week. The car has already completed almost 3000 kilometres of testing in Britain and France, powered initially by the current WRC engine and more recently by a prototype 1.6-litre Ford EcoBoost turbo unit.
The test will provide the first opportunity for BP Ford Abu Dhabi World Rally Team drivers Mikko Hirvonen and Jarmo Lehtinen and team-mates Jari-Matti Latvala and Miikka Anttila to drive the new Fiesta RS WRC.
Gerard Quinn, Ford of Europe's Motorsport chief, has overseen the Ford development programme throughout 2010 and says: "We're delighted to preview the Ford Fiesta RS WRC in such a prominent Motor Show as Paris. There are significant visual differences from the Fiesta S2000 base car as well as major changes under the skin. The biggest, of course, is the 1.6-litre Ford EcoBoost turbo engine – the original version of which was developed by Ford's Powertrain Engineering team."
M-Sport managing director and BP Ford Abu Dhabi World Rally Team director Malcolm Wilson is equally enthusiastic about the new car.
"This is a thrilling time for everyone involved in the car's development", Wilson affirms. "Countless hours have gone into the Fiesta RS WRC to reach this point, and for the car to be unveiled in public for the first time is a proud moment for us. We are right on track with our development and the team is delighted with testing to date. Another major step forward will be taken at the start of October when the car tests in full 2011 technical specification for the first time.
"We will have a test car running under the guidance of our technical director, Christian Loriaux. Mikko and Jari-Matti lead our challenge with the new car in the 2011 WRC, so their feedback from the testing is critical, and will provide valuable data for our engineering team to work with," added Wilson.
The Fiesta RS WRC will replace the record-breaking Focus RS WRC as Ford's championship challenger. The Focus RS WRC won back-to-back manufacturers' world titles in 2006 and 2007, and its victory in New Zealand in May was the Blue Oval's 75th at WRC level, making Ford the most successful manufacturer in world championship history.
Ford has sold more than one million of the hugely-successful, latest generation Fiesta road cars around the world since it went on sale in October 2008. Fiesta, Ford's truly global car, is the No 2 best-selling car across Europe.
Also, the latest Fiesta has already proved its abilities in motorsport. The Fiesta SportTrophy International for Fiesta R2 cars is a successful support series to the FIA World Rally Championship and the Fiesta S2000 rally car currently leads the S-WRC support series within the WRC.
American sports icon Ken Block has campaigned a Fiesta rally car in the Rally America championship this season, and the car won gold and silver medals in both the Rally Car and Super Rally events at the X Games event in Los Angeles in July.
"The Ford Fiesta has already established itself as a serious contender in a range of global motorsport activities, and we can't wait to debut our official car in the hugely demanding World Rally Championship next year," said Gerard Quinn.
"We've worked hard to ensure the car is undoubtedly related to the best-selling Fiesta road car which itself is a global success story. Ford's design and product development teams have worked closely and efficiently with our partners at M-Sport whose enormous expertise is key to delivering not just a highly competitive rally car, but also a car that is both stylish and recognisably a Ford Fiesta." he added.