WR TV: 2015 Mitsubishi Lancer Evolution MR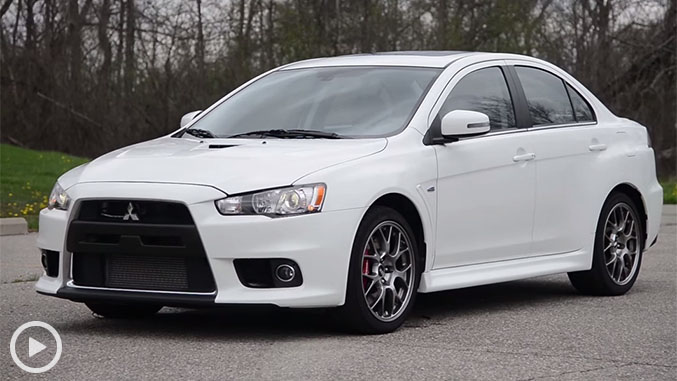 This week we're at the helm of the venerable Evo X, here in MR trim. Normally we'd dive into the particulars of the car, including its 2.0-liter four cylinder motor and its 291 horsepower and 300 pound-feet of torque and the six-speed dual clutch gearbox our test is equipped with. However, with the
demise of the Evo looming ahead
, we thought we'd share Multimedia Editor Chris Amos' thoughts after spending a week with the iconic sports sedan:
"I'm going to say here that this car is one of the greats. The performance is outstanding, but more importantly it's a really fun and satisfying car to drive (all the time, not just spiritedly).
The dual-clutch transmission really grew on me too. The tuning suits the car well, and the close-ratio six-speed enables you to use the powerband just a little bit more than the 5-speed in the GSR. Both are great transmissions, but personally I think I'd retract my previous statement and go for the dual clutch in this case. It's a bit old, but it works well. And there's a secret S-mode+ that enables launch control and seems to turn up the boost a bit.
The Brembo brakes are very good, easy to modulate with a ton of stopping power.
The only knocks I have against the car are the new seats for 2015 (they're comfortable and good for daily driving but pretty unsupportive around the bends, especially with the levels of grip the Evo has), and the fuel range/gas mileage isn't great, but you know that going in.
However, these two gripes are overshadowed by the unapologetic performance and awesome driving experience."
Let's take a look at the sights and sounds of the Lancer Evolution MR and then take it out for a drive:
Have you subscribed to the
Winding Road Magazine YouTube channel
yet? We post new videos like these every week, so give us a click if you want to make sure you don't miss any of the latest clips.