WR TV: 2015 Chevrolet Corvette Z06 (Z07 Package)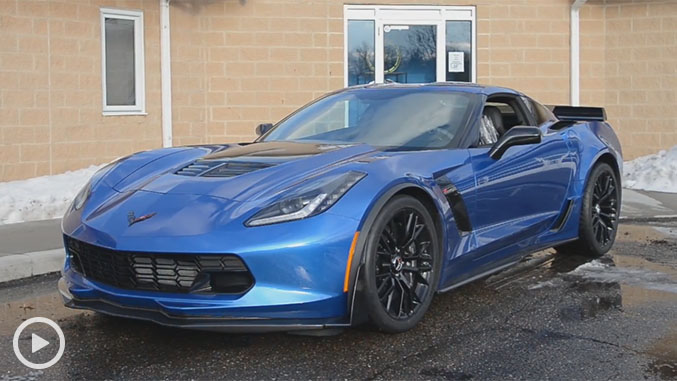 This week we bring you a walkaround, POV Test Drive, and a few dyno pulls in the new 2015 Chevrolet Corvette Z07 Package at
Smokey's Dyno & Performance
in Akron, Ohio.
The heart of the new C7 Corvette Z06 is the supercharged, direct injected 6.2-liter LT4 V8, generating 650 horsepower and 650 pound-feet of torque –
the most powerful production powerplant in GM's history
. That twist can be sent to the rear wheels by way of either a seven-speed manual gearbox with a new dual-mass flywheel and dual-disc clutch, or GM's own all-new eight-speed automatic gearbox. Our tester today is equipped with the seven-speed manual gearbox.
The new Z06 also offers three separate aero packages. The first includes all the pieces found within in the standard Stingray outfitted with the Z51 performance package, while the second level of aero upgrades adds a carbon fiber front splitter with aviation-style winglets, carbon fiber rocker panels, and a larger rear spoiler with a fixed wickerbill. The third aero kit – part of the Z07 package – will add even more downforce capability to the Z06 package via larger winglets added to the front splitter, along with an adjustable, see-through center section on the rear spoiler for track use.
This particular example is equipped with that Z07 package, which also includes the extremely sticky Michelin Sport Cup 2 tires measuring P285/30ZR19 in front and 335/25ZR20 in the rear, along with Brembo six-piston calipers up front and four-pistons in the back, which clamp down on 15.5-inch front and 15.3-inch rear carbon ceramic-matrix brake rotors.
All told, the Z06 is a formidable performance package, and made even more compelling with a price tag that starts at $78,995. Another $2,995 will get you the Carbon Fiber Ground Effects package, which adds the functional carbon fiber front splitter, carbon fiber rocker panels, and a larger rear spoiler, while the Z07 package with its carbon-ceramic brakes, upgraded tires and even more aggressive aero will set you back $7,995. Let's get a closer look at the new Z06 and then take it for a spin:
Have you subscribed to the
Winding Road Magazine YouTube channel
yet? We post new videos like these every week, so give us a click if you want to make sure you don't miss any of the latest clips.