SEMA 2011: Roush RS3 Focus Concept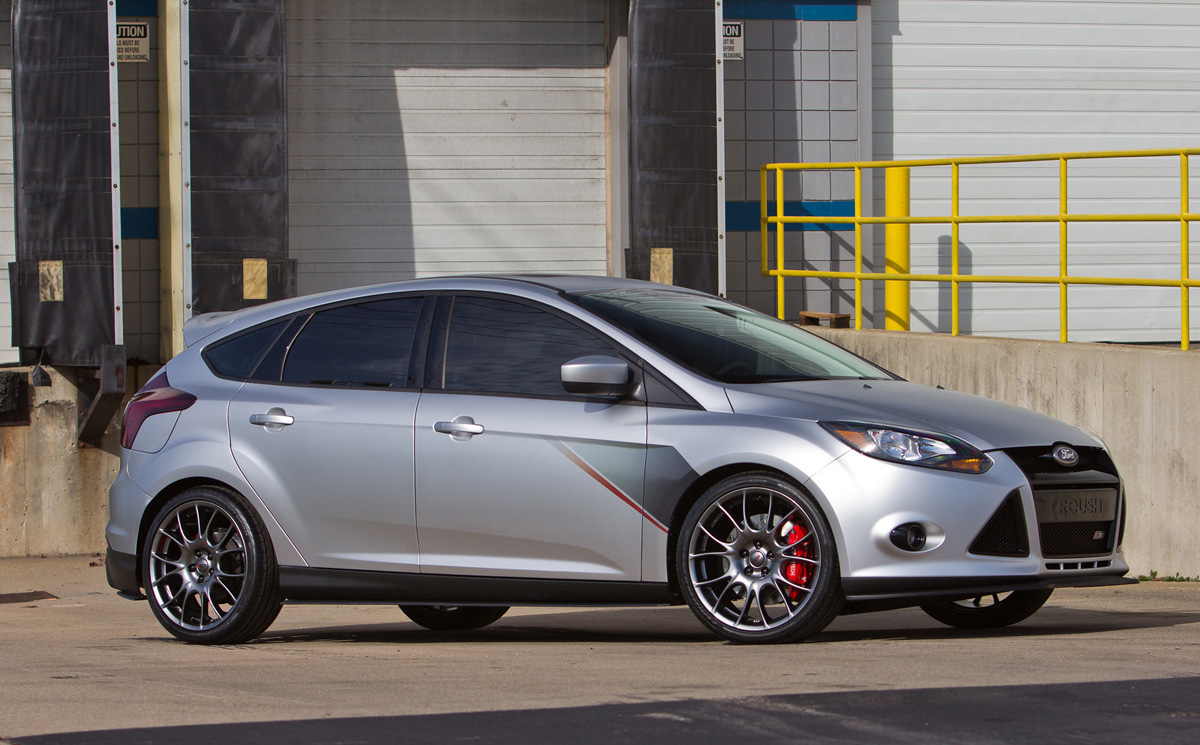 While Roush may be best known for their NASCAR efforts, along with a large stable of modified Mustangs and the occasional F-150, the brand isn't averse to trying new things. This time around they've turned to the new Focus five-door, and created the Roush RS3 Focus Concept.
The upgrades start in the engine bay, where Roush's love of supercharging is displayed with a blower mated to the 2.0-liter four-cylinder. Dual exhausts and a high-flow intake system round out the power upgrades, giving the RS3 a total of 230 horsepower and 210 pound-feet of torque. Those numbers represent a respectable increase of 70 horsepower and 64 pound-feet of torque over the stock Focus.
Other speed-oriented upgrades include a performance-tuned suspension, which should go a long way to upping the involvement factor on the Focus. To slow things down, a new brake system has been fitted, with fourteen-inch rotors and four-piston calipers up front. Aesthetic upgrades include a new body kit, as well as nineteen-inch wheels wrapped in Pirelli PZero Nero tires.
If this all sounds good, then you'll be happy to know that Roush will be announcing availability of a production RS3 sometime in 2012. We'll have more information when that announcement comes.
Please scroll down for the official press release from Roush.
ROUSH Performance Unveils Their 2012 ROUSH RS3 Focus
Performance, power and an aggressive appearance are traits readily associated with the ROUSH Mustangs and the ROUSH F150 trucks. ROUSH Performance has applied their powertrain, suspension and body kit capabilities to the 2012 small car platform. The engineering and design teams at ROUSH Performance unveiled their 2012 ROUSH RS3 Focus today at the SEMA Show in Las Vegas, NV. The ROUSH concept vehicle is painted in a striking matte-finished Sherwin-Williams "Sin City Silver," complimented by a graphics package that let's fellow drivers know that you're driving a ROUSHcharged® performance car.
"Our goal is to offer an affordable upgrade package to enhance the performance, handling and appearance of the 2012 Focus," says Gary Jurick, VP/GM of ROUSH Performance. "We're excited about our concept vehicle here at SEMA, and the initial feedback from consumers and our dealers has been very positive. The enhancements to the body components and overall styling have been a big hit with the SEMA crowd. We're continuing to finalize our program offering, and we plan an announcing availability in early 2012."
The 2012 ROUSH RS3 Focus offers several potential powertrain upgrades including a R900 TVS ROUSHcharger®, Roush modified high-flow induction system and Roush dual-exit high- performance exhaust. "Our initial tests show that more power can certainly be derived from the 2.0L engine with our R900 ROUSHcharger®. It's possible to see 230HP and 210 ft/lbs of torque with the ROUSH Performance setup. Those are big gains over the stock outputs. That kind of power-to-weight ratio will make this an exciting vehicle to drive."
The 2012 ROUSH RS3 Focus concept car is on display all week within the Ford vehicle display at this year's SEMA Show. To view more product information and photos, visit the 2012 ROUSH RS3 Focus web page.
ROUSH Stage 3 Focus Concept Components and Gallery
On November 1, 2011, ROUSH Performance unveiled its ROUSH Stage 3 Focus concept vehicle (read the press release). Below are the core components included in this vehicle:
ROUSH Powertrain Components
2.0L Supercharged Powertrain Featuring the ROUSH TVS 900 ROUSHcharger (Estimated Output: 230HP/210ft.lbs.)
ROUSH Engine and Coil Cover
Square Tip Performance Exhaust
ROUSH Chassis Components
19-Inch Hyper Black Wheels w/ High Performance Cooper PZero Nero Tires
Performance Tuned Suspension System
Performance Brake Package – Red (4 Piston Caliper/14″Front Rotors/Painted Rear Calipers)
ROUSH Body Components
Custom Show Quality Exterior Paint
RS3 Focus Graphics Package
ROUSH Front Grill Inserts and Surrounds (Piano Black)
Stage 3 Grille Badge
Driving Lamp Surrounds (Piano Black)
ROUSH Front Chin Splitter
ROUSH Side Rocker Splitters
ROUSH Rear Valence w/ Diffusers and Extractors
ROUSH Rear Corner Splitters
Rear Hatch Spoiler
Rear Hatch Stage 3 Badge
Front Windshield Banner
ROUSH Interior Components
Stage 3 Leather Seating w/Accent Color Stitching
Billet Performance Pedals
Aluminum 5-Speed Shifter Ball
Shifter Boot w/Accent Color Stitching
E-Brake Boot w/Accent Color Stitching
ROUSH Stage 3 Focus Concept Gallery