Quick Drive: 2011 Kia Soul White Tiger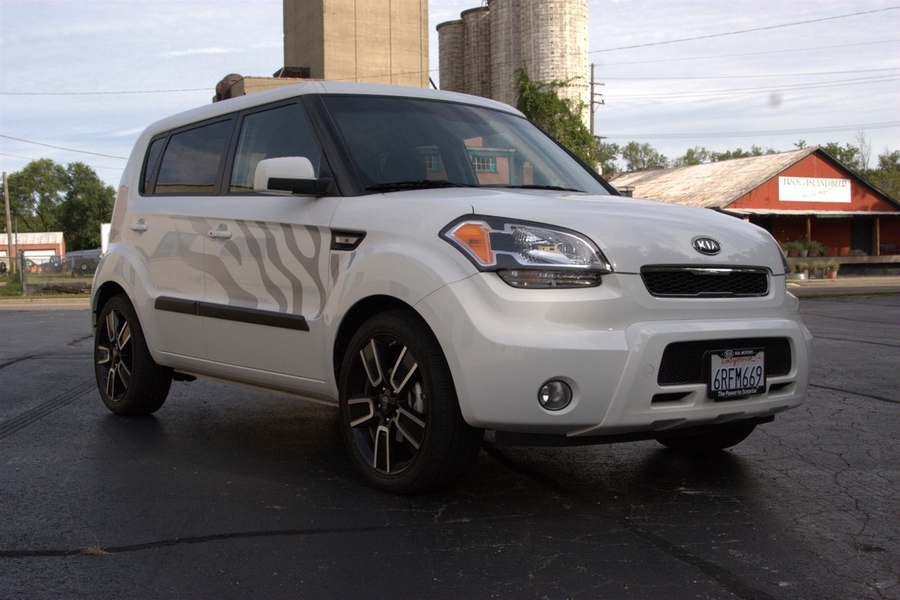 Ask me which of the boxes (Scion xB, Kia Soul, Nissan Cube) I'd drive, my response was, and continues to be, the Kia Soul. That's because the Kia walks the line; it avoids feeling too big like the obese xB while delivering a firmer ride than the squishy Nissan Cube. It doesn't hurt that its funky styling is the freshest execution of the box-on-wheels-theme.
It does have problems, though. For a start, it's too loud. Engine noise is a constant presence in the cabin, with wide-open throttle delivering the most disruptive notes. The volume might not have been as big of an issue if this was a pleasant-sounding engine. It isn't too bad when cruising around town, but under firm acceleration, the engine note comes across as strained and winded.
Steering feel and feedback aren't top notch in the Soul, but there is a better sense of what's going on in the Kia than in the competitive set. The real standout is the suspension, which, while not as flat handling as the xB, does more to talk to its driver than the competition.
As much as I like the Soul, I'm anxiously waiting on the refreshed 2012 model, which promises a more modern six-speed automatic as well as a more powerful (and hopefully better-sounding) 2.0-liter four-cylinder.
—Brandon Turkus, Test Fleet Manager
Our tester was the White Tiger edition, and I would have felt really silly driving it had it not been so impressive to drive. It had been a while since I'd last driven one, and I remembered the Soul equipped with the automatic transmission feeling a bit sluggish. This time around, I didn't get that impression (but I might have if I had just driven one with a manual transmission not long before).
I had a lot of fun cruising around in this thing. It's easy to achieve a good pace for city driving, and I didn't have to give up much of that speed in the corners, thanks to the Soul's well-balanced suspension. I also love sitting inside the cabin; its unique design and weir features (like the speaker lighting) make it an entertaining place to spend time. It helps that its boxy proportions make it feel quite roomy.
As for the White Tiger edition, it takes a brave soul to be caught in a white Kia Soul wearing trigger stripes. I had seen one in the wild just days before, and was shocked that someone would tolerate those graphics. If any car could get away with it, though, it would have to be the Kia Soul, and I'm interested to see what it'll do next.
—John Beltz Snyder, Production Editor
Mini, Scion, and obviously Kia have all taken a fresh dip into the slightly scummy Individualize Your Vehicle With Manufacturer-Endorsed Decals pool. To be fair, this is the same pool that highfalutin Porsche owners have been swimming in for decades, so it's not a class issue either. I'm just old enough to remember a rash (using that word intentionally here) of decaled vehicles from the late 1970s, early '80s, though the vast majority of them promoted make or model name, or simply screamed "Turbo" to passersby.
I guess my point here is that, while the thinking behind a White Tiger Soul isn't new, it isn't thinking that I'd like to see more evidence of in the wider world either. (By the way, White Tiger Soul is the name of the new band I formed; don't even think about stealing it.)
Beyond the horrifying kit body kit, this Soul was just dandy to drive. Hatchback practicality and fuel economy, with slightly lifted ride height offers a combination that would prove useful to all kinds of drivers. The Soul was released just a bit before the Hyundai/Kia world takeover bid that has since seen interiors on both brand's product get bumped up a notch, but I still find the cabin pretty cozy. If White Tiger Madness (also a registered band name, sorry) had taken over the inside of the Soul too, I might be singing a different tune.
Pros
Ride is balanced between comfort and handling
Good balance and stability for fast city driving
Good use of interior space
Cons
Noisy, noisy, noisy engine
Ridiculous exterior graphics
Uninspiring automatic transmission