Netherlands Testing Glow-In-The-Dark Roads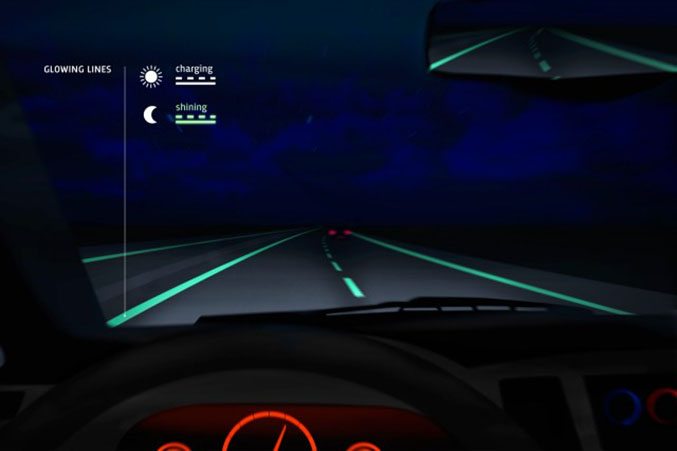 A quarter mile of N329 highway in Oss, Netherlands is being used a trial run for an entirely new way of illuminating roadways at night. Instead of relying on power-hungry overhead lights like traditional road designs, the road markers actually glow in the dark by way of a photo-luminescent powder integrated into the road paint.
In development by a company called Studio Roosegaarde since 2012, the company's founder and lead designer, Daan Roosegaarde, has said the biggest obstacle in getting this new design deployed for real world testing wasn't a technological hurdle, but rather a bureaucratic one. Still, Roosegaarde felt that this was a problem worth solving:
"One day I was sitting in my car in the Netherlands, and I was amazed by these roads we spend millions on but no one seems to care what they look like and how they behave. I started imagining this Route 66 of the future where technology jumps out of the computer screen and becomes part of us."
Beyond simple lane markers that are self-illuminated in a "radioactive" green color, the system is also designed to warn drivers of inclement weather as well – for instance, snowflake designs will appear on the road when ambient temperatures drop to a certain level.
The paint is designed to provide a bright glow for approximately 8 hours once powered throughout the day by the sun. While the energy and cost benefits of this new design are obvious, what remains to be seen is how this concept will stand up to road grim, tire marks and – perhaps most importantly – snow. While overhead street lights are more or less unaffected by these common road elements, it seems like this may prove a challenge to ground-based illumination.
What's your take on this new method for lighitng roadways? Have your say in the comments, below.