Preview: 2015 Aston Martin Vantage GT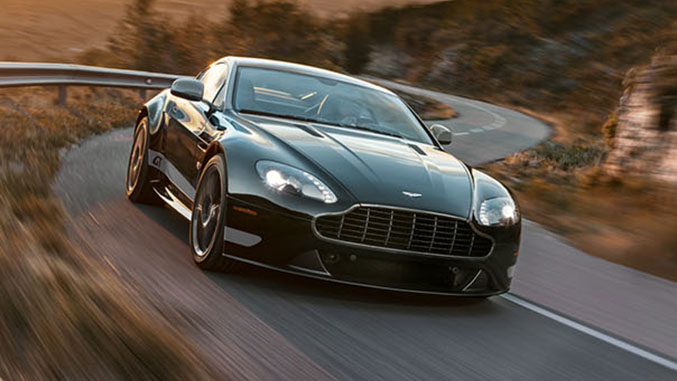 The terms "Aston Martin" and "inexpensive" have very rarely occupied space in the same sentence in years past. However, the British automaker appears to be making something of an attempt to change that. At a starting price of $99,900, the just-announced Vantage GT, which is scheduled to make its proper debut later this week at the New York Auto Show, is the first Aston Martin sports car in recent memory to be available at a price below six figures. Sorry,
Cygnet
fans – that one doesn't count.
The Vantage GT will dish out 430hp and 361lb-ft of torque from its 4.7-liter V8, bringing its 0-60mph time down to 4.6 seconds and its top speed up to a lofty 190mph. Getting that power to the rear wheels will be done by a choice of either a traditional six-speed manual transmission or the seven-speed Sportshift II automated manual gearbox with paddle shifters.
Available in either coupe or roadster configuration, the Vantage GT is designed to evoke the excitement of the race track – and not just from its tuned sport suspension and quick-ratio steering rack, either. The GT will also offer a selection of optional livery packages, designed to recall Aston Martin's success at the 24 Hours of Le Mans by way of contrasting graphics applied to the grille, mirrors, A-pillar (available on the coupe only) and rear diffuser blade to compliment the Alloro Green, Jet Black, Skyfall Silver, Mariana Blue and Speedway White paint hues.
In spite of its lower price, prospective buyers of the Vantage GT won't miss out on the level of poshness that the Aston Martin brand is known for. Alcantara door panels, carbon fiber sill plates, magnesium paddle-shifters, and sport seats taken straight out of the V12 Vantage S will all serve to help keep the GT's luxury credentials intact.
North American sales will start in the third quarter of this year. We'll have more details on the 2015 Aston Martin Vantage GT once it debuts at the New York Auto Show later this week. Keep an eye on the GT's
overview page
for updates as we have them, and in the meantime, check out the press release below for additional details.
V8 Vantage GT: race breeding, sports styling and more accessible than ever
Pure, unadulterated fun is what lies at the heart of the new V8 Vantage GT. Honed on the track to excel on the road, Vantage GT – available in Coupe or Roadster form – delivers a power hike to 430bhp at 7,300rpm. This means a top speed of 190mph and a reduced 0-60mph time of 4.6 seconds.
The increased power and torque are achieved through a valved air intake system and an aggressive spark strategy. The air intake system valve opens at engine speeds above 3,500rpm to allow greater air flow into the engine which in turn helps increase power and optimise performance feel. Meanwhile the aggressive spark method uses sophisticated electronics to ignite the fuel in the engine at precisely the right time allowing the engine to run at its most powerful. It can also recognise higher octane fuel and extract the optimum performance from the increased rating.
Designed with the purist in mind, that power feeds the rear wheels through a sporty six-speed manual gearbox as standard equipment; with the option of a close-ratio seven-speed SportshiftTM II automated manual transmission with short final-drive ratio for those seeking to capture the motorsport thrill.
The new Vantage GT brings together the best of the V8 Vantage's performance and dynamics to deliver race-winning responses. A front mid-mounted, 4.7-litre, all-alloy, quad overhead cam, dry-sumped V8 engine is complemented by a rousing sports exhaust, aerodynamics honed through numerous wins in GT racing and a competition-derived braking system.
The compact proportions and inherent balance of the Vantage design are supported by a carefully calibrated sports suspension tune and quick-ratio steering rack that rewards the true enthusiast driver on road, and on track.
Styled to evoke thoughts of the track, Vantage GT celebrates Aston Martin's sporting heritage and motorsport success, drawing direct inspiration from the Vantage GT4 race car which will be seen in competition across North America during the 2014 season.
A purposeful package of dark-themed exterior details include graphite painted diamond-turned alloy wheels alongside black headlamp bezels, side window surrounds and textured tailpipe finishers. Clear rear lamps with black surrounds convey the appropriate air of purpose and excitement.
This neatly offsets a series of eye-catching liveries with optional graphics packs available on Vantage GT. Offering a nod to Aston Martin's race heritage including the Le Mans-winning DBR1 and hugely successful DB2/4 of the 1950s, the exterior themes of Alloro Green, Jet Black, Skyfall Silver, Mariana Blue and Speedway White can be personalised further with contrasting graphics adorning grille lipstick, mirror caps, A-pillar/cant rail (Coupe only) and rear diffuser blade.
With a range of new technical and tactile materials plus new finishes inside, as out, Vantage GT's sporting associations are unmistakable. New interior features and materials include machined carbon sill plaques, black magnesium paddle-shifts or carbon fibre gearshift surround; satin chrome rotaries; a leather (or Alcantara) steering wheel with contrasting on-centre stitch feature; seat and door inserts in technical Plissè Alcantara and unique seat trim patterns. Occupants are cossetted by distinctive Aston Martin sports seats as first seen on the V12 Vantage S.
Priced from $99,900 RRP, first deliveries of the new Vantage GT will begin in quarter three to North American customers.