Kia GT4 Stinger concept Headed to Detroit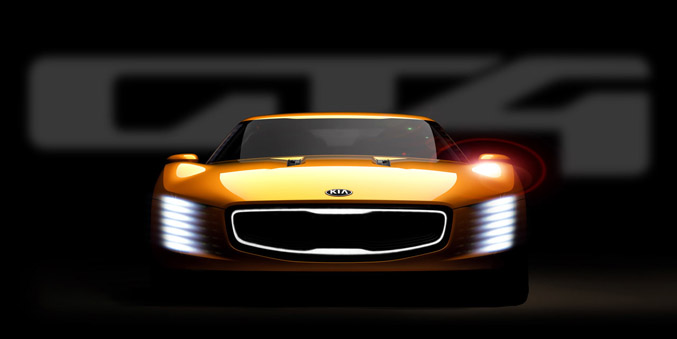 This year's North American International Auto Show is shaping up to be quite a feast for automotive enthusiasts. While the usual suspects like the Ford, GM and Chrysler are expected to have a bevy of new high-profile performance offerings on hand, the 2014 show in particular has a dance card filled with interesting new product. Now Kia Motors, a brand typically not synonymous with sport-oriented vehicles, has announced they'll have something tasty to bring to the party as well.
Designed by Kia's California-based team at Irvine, details about this 2+2 sports car are achingly scarce. However, Kia was kind enough to provide a few pivotal details which were more than enough to pique our interest.
The GT4 Stinger concept will pack a turbocharged 2.0-liter motor that generates 315 horsepower, and all of that grunt will be sent to the rear wheels. Those wheels, at least in concept form, will be custom 20-inch rollers whose brakes will be aided by functional brake cooling vents, while a carbon fiber front splitter provides the downforce and a horde of LEDs light the path ahead.
Since the Kia/Hyundai playbook already contains both a 2.0-liter four cylinder engine and rear drive coupe platform to build from, this one might be to be too far from becoming a reality. We'll have all the details when the concept gets its official reveal later this month.
In the meantime, check out the official press release, below.
Behold, the Kia GT4 Stinger…
Kia faithful will immediately notice the latest iteration of the signature grille resting mere inches from the ground. The surround glows white and is flanked by vertical LED headlamps. Front-brake cooling vents funnel air around custom 20-inch wheels. A carbon fiber front splitter mounted below the bumper provides added downforce for the car and keeps the GT4 Stinger's front tires firmly planted to the tarmac.
Under the hood you ask? A turbocharged 2.0-liter that pumps 315 horsepower to the rear wheels.
More to come. Stay tuned.