First Look: Cadillac CTS-V Coupe Race Car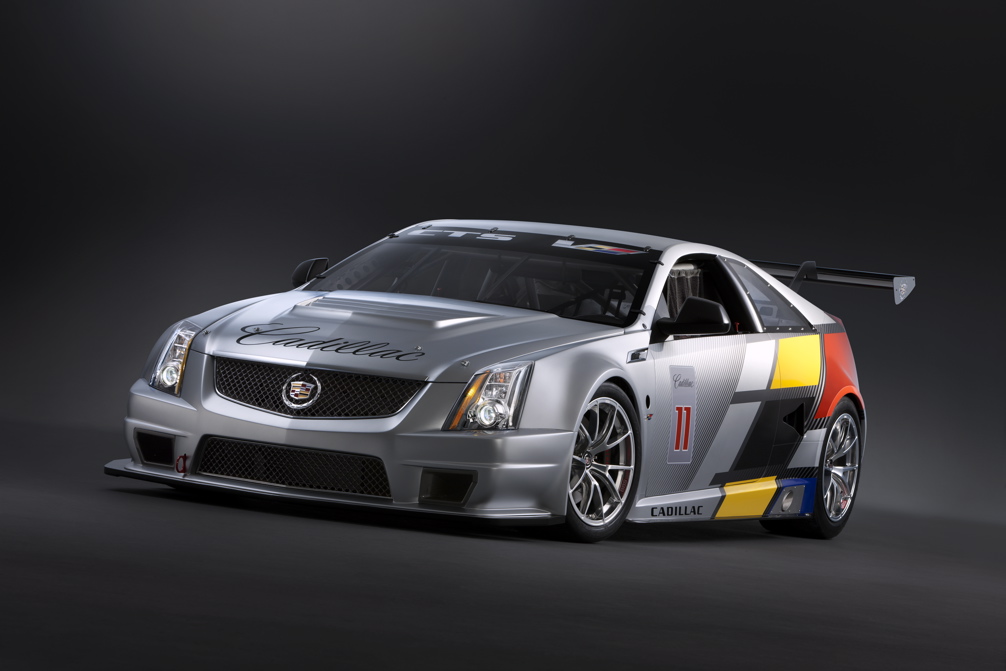 We normally focus our coverage on street-legal cars here at Winding Road, but every so often a race version of one of our favorites comes along and we feel compelled to cover it. Such is the case with this, the Cadillac CTS-V race car, which is destined to start competing in the 2011 SCCA World Challenge GT Series.
Cadillac last competed in the SCCA World Challenge back in 2007 with a four-door, first-generation CTS-V, and actually won the series championship back in 2005. This car, developed by Corvette race specialists Pratt and Miller will be making its competitive debut in St. Petersburg on March 25, and will be driven by Andy Pilgrim and Johnny O'Connell.
Please scroll down for the official press release from Cadillac.
Cadillac Returns To Racing With CTS-V Coupe
Two teams set to compete in SCCA World Challenge GT Series
2010-12-13
Racecar based on award-winning CTS-V Series line
Program designed to validate, enhance Cadillac performance
Andy Pilgrim, Johnny O'Connell signed as Cadillac drivers
DETROIT – Cadillac announced today it will return to racing in 2011 with a race-prepared version of its CTS-V Coupe competing in the Sports Car Club of America World Challenge, North America's top production-based racecar series.
The move returns Cadillac to a series where it competed from 2004 to 2007. Competing in the GT Class with the CTS-V Sport Sedan, Cadillac captured the Manufacturer's Championship in 2005 and 2007 and the Driver's Championship in 2005.
Cadillac will field two teams in the upcoming SCCA World Challenge GT Class with a racecar based on the CTS-V Coupe. The CTS-V line, which also includes the CTS-V Sedan and CTS-V Wagon, was recently named to Car and Driver magazine's 10 Best list for 2011.
"Returning to racing in the SCCA World Challenge is a great way to demonstrate the performance and capability of the CTS-V Coupe," said Don Butler, vice president for Cadillac marketing. "The racecars in this series are production based, which allows us to validate our performance against the best of our competitors on the track, and not just the showroom."
Cadillac is working with Pratt & Miller, a New Hudson, Mich., engineering firm which specializes in motorsports, to develop the CTS-V Coupe racecar. While some of the production CTS-V components will be modified due to the unique demands of racing or to meet the SCCA series' technical rules, every effort is taken to maintain as much production content as possible.
"The SCCA World Challenge lends itself well to a natural transfer of knowledge," said Jim Campbell, GM vice president for Performance Vehicles and Motorsports. "The series will become a key test-bed for Cadillac. We anticipate using what we learn on the racetrack to ensure the V-Series stays on the cutting-edge of performance."
The first event in the SCCA World Challenge is March 25-27 in St. Petersburg, Fla. Johnny O'Connell, a three-time GT1 champion in the America Le Mans Series, and Andy Pilgrim, who won the 2005 SCCA World Challenge GT class in a Cadillac, will be behind the wheel of the CTS-V racecars.
Introduced for the 2003 model year, the CTS-V has quickly earned a reputation among luxury sports car buyers. For the 2011 model year, Cadillac added the CTS-V Coupe and the CTS-V Sport Wagon to the CTS-V Sport Sedan, creating an impressive family of performance vehicles. The CTS-Vs feature Brembo brakes, a supercharged 6.2L V8 delivering 556 horsepower and a Magnetic Ride Control suspension system that can read and react to the road 1,000 times a second.
Started in 1944, the SCCA organizes and supports racing at all levels from amateur to professional. The World Challenge series is designed to provide teams, manufacturers and aftermarket suppliers a competitive production-based race series in which to prove their products. The races follow a 50-minute maximum time limit, with the number of laps and total distance determined by track configuration, lap times and race conditions.
About Cadillac
Cadillac has been a leading luxury auto brand since 1902. In recent years, Cadillac has engineered a historic renaissance led by artful engineering and advanced technology. More information on Cadillac can be found at media.cadillac.com.