First Look: 2010 Caterham Seven Lambretta Special Edition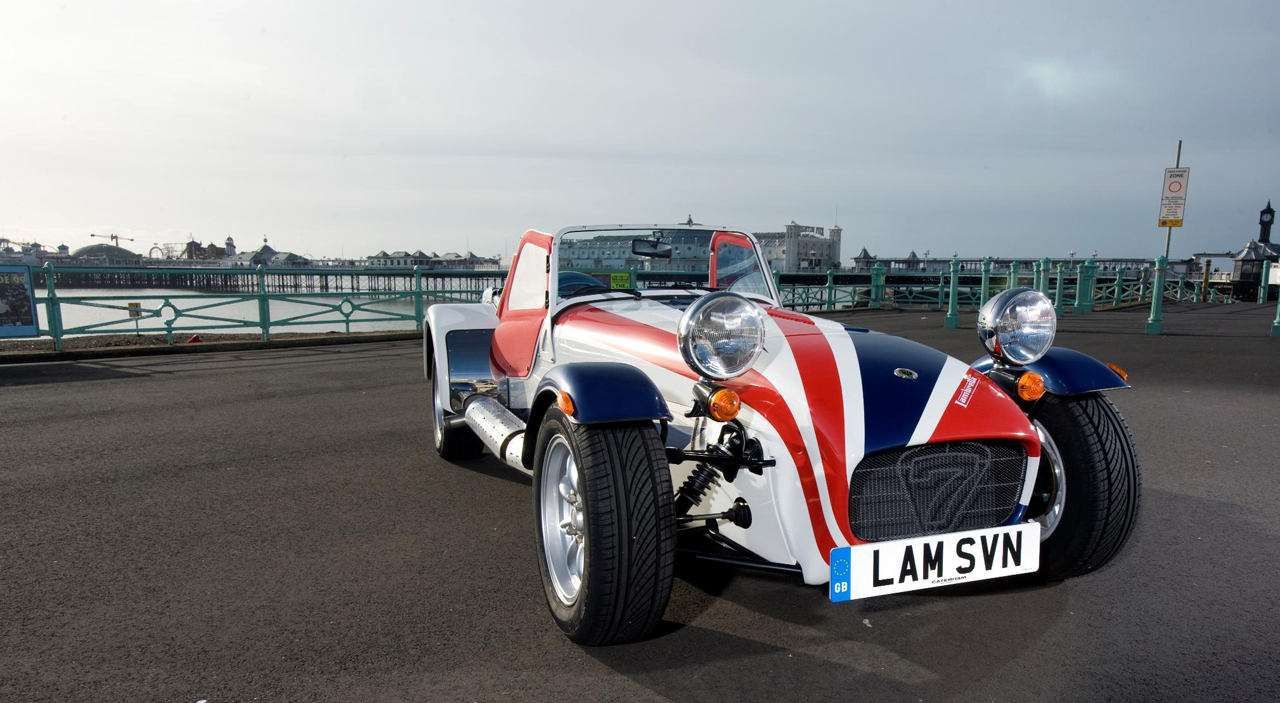 You know, Americans take a lot of flack for plastering our nation's flag, rather liberally, on the places and things that we love. And sure, we might enjoy rocking Old Glory on t-shirts, and pickup trucks, on the sides of our barns, and on the backs of our jean jackets (maybe that's just us?). But we still say that the British are the biggest flag-wavers of all.
Case in point; this 2010 Caterham Seven Lambretta Special Edition.
Taking it's cue from, apparently, Mini roofs and Austin Powers movies, the always classy Seven has been draped from stem to stern in a swooping Union Jack livery, by Brit clothier Lambretta (not to be confused with the fairly famous Italian motor scooters of the same name). Lambretta has also worked its anglophile magic on the interior of the Caterham, with a dash board, upholstery, and carpets to match the paint job.
On the business end of things, the Seven is powered by a 1.6-liter Ford four, making 125 horsepower and 120 pound-feet of torque, coupled to a five-speed gearbox.
Scroll down to read the full press release from Caterham.
LAMBRETTA'S TAKE ON A CATERHAM SEVEN
Caterham Cars has teamed up with another iconic British company, Lambretta Clothing, to give its legendary Seven sportscar a visual overhaul for a unique 2010 Special Edition.
The British-owned fashion label, which is based in London's famous Carnaby Street, has drawn on its characteristic flair and rich heritage in popular culture to create a bespoke, custom-tailored Caterham, which screams 'Britannia'.
The body paint, decals and livery leave you in no doubt of its geographic heritage with the Union Jack's unmistakable hue of red, white and blue dressing the paintwork.
Naturally, the theme continues inside with a matching colour scheme spanning the leather seats, dash, carpets and boot. Hand-stitched seat piping, embossed Lambretta motifs and a stylish Moto-Lita steering wheel finish the interior detailing.
Under the skin, the engineering is pure Caterham.
Powered by a 1.6-litre Ford Sigma engine, which pushes out 125bhp, the Lambretta Special Edition can call upon 120lbs ft of torque to propel its lightweight frame to 60mph in six seconds. The marriage of a quick-fire five-speed gearbox, with a purposeful chassis, provides the responsiveness and handling characteristics every Seven is famous for.
Available immediately, the Caterham Seven Lambretta Special Edition is priced at £26,995 OTR.
Lambretta's managing director, Rob Harmer explained: "Designing the exterior and interior of a car is an entirely different challenge to our core business of fashion and accessories, but there are clearly some shared philosophies between the two companies, which made this collaboration so exciting."
Please visit www.caterham.co.uk or call 01883 333 700 for more information.