Driven: 2011 BMW X5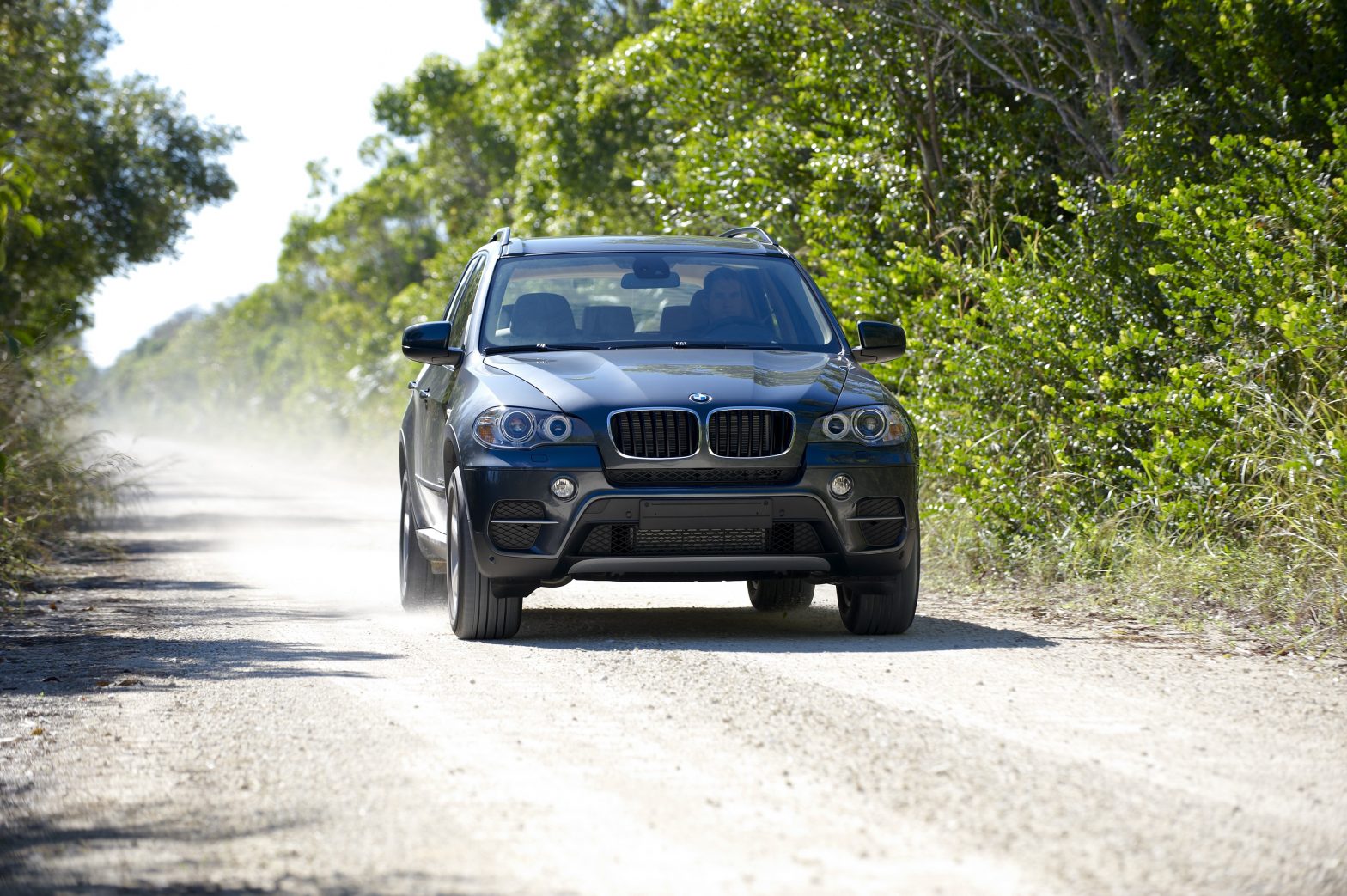 —Miami, Florida

The marketers and engineers at BMW have spent the last few years slicing and dicing the automotive market into thinner and thinner segments. Their efforts have yielded some initially questionable but ultimately satisfying and entertaining vehicles such as the X6M.
For those wanting sporty vehicles with utility, BMW offers traditional wagons, a comprehensive range of X-type SUVs, and now the 5-Series GT crossover. So many choices likely meant many demands for BMW's internal engineering teams. While an assumption on our part, it's not a stretch to surmise that when time came for the current X5 to get a refresh, only the essentials were taken care of and not much else.
BMW claims that the 2011 X5 line includes over 4000 new parts. They must be counting valve springs and lock washers because when we saw the new models at their driving debut in Miami, we needed help seeing what was different, even with a 2010 model parked next to a 2011.
As for what changed regarding styling, the short answer is, "Not much." Mildly refreshed front and rear fascias are it. Inside, everything is carryover with the exception of three new options made possible by their availability on other BMW models: Active Cruise Control with full stop/start capabilities, lane departure warning system, and side-view camera system.
The major parts-total tally comes from changes found under the hood. Both gas engines are new to the X5, having already been introduced in various 7- and 5-Series models. The xDrive50i gets the biturbo 4.4-liter V-8 with 400 horsepower, while the xDrive35i runs with the single twin-scroll 3.0-liter turbo that produces 300 horsepower (up 35 from the 2010 engine of the same displacement).
Adding to the gains in performance these gas motors offer (the 3.0-liter diesel is carryover), there's the new eight-speed automatic that is part of the overall powertrain upgrade. Also seen first in other BMW's, the gearbox works well. The tall upper ratios make for very relaxed highway cruising—just 1750 rpm at 75 mph with the 3.0-liter.
The new gas engines and gearing necessarily impact fuel economy compared to the 2010 X5. The xDrive35i gets 11 percent better combined mileage coming in at 17 mpg city and 25 mpg highway. (Final EPA numbers are coming, so consider these subject but not likely to change.) Realizing that this improvement comes along with a 15 percent increase in horsepower and a 35 percent increase in torque puts the mpg figures in perspective.
The fuel economy for the biturbo V-8 didn't go up compared to the non-turbo from 2010. However, it didn't drop either, even though it boasts an 11 percent increase in horsepower and a 25 percent improvement in torque. The xDrive50i comes in at 14 city/20 highway/17 combined.
We drove the xDrive35i at the 2011 X5's debut in Miami. It was not a typical Winding Road evaluation experience filled with challenging driving that allows one to explore a vehicle's performance envelope. We experienced surface street congestion, uneventful interstates, and some off-roading so light it could be labeled zero-calorie. (Insights from more exciting driving experiences are forthcoming when an X5 visits WR for an extended stay.)
At this point, what we can tell you that the new X drives as you'd expect a BMW to . . . at least at two or three tenths. The ride is firm enough to make Lexus RX drivers complain. This means it's just about perfect for those who actually like to feel what the vehicle is doing, even when stuck in congestion.
The suspension is unchanged from 2010, and differs little from when the second-generation X5 rolled into showrooms as a 2007 model—a double wishbone front and multi-link rear suspension that controls P255/55R18 rubber. The 4960-pound(!) SUV/SAV responds quickly to the commands of the electrically boosted power steering. The optional Active Steering felt spot on most of the time, but occasionally felt strangely artificial and nonlinear. At these moments, we suspect the system was caught thinking about what ratio and assist level to give us.
Running north out of Miami and up A1A along the Atlantic in tourist-clogged traffic, we had plenty of time to experience the legendary smoothness of BMW's inline six-cylinder working through the new gearbox. Our uninformed hunch was that eight gears might be one or two too many, but time behind the wheel proved this suspicion unfounded. We like the extra gears, along with good throttle mapping that made it easy to drive the X5 smoothly.
Heading away from the ocean on higher-speed roads, the gearbox delivered downshifts as needed and without missteps such as, "Oh, you really wanted THAT much power? Wait a second while I downshift again." With algorithms that keenly anticipated and selected the right cog, the gearbox would just let the turbo-six build boost to provide the added oomph the driver called for. Other times, single, double, or triple downshift would promptly deliver the requested power.
Evidence of the eight-speed's impact could be found on the tachometer. At 75 mph, its needle pointed to about 1750 rpm, an impressively low speed that significantly aids highway fuel economy numbers. Important for good drivability, this rpm range is high enough to already be in the engine's 300-pound-feet torque plateau (which runs from 1200-5000 rpm). The benefit is when you step gently into the throttle at highway speeds, the new engine often has enough power to respond without requiring a downshift, further enhancing economy and comfort/smoothness.
Run hard, the transmission shifts just shy of 7000 rpm. Horsepower peaks in a computer controlled range from 5800-6250 rpm. The shifts are crisp, and at those speeds the engine sounds like a proper BMW, meaning you know it's a nicely tuned six.
The company claims 0-60 mph comes up in 6.4 seconds, with a governed top speed of 130 mph. About the turbo lag, there isn't any. While the X5 may certainly be capable of hitting 130 mph, as it crests 100 mph, the force of the aerodynamic drag reminds you that there's only 300 horsepower pushing a huge Kleenex box through the air, and that those last 30 mph will take many miles to achieve.
Once inland, we found some empty and straight sections of road to test the brakes. They worked as expected, and repeatedly converted kinetic energy into heat with hands-off-the-wheel stability.
In an effort to show the broader range of the X5's capabilities, BMW provided a straight, flat road made of Florida gravel, a mix of dirt, sand, and crushed seashells. A quartet of shallow-water fords added some drama, but nothing that would actually challenge the X5's robust off-road capabilities.
This limiting experience left us wanting to take the 2011 X5 anywhere other than where we were. Maybe next time.
Regardless, even in South Florida, the SUV's sporty character could be felt, if not exercised. Which leads us to the question of the relative importance of the 2011 X5 within the BMW's ever expanding portfolio. Sales of the X5 in the US have been dropping, with the taper from 35,202 units in 2007 (right after the Gen II model arrived) to just 27,071 units in 2009. With sportier choices like the X6 and the larger 5-Series GT, will style-conscious buyers care about the mildly freshened X5 when it's the style they're after and not the on- and off-road capabilities?
Realistically, the X5 is set for another four years, at which point BMW will have its answer. And so will we.
2011 BMW X5 xDrive35i
Engine: Turbocharged Inline-6, 3.0 liters, 24v
Output: 300 hp/300 lb-ft
0-60 MPH: 6.4 sec
Top Speed: 130 mph*
Fuel Economy, City/Hwy: 17/25 mpg (est.)
Weight: 4960 lb
*Electronically limited