The Lamborghini Huracán Sterrato's Thrilling California Adventure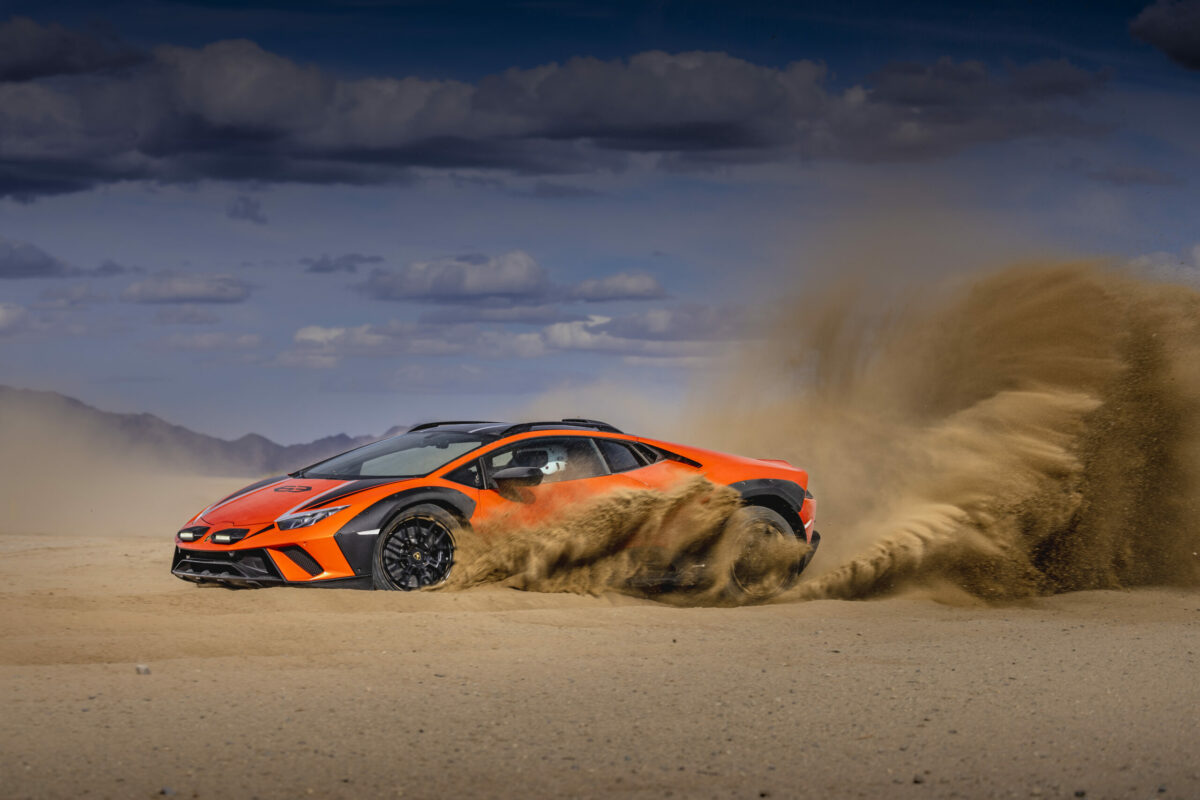 In a captivating YouTube short, the Lamborghini Huracán Sterrato takes on the breathtaking landscapes of California, showcasing its eclectic spirit as it gracefully transitions from the tarmac of Chuckwalla Valley Raceway to the desert sands of Joshua Tree National Park. With its unparalleled performance and versatility, the Sterrato demonstrates Lamborghini's pioneering and unconventional approach, capturing the hearts of adventure seekers and automotive enthusiasts alike.
As the Huracán Sterrato cruises along the panoramic roads of Joshua Tree National Park, its driving comfort on asphalt becomes evident. The Sterrato's refined suspension and smooth handling make the experience both exhilarating and enjoyable. However, it's the vehicle's transition to the dirt tracks of Chuckwalla Valley Raceway that truly showcases its adventurous spirit.
Chuckwalla Valley Raceway, located in the Coachella Valley desert, provides the perfect playground for the Sterrato to showcase its prowess. With a combination of traditional tarmac and sections of dirt surfaces, this 4km circuit puts the Sterrato's optimized vehicle dynamics to the test. The Lamborghini brand's commitment to pushing boundaries is highlighted by the Sterrato's impeccable driving control on all surfaces, delivering an unmatched performance.
At first glance, the adventurous character of the Huracán Sterrato is unmistakable. With an increased ground clearance of 44mm compared to the Huracan EVO, the Sterrato offers greater suspension travel, ensuring a smooth and controlled ride over uneven terrain. The widened tracks, both front and rear (+30mm and +34mm respectively), provide enhanced stability and agility.
To protect the vehicle during daring off-road adventures, Lamborghini has equipped the Sterrato with a range of functional design elements. The aluminium front underbody protection, reinforced sills, rear diffuser, and robust wheel arches not only add to the car's muscularity but also shield it from potential damage. The distinctive air intakes on the rear bonnet not only enhance the Sterrato's sporting character but also ensure the engine receives clean air when traversing dusty roads.
Versatility and Performance: The Huracán Sterrato's adaptability shines through its specially-developed Bridgestone Dueler AT002 tires, mounted on 19″ rims. These tires offer maximum versatility and adaptiveness on any surface and under any conditions, providing optimum driver feedback, enjoyment, and performance. Whether tearing up the racetrack or venturing off-road, the Sterrato delivers an exceptional driving experience.
After exploring the remarkable Joshua Tree National Park and pushing the Sterrato's capabilities to the limit at Chuckwalla Valley Raceway, the desert's fine sand leads the way back to Palm Springs. Here, surrounded by palm trees and cruising along the exclusive avenues, the Huracán Sterrato's versatile soul perfectly adapts to the leisurely pace of the California location. This captivating adventure showcases the Lamborghini Huracán Sterrato as the epitome of automotive excellence, embracing the thrill of the desert and the precision of the racetrack with equal fervor.