Secondhand Gems: Ferrari Dreams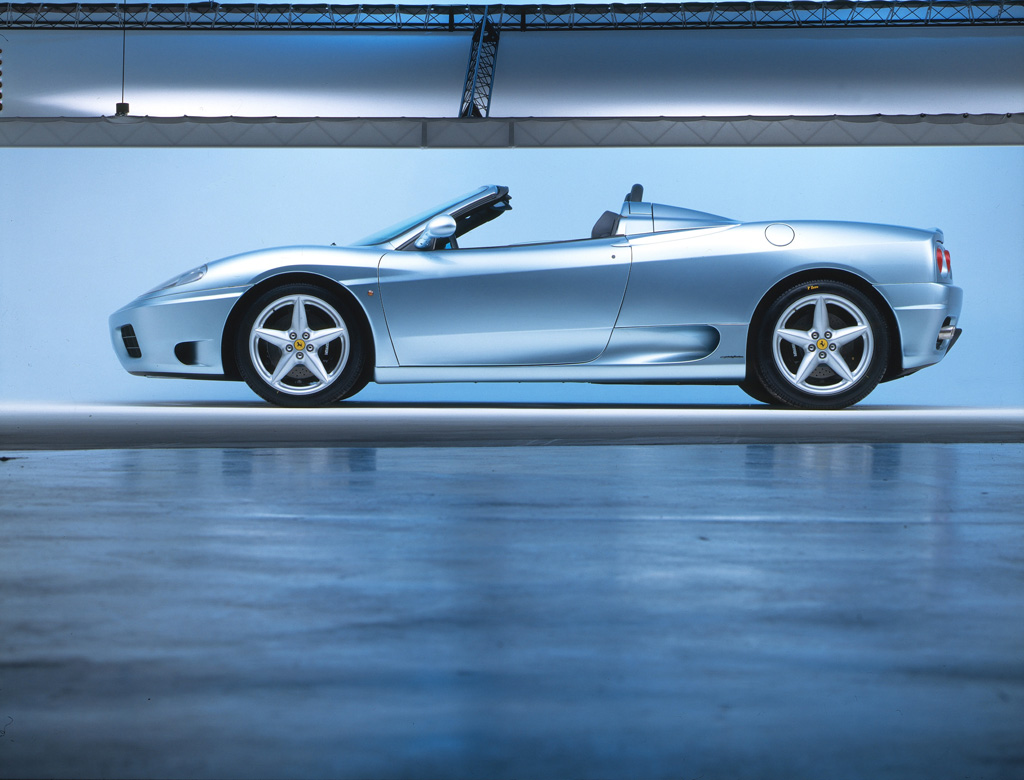 There are cheaper, quicker, more reliable alternatives to owning a Ferrari. There are other machines that look positively stunning from all angles while still delivering pure motoring brilliance. There are other vehicles that motivate drivers with endless powerbands and delicious aural soundtracks, born from the act of converting gasoline into horsepower. There are cars that deliver all the above without the need for frequent service schedules that can top $10,000 per visit; in fact some of them can even reach 100,000 miles with just some oil changes and a few sets of tires. There are many sensible, logical reasons why an auto enthusiast shouldn't purchase a Ferrari. But for many, that's exactly the reason why they do.
That's because Ferraris have an X-factor that few brands, if any, can match. There has always been the direct link to racing and the heritage that goes along with that, but there's still something beyond the illustrious history and exotic allure, something that connects to and quenches a very basic thirst among performance enthusiasts. It's not a stretch to say that owning and driving a Ferrari borders on the religious, and the fact that we're trying to describe the experience could be construed as blasphemy to a few of the faithful. It's best, then, to simply leave it at this: We know that for many, Ferrari represents the pinnacle of performance purity, and we understand why. For those that do not, the only advice we can offer is to take one for a drive. Steal one if you have to—the time spent behind bars for the crime will be worth it.
So then, you've reached a point where your budget can accommodate a toy for the garage. Not a daily driver by any means, but something properly fabulous to exercise on nice days when the sun beckons a two-hour drive to the lake, for no other reason than to just do it. Do you drop fifty grand for a modern American muscle car like the
Challenger SRT8
? The Corvette ZR-1 is mighty tempting for around $100,000, or maybe that holiday bonus check was especially generous, leading you to gather $150,000 for a brand new
Audi R8
V-10. Sensible, logical performance choices all, but we've already been down that road. Look into the mirror with each of those vehicles and you'll see a secondhand Ferrari ready to take their place, gleaming in Rosso Corsa. For the folks who've always wanted a Ferrari but thought it would never happen, pay attention to what follows. The dream might be closer than you realize.
1985 Ferrari 308 GTS Quattrovalve
It's hard to believe that this, a modestly powered product of the late 1970s, is considered by many to be the most iconic Ferrari of them all. Admittedly, Magnum, P.I. may have had something to do with that, but the reality is the Ferrari 308 is one of the most attractive cars ever built, period. Its voluptuous lines are as seductive as they are timeless—anyone with functioning eyes can clearly see the 308's curves in the current 458 Italia, and if we're honest, we suspect that's at least part of the reason why it's the talk of the town.
Of course, the 308 doesn't quite have the accelerative performance of the Italia. Actually, it barely has the chutzpa to nudge a new Ford Taurus, and sadly, we're not even talking about the twin-turbo SHO. A jaunt to 60 in the mid-six-second range was hot stuff back in the day, but the Ferrari experience has never been about statistics on a page. Remove the targa top, let the little 3.0-liter V-8 sing its tune, and we promise, the lack of warp-speed acceleration won't erase your smile. And it's not as if the 308 is slow—the advent of the four-valve engine in 1983 gave US-spec models 235 horsepower, allowing the 308 to reach a buck-sixty flat-out.
The real pleasure of the 308 is exercising it from corner to corner, perfecting rev-matched downshifts through the gated shifter that's as iconic as the car itself. The 308 is planted and predictable, communicating actions to the driver through the pedals, the steering wheel, floor, seats; it's impossible to not be completely involved in every part of the driving process behind the wheel of a 308. And with the continuing advance of computerized automotive systems, that's a claim modern Ferraris can't even stake.
Ferrari collectors often seek out the earlier, carbureted 308s of the late 1970s for their slight power advantage (240 versus 235) and sinister intake noise. We prefer the last of the 308s, however, for better reliability from the fuel injection system, higher quality sheet metal, and the quattrovalve heads that make the most of this tiny V-8. We also really like the price, which for a nice 308 can be as little as $35,000, or to put it in perspective, cheaper than most new 4×4 pickup trucks. As tempting as that price point is, be diligent in learning the car's maintenance history before committing to buy. The newest 308 is still almost 30 years old, and low miles mean nothing when it comes to dry rot on belts and hoses. Realistically, having another $10,000 on standby for service from a proper Ferrari mechanic is the smart play, but that still keeps the total investment under $50,000. At that price we can find faster cars all day long, but for something as iconic, exotic, and fundamentally satisfying to drive on so many levels, the 308 could well be the bargain of the century.
2004 Ferrari 360 Spider
If you flash all the way back to
Secondhand Gems in Winding Road Issue 59
, you'll recall the 2004 Ferrari 360 was one of our five-figure supercar bargains with a price of just $95,000, and that was strictly for the hardtop without the sequential F1 gearbox. These days, that same car can be picked up for ten grand less
regardless
of the top or transmission, and with 53 various models currently populating eBay Motors, it's one of the most accessible Ferraris currently on the market. Of the lot, only the 360 Challenge Stradale is significantly pricier (still grabbing over $100,000 on average) and harder to find, but there are even a couple of
those
on eBay right now.
Credit for this availability and relative affordability goes to timing. The 360 isn't really old enough to garner much attention from collectors, but it's already off the radar and old news for the motoring elite who crave the latest and greatest of the breed. As a result, this bona-fide exotic Italian supercar is within reach of the slightly above-average Joe, and it also happens to be a snazzy dresser that drives like a proper modern Ferrari—crisp, brutally quick, supernaturally agile, and reasonably comfortable.
Given the choice, we prefer the Spider because, outside of piloting a WRC-spec Subaru in the Rally Sweden or smashing through motorhomes in a monster truck, we can't imagine a driving experience made worse without a roof. This holds especially true when the experience involves a 3.6-liter, 400-horsepower V-8 howling to 8500 revs just a few inches behind your head, neatly encased beneath a glass cover for you to covet and others to envy. Thusly motivated, the 360 pins occupants hard into the leather seatbacks on full-throttle acceleration runs, tagging 60 in just over four seconds and topping out north of 180 miles per hour—all accomplished with the top down if you so choose.
Nor does the missing roof compromise the 360's handling prowess, as is often the case when an automaker removes a significant portion of structural rigidity. The 360 feels as if it simply rotates effortlessly around the driver, with no chassis flex, twist, or body roll. The cornering limits are well beyond what most drivers would attempt on public roads, but for the few that do, adjustable stability control steps in to save the day. It's not as complex a system as one finds on current Ferraris, but neither is it quite as invasive throughout the driving process, and there are no shortage of enthusiasts who like the idea of less computer control. In that respect the 360 does hold a special place in the Ferrari lineup, as it bridges the gap between the non-technical, mechanical machines before it, and the highly technical, computerized models to follow. For $85,000, we'll just call it as it is: amazing.
2005 Ferrari 612 Scaglietti
You probably thought we were going to continue up the mid-engine V-8 path to the F430. If your budget allows for an investment in the $150,000 range then yes, early build versions of the F430 are viable. The tricky question here is whether or not its superiority to the 360 is enough to warrant an extra $50,000, which incidentally is enough to purchase a vintage 308 after scoring a paddle-shift 360 Spider. For us the answer is no; as good as the 430 is, the driving experience just isn't enough of an improvement over the 360 to pass up owning not one but two timeless V-8 Ferraris. Before buying an F430, we'd rather expand the garage for the 360 and 308, or simply hold the cash and continue praying for a price drop on secondhand 458s, which isn't likely to happen anytime soon.
Or there's the third option—ditch the V-8 scene completely and regale in the glory of a Ferrari V-12, conducting pistons, camshafts, and valves to create a stirring supercar symphony that can only come from something Italian. As much as we love a screaming Ferrari V-8, there's something elemental about two rows of six cylinders reporting for duty in front of you as your eyes scan across a simple gauge cluster, tachometer prominently positioned in the middle, yellow Prancing Horse blazing on the steering wheel. And yet the 612 Scaglietti (pronounced sca-lee-ET-ee) is very different from just about every other Ferrari.
For starters, there are two sculptured bucket seats in the back, complete with a little bit of leg room behind the spacious, luxurious accommodations up front. Rich leather fills a tasteful interior that favors round control knobs and buttons, managing everything from climate controls to suspension and stability assist settings. Further forward is the engine, a 5.7-liter, 48-valve V-12, nestled beneath a hood long enough to land small aircraft on. Its Pininfarina styling is best described as conservative, and even under full-tilt boogie, the noise from the 612 is surprisingly muted. In other words, the Ferrari 612 Scaglietti is actually a grand tourer, designed not for hyper-speed road racing with a single passenger, but to transport multiple passengers and a modest amount of cargo comfortably, if quickly, over long distances. That doesn't sound like a very exciting Ferrari, but fear not—we haven't got to the good part yet.
The Scaglietti's V-12 is a laser-guided smart bomb wrapped in a suave dinner jacket. It makes 533 horsepower and revs to 7200 rpm, and there's no amount of sound deadening that can counter such Italian firepower. More importantly is the engine's location, mounted behind the front wheels for better weight distribution. With its six-speed transmission (operated via traditional gated manual or sequential paddle-shift) mounted at the rear of the car, the front-engine 612 actually carries 55 percent of its 4100-pound ballast on the back wheels. When you're not busy ripping four-second 0-60 times or toying with 200 miles per hour, the Scaglietti attacks corners in a manner no four-seat, two-ton grand touring machine has a right to. The weight distribution allows for a very neutral, agile feel that goes beyond the term confidence inspiring. Even with Ferrari's Control for Stability and Traction (CST) system completely disabled, there's a sense that the 612 can be driven quite hard without breaking composure. It's easily one of the best-kept secrets in exotic motoring, combining the best grand touring attributes with exotic exclusivity and a proper Ferrari driving experience. And while cars like the 458 and 599 are sizzling in the spotlight, the $250,000 as-new 2005 Ferrari 612 Scaglietti can be had today for roughly $140,000.
Owning a Ferrari has long been a dream for enthusiasts young and old, and if you're reading this magazine, you don't need an explanation as to why that is. What you may not realize, however, is that the dream is surprisingly attainable. So go ahead, revise your bucket list and make it happen. It may not be the logical choice, but as is so often the case, the best things in life seldom are.