Video: Button and Hamilton Drive McLaren MP4-12C Supercar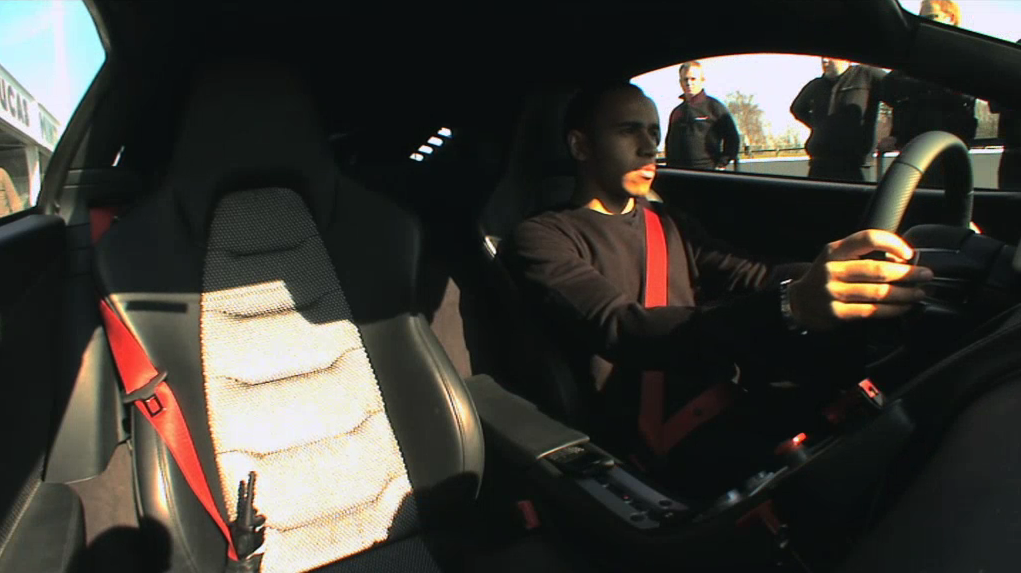 Today, McLaren released more details on the MP4-12C supercar, as well as a video of the car featuring McLaren Formula 1 drivers, Lewis Hamilton and Jenson Button.
The 12-C, which features heavy use of carbon fiber construction for lighter weight, can jump to 62 miles per hour from a stop in less than three seconds, and has a top speed over 200 miles per hour. Look out, Italian supercars.
See our First Look on the McLaren MP4-12C for more information. Watch the video below, or scroll down for a press release from McLaren Automotive.

McLaren Automotive putting MP4-12C in pole position with a carbon revolution
* Carbon at the core of the 12C, McLaren's first in a range of innovative high-performance sports cars
* 12C developed on principles of lightweight engineering that deliver new performance benchmarks
* Efficiency, quality, safety and comfort offer the perfect package for full range of customer demands
The latest plans for McLaren Automotive's global launch of a range of high-performance sports cars were announced today (March 18) including performance data from recent testing programmes, details of the car's innovative construction, and new technologies inspired by Formula 1.
Indicative performance data from the most recent test sessions are confirming the development team's confidence in producing a car of exceptional out-and-out performance as well as quality, safety, comfort, and efficiency levels. The 12C is set to present new standards in the sports car market:
0 – 200 km/h under 10 sec
200 – 0 km/h under 5 sec
100 – 0 km/h under 3 sec / 30m; less than seven car lengths
V-max over 200 mph
¼ mile around 11 sec
CO2 under 300g/km
Lightest dry weight around 1300kgs
Mark Vinnels, McLaren Automotive's Programme Director said: "We are very encouraged with this first release of performance data from the latest XP-Beta development cars. We are focusing on 'real-world' performance that has relevance for 12C drivers on track or on road. As you would expect of McLaren, we are aiming to set new standards for all performance criteria, from top speed to fuel economy, in-gear acceleration to braking distances and carbon dioxide emissions.
"What these results don't show though is the overall package compared to our competitors that will make the 12C easier to drive, more comfortable to spend time in, and dynamically jaw-dropping," Vinnels concluded.
Continued development and testing programmes in New Zealand, Arizona, Spain, and at venues including the Nordschleife at the Nürburgring will deliver further performance figures in the summer before the first customer car is built at the McLaren Technology Centre in late-2010.
The innovative one-piece moulded carbon-fibre chassis (the MonoCell) is the key to the 12C's performance, forming the structural heart of the car, and an ideal occupant cell that delivers exceptional crash test results and a unique driving environment.
The MonoCell's low weight, structural rigidity, dimensional accuracy and innovative four-hour manufacturing process are the factors that support McLaren Automotive's decision to structure its range of cars around this racing-derived technology. This concept is a core strand of McLaren's DNA:
* McLaren was the first racing team with a carbon chassis (the 1981 MP4/1)
* The McLaren F1 was the first road car with a carbon chassis
* The Mercedes-Benz SLR McLaren is the most successful carbon-based car for sales ever (2,114 between 2003 and 2009)
* In the past 30 years, McLaren has not built a car with a metal chassis
The structural integrity that a carbon chassis offers then allows McLaren Automotive the freedom to clothe the car with a combination of aluminium and low-density SMC (sheet moulding compounds) panels that, themselves, are ground-breaking: the SMC panels are 11 percent lighter than on any production car.
Reducing weight is an obsession at McLaren, borne of the principles that have driven McLaren's racing teams to more motorsport success than any other: recent developments have lowered the MonoCell's weight further to below 80 kilos, whilst continued lightweight engineering supports McLaren Automotive's plans to launch the 12C at a lighter dry weight than any competitor at around 1300 kilos.
McLaren Automotive is aiming for the 12C to be at least 75 kilos lighter than its nearest competitor and a long list of further lightweight solutions highlights the 12C's introduction as a new type of sports car, driven by McLaren Automotive's obsessive attention-to-detail. Examples include:
* Standard composite brake system of forged aluminium and cast iron is lighter than the optional carbon-ceramic brake system, saving five kilos
* Low-weight Lithium-Ion battery saves 10kgs
* Lightweight magnesium structural beam supports the dashboard
* Small, twin-turbocharged V8 engine delivers 600PS from 3.8-litre capacity
* Rear mounted engine cooling radiators minimise the pipework, the fluids contained within them, and therefore weight. They were also mounted in car line to minimise vehicle width and weight.
* Hexagonal aluminium wiring saves four kilos over circular wiring.
Not only is the 12C incredibly light and fast, it also features a range of new technologies, many inspired by Formula 1, and all unique to McLaren. In fact, the 12C has been described as 'pure' McLaren: all content in the car is bespoke to the 12C, from the switchgear to the engine:
* Brake Steer aids balance and grip through fast corners either acting as a safety control or an aid to performance on the track
* The Airbrake increases downforce and therefore grip at speed and moves the centre of pressure rearwards under heavy braking
* Proactive Chassis Control negates the requirement for mechanical anti-roll bars and distributes damper control hydraulically between wheels and axles resulting in minimal roll at high speed combined with compliant suspension articulation in a straight line and over uneven road surfaces
Neil Patterson, Chief Engineer for the McLaren MP4-12C said: "Our goal for the 12C, and future McLaren cars, is to offer what we call 'accessible performance', no matter what the driver's ability.
"With that in mind, with the technologies we have introduced, and with a small and lightweight, low- and mid-mounted engine, we have been able to deliver what we feel is a perfectly balanced chassis. The 12C will be a joy to drive in town, on an Autobahn, or on a track. There is no compromise and huge flexibility," Patterson concluded.