Update: Mercedes-Benz Details the AMG GT's Twin-Turbo V8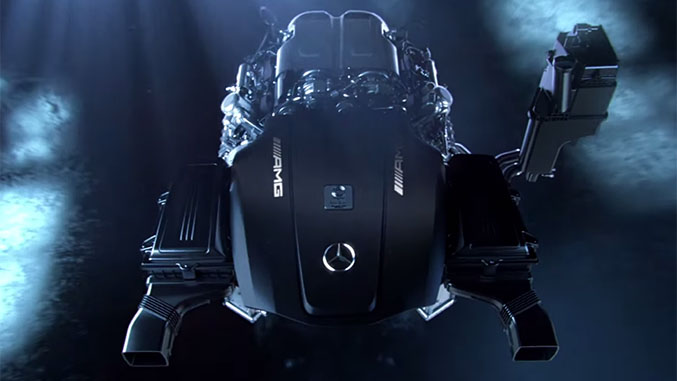 In very well articulated English, Mercedes has revealed the specifications of the new powerplant that will be installed in the AMG GT, the company's new Porsche 911 fighter. As a replacement for the outgoing SLS AMG, the AMG GT has some pretty big shoes to fill in the Mercedes-Benz portfolio. So, how does the new twin-turbocharged 4.0-liter V8 stack up against the retiring 6.2-liter naturally aspirated V8 from the SLS?
Codenamed the M178, the new motor cranks out 503 horsepower and 479 pound-feet of torque. If that doesn't sound all that impressive in the grand scheme of AMG performance, that's because while this engine retains the same amount of torque as the outgoing powerplant, it's actually down 60 horsepower when compared to the 6.2-liter unit. However, it's worth noting that the AMG GT is rumored to be smaller, and by logic, lighter than the SLS AMG that it is replacing, so we may not discover the ding to performance that these numbers might suggest.
Further, this new twin-turbo V8 is also rumored to be headed for the engine bay of the new C63, and if it were to keep the same configuration as detailed here, it would be nearly on par with the current beefed-up C63 507 Edition right out of the box.
Some particularly interesting features of the new V8 include turbochargers installed in the V between the cylinder banks and a dry-sump lubrication system, the latter of which allows the M178 to be installed lower and further back in the vehicle by eschewing a conventional oil pan, thereby helping to lower the car's center of gravity.
We'll let AMG's narrator explain the rest, and we've included a pair of videos from AMG below that which showcase the sounds we can expect to hear bellowing from the exhaust pipes of this new sportscar when it hits showrooms later this year. Keep an eye on the
2015 Mercedes-Benz AMG GT overview page
for updates as we have them.