The All New Porsche 911 Carrera 4: All About That Base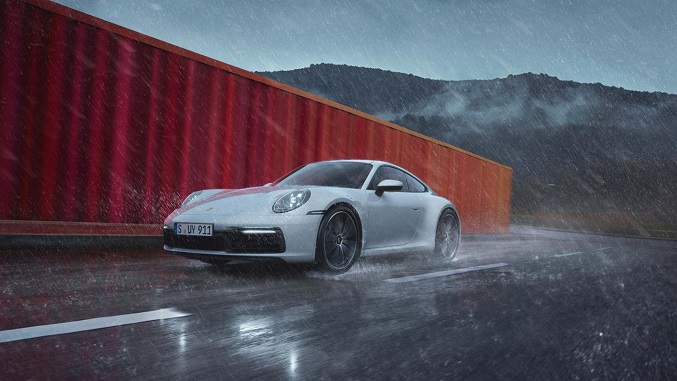 With delivery of the brand-new 992 Porsche 911 just a few weeks away, enthusiasts and journalists are getting quite antsy. Who wouldn't be? Even the base Carrera model (non-S, no Sport Chrono performance package, etc.) will be very well equipped and quite powerful for hovering right around $100,000. 379 horsepower sent to the rear wheels via a twin-turbo, 3.0-liter flat-6, that jumps to 60 mph in 3.8 seconds, is nothing to scoff at for a stripper 911.
This week, Porsche announced the latest way to send all that power to all four wheels: the new 992 Carrera 4 and 4S. Let's focus on just the 4. Like it's 2WD sibling, the 4 has excellent base specs: standard 8-speed PDK gearbox, PASM (Porsche Active Suspension Management), beautiful exterior throwback styling (the rear end of the 992 is truly a work of art), and nicely-appointed interior materials and tech, to name a few.
There are some very noteworthy upgrades to the AWD drivetrain, particularly the front axle drive. The clutch and differential unit is now water-cooled and has reinforced clutches to increase durability and load capacity. We're willing to bet that this kind of water-cooling will be much more welcome than when the 996 was introduced (har har). If the factory is beefing up their components, that's music to aftermarket tuners' and racers' ears.
Exterior-wise, besides badging the 4 shares almost every bit of styling with the standard Carrera. However, to slightly differentiate between the 4 and the 4S, the standard 911 Carrera 4 models feature one rectangular, single-tube tailpipe on each side, while the 4S models are fitted with a set of round twin-tailpipes on each side. Conservative German styling to a T.
Speed-wise, the Carrera 4 digs in and lunges to 60 miles per hour in 4.2 seconds. Slower than the 2WD version, but we're willing to bet this number is a bit restrained. It's being reported that the 4S with 60ish more horsepower can get there in a flat 3 seconds. Plus, the 4 will shine where AWD always shines: clawing its way out of corners, maintaining better traction in the wet and snow, etc. Regarding its new water-cooled clutch and differential unit: with its improved adjustment accuracy, the capability of the front axle is greatly improved, leading to better overall front-end grip.
There are numerous packages and upgrades available as always with the 911. A nice, continuing tradition, is that you don't necessarily have to shell out for a 4S in order to get some of its standard features. A variable electronically controlled limited slip rear differential with Porsche Torque Vectoring, which is standard on the 911 Carrera S and 4S models, can be ordered as an option. A quick lookover on the Porsche online car configurator reveals there are quite a few other nice additions.
We're excited for the new Carrera and Carrera 4 and can't wait to get our hands on them. It's a slight bummer that there is no standard manual transmission, but considering its base transmission is an 8-speed PDK (the best dual clutch ever in our opinion), and starts around $97,500 for a 2WD variant and $105,000 for power going to all wheels, it's absolutely the next-best thing to 3 pedals. Especially if you can get to 60 mph in around 4 seconds.