David Brown Automotive Introduces The Mini Remastered, Oselli Edition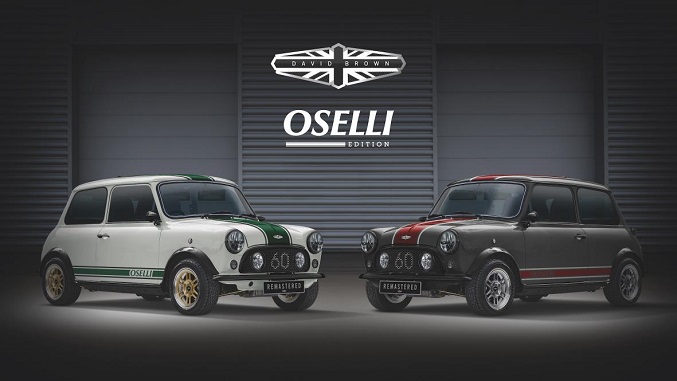 From DavidBrownAutomotive.com:
David Brown Automotive has revealed Mini Remastered, Oselli Edition, a one-of-a-kind performance version of the celebrated city car. The highly tuned Mini Remastered, to be made on a limited production run of 60 cars to mark the first Mini launching in 1959, will be made in partnership with classic car performance specialist, Oselli.
The performance-enhanced Mini Remastered, Oselli Edition offers customers an engine unit developed by Oselli, with other tuning upgrades added. The powertrain unit is a punchy 1,420cc Stage 3 engine. The uprated engine will be paired with a remastered five-speed gearbox. With 40% more power than the original A-series engine, the powertrain unit will deliver in excess of 100bhp with buckets of torque to make for a thrilling driving experience.
The exhaust system and air intake will be specially engineered to manage the higher power output.
A strong focus on race-ready driving means the chassis is uprated with key suspension enhancements, featuring adjustable SPAX performance dampers. A race-spec brake kit comes in the form of large diameter disc brakes gripped by four piston calipers at the front of the car, and alloy rear drum brakes at the rear. Compared to the standard model, the tires are wider and are made for performance at high speed. The tires are fitted to 7J x 13-inch Enkei alloy wheels, finished in gold or silver. The wheels are wider and larger in diameter compared to the standard wheels in order to accommodate the larger brakes and for a more performance-focused drive.

The styling of Mini Remastered, Oselli Edition has been honed to reflect the highly tuned nature of the rest of the car. Customers have the choice of two main color ways; with either a primary body color in off-white paint or dark grey and a choice of a three tier full-length racing stripe and side accents in either Crimson, Royal Blue or Racing Green. The cast alloy engine cover will be painted to match the exterior stripe and fitted with a unique build plate. Brightware will be darkened in order to reflect the performance feel over the model, to include black wheel arches, black mirrors (including interior mirror) and door handles. A mesh grille with two white inset LED spotlights adds to the sporty theme of Mini Remastered, Oselli Edition, while the build number is painted onto the grille and on the rear of the car. A monotone bonnet badge denotes the car's performance ability, a hint to lineage introduced by David Brown Automotive with the same feature on the Speedback Silverstone Edition.
Inside, Mini Remastered, Oselli Edition is available to order either as a two-seater with a rear hand-trimmed roll cage, or as a four-seater car, featuring accent colors to match the chosen racing stripe color and black accents. The two-seater version is made with hand-trimmed bucket seats and a half-leather roll cage with rear-seat storage and can be equipped with a four-point harness by Sabelt, available in a number of colors. Customers can opt for a standard seatbelt for daily use if preferred. The build number can be displayed on the glove compartment surface, and the steering wheel will be hand-trimmed and finished in Sabelt Alcantara material.
Oselli is a prominent force in the classic car performance and restoration sector, beginning business in the early-1960s and forming a niche to specialize in tuning and enhancing performance for the A-series engine. The expert team at Oselli has a wealth of experience rebuilding and improving engines for a performance experience, as well as preparing, building and racing cars in competitive motorsport events.
Like other models from David Brown Automotive, this new model further demonstrates a commitment to bespoke British handcraftsmanship, combined with modern engineering, technology and conveniences.
"This exciting new performance version of the Mini Remastered is a step forward for our company," said David Brown, company founder and CEO. "We are thrilled to be working with Oselli and this partnership sets a marker of intent for our ambitions in the performance car sector. We are sure this Oselli Edition will prove a hit with customers looking for a fast classic car, with the Mini Remastered proving so popular in its own right and the ideal platform for performance enhancements."
In-line with the new model's race car pedigree, the company is also making a number of personalized matching race suits and helmets as optional extras for owners of the new edition. Pre-orders are open now for the Mini Remastered, Oselli Edition, with first deliveries scheduled for next year.
Follow announcements from David Brown Automotive on social media, using the hashtag #PerformanceRemastered