After publishing our recent Best Racing Harnesses article, we were asked about harness options for daily driven street cars that also see track use. Vehicles which serve a dual purpose as both a track day/HPDE car, and a means of every day transportation, have significantly different requirements than vehicles built specifically for racing. With that in mind, below are some considerations when selecting harnesses for your street car.
Be sure to check out both our Racing Harness and Belts Buyers Guide and our Racing Seat Buyers Guide for a refresher on some other factors you need to consider when buying a racing harness and a seat to use it with (if needed), and head over to the Winding Road Racing online store to check out the entire selection of harnesses and belts available, as well as the selection of racing seats.
Be sure to also check with the sanctioning body or company you will be running with on track; some of them disallow 4-point belts regardless of whether or not they're street legal, have ASM technology (detailed below), are accompanied by a proper roll bar, etc.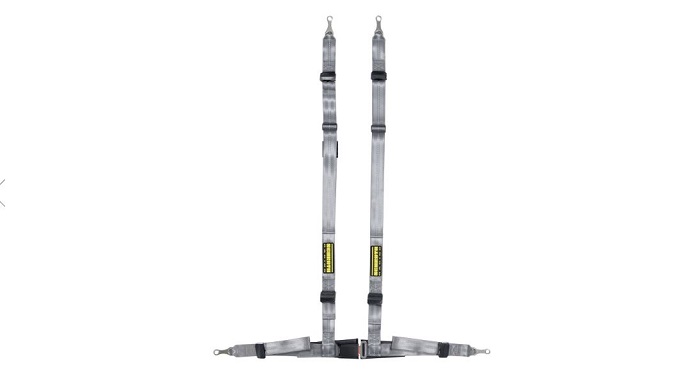 The Schroth Rallye Cross harness is designed to be used in street-legal cars that are also used for track days or other events which do not require full wheel-to-wheel safety gear. The Rallye Cross has a conventional lap belt buckle to address laws in some states which prevent the use of the camlock, or snap buckle used on racing harnesses. This is a four point harness with ASM technology.
ASM technology, or sometimes referred to as the anti-submarine loop, is important safety technology. Schroth does a great job of explaining how it works:
"ASM stands for Anti-SubMarining. It's an extra flap of material sewn into the inboard shoulder belt that prevents you from sliding underneath the lap belt. In a 4 point harness made by some other company, the two shoulder straps restrain your upper body equally. They keep your chest from moving forward. However, this also pulls up on the lap belt and allows your accelerating pelvis to slide under the lap belt and cause serious damage to your stomach and intestines. With ASM, one of the shoulder belts will elongate at a different rate which will force your pelvis down into the seat cushion. Upon rebound, you will be placed back in an upright position with the belt correctly placed over your body."
Think of ASM technology as an alternative to the sub/crotch strap on a 5- or 6-point racing harness.
Generally, the Rallye should be used with aftermarket seats (see this guide published by Schroth) that have access holes for the shoulder belts (this avoids wrapping the shoulder belts over the seat back and putting a load, which the seat is not designed for, on the seat back mechanism). Winding Road Racing recommends customers read up more on proper belt mounting angles. As far as the use of a roll bar, we are of the opinion that they should be used when running any kind of non-OEM harness.
The Rallye lap belts must be bolted in to your car on either side of you seat, near or using the existing attachment points for your belts. The shoulder harnesses should be attached to a roll bar or harness bar running behind the rear seats at shoulder level. This is done by wrapping the shoulder straps around the harness bar in between harness retention guide collars that hold them in place.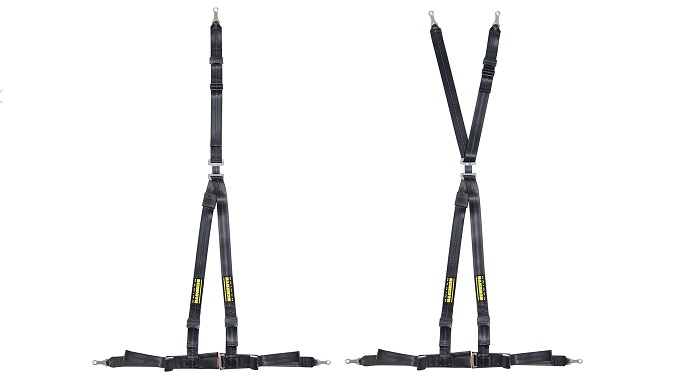 The Schroth Rallye 3 ASM and Rallye 4 ASM are harnesses designed to be used in street-legal cars that are also used for track days or other events which do not require full wheel-wheel safety gear. They have a conventional lap belt buckle to address laws in some states which prevent the use of the camlock, or snap buckle used on racing harnesses. They feature the same ASM safety technology as the Rallye Cross above.
With either of these options, we would recommend installing them into a car with a proper roll bar as well as paying close attention to Schroth's installation guidelines when it comes to mounting angles. Even racing seats are not designed to take a load downward from the harnesses, and without a harness bar you are creating a sharp point on the harness pulling down on the harness holes, while routing the harness through a harness bar creates a smooth radius on a harness bar tube.
Also, as there are no given attachment points on a car, the builder/installer will have to find the best route and location to mount the harness belts and might include drilling and bolting the harness brackets in with proper backing plates and hardware. Factory points are also a consideration, but we recommend researching extensively to ensure they are adequate. The other option is to find a harness bar that has provisions for eye bolts or bolt throughs like GMG products that we've installed for customers, pictured below.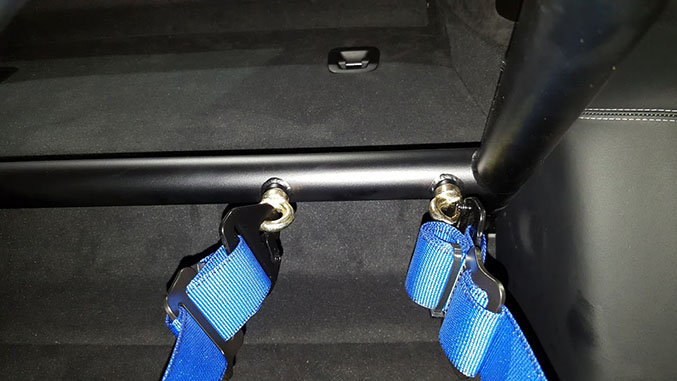 ​
Our preferred harness bar manufacturers vary depending on the vehicle it's being installed in – feel free to contact us for recommendations for your specific setup.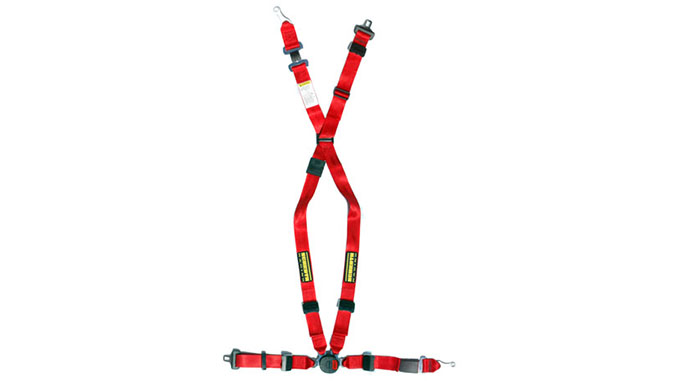 ​
The Quick Fit Harness from Schroth is another option for people who have certain dual duty cars (track and street). The Quick-Fit is only used on track days; at other times you unclip it and use the factory 3-point belts. The Quick-Fit anchors to factory points, which means you don't have to worry about it ripping out of the sheet metal because the factory points are load tested to withstand a 3,000-pound force for 6 seconds. The Quick-Fit simply clips into the front (driver's right side) and rear (left and center) female buckles that are normally used for the factory belts. Then you add a male buckle on the driver's left side in parallel with the existing OEM 3-point belt. You can clip the Schroth Quick-Fit into you car at the track in about a minute. It has anti-submarine technology that keeps the lap belt low and your rear end firmly planted in the seat.
​
The main obstacle with the Quick Fit solution is that the system is designed for specific makes and models, meaning that it isn't currently available for some vehicles. Schroth currently has Quick Fit options for select models of Fords, Subarus, BMWs, VWs, Audis and Minis.
Shop Winding Road Racing's full line of racing seats and racing harnesses and restraints.
Got questions? Drop us a line in the comments below, or feel free to contact us here.