Rumors: Spy Shots–SLS AMG Black Series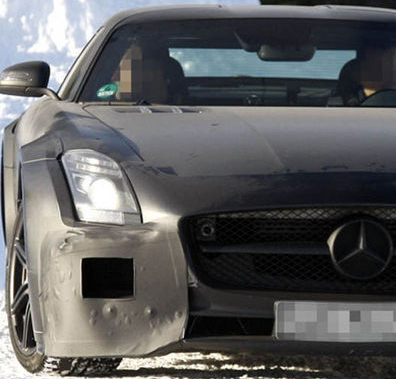 The Mercedes-Benz SLS AMG is a seriously impressive car in its own right–AMG's massive 6.3-liter V-8 produces 563 horsepower and launches the 3500 pound supercar to 60 miles per hour in 3.8 seconds. Top speed is electronically limited to 197 miles per hour, and the quarter mile is dealt with in just under 12 seconds. As recent spy shots show, however, AMG clearly means to squeeze even more power and speed out of its bespoke creation.
These spy shots from
AutoExpress
are proof that the company is hard at work on the SLS AMG Black Series, a harder and more fearsome iteration of the SLS. Snapped during testing somewhere in Scandanavia, the SLS Black Series should benefit from a tuned version of the standard car's V-8 that will develop over 600 horsepower. The dash to 60 miles per hour should fall in about 3 seconds, and odds are good it will crack 200 miles per hour.
Like other Black Series models, the SLS should be widened and lowered, receive the requisite wildly flared wheel arches, and ceramic brakes stuffed inside larger wheels. No word yet on price, so we'll have to wait until later this year when the car arrives to find out.
Do you have a car rumor to report, a spy shot to share, or other automotive-themed dirt to dish? Drop us a line at rumors@windingroad.com, our ears are always on!