New York 2011: Suzuki Kizashi EcoCharge Concept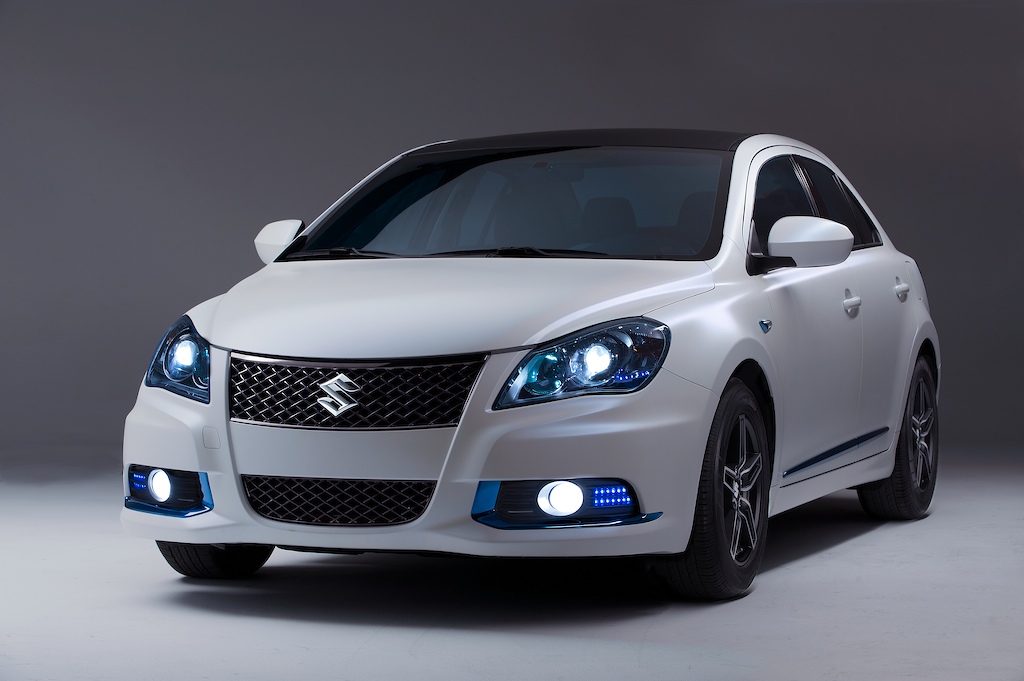 It turns out that the Suziki Kizashi attack on the New York Auto Show is a two-pronged one. In addition to showing off its bold (and hopefully close to production) Apex turbo concept car, the company would also like to interest you in its conceptual hybrid—the Kizashi EcoCharge.
The EcoCharge Concept is Suzuki's toe-dip into the mainstream hybrid sedan market, with a Kizashi that mates a 2.0-liter four-cylinder motor to a 15-kW motor and a 115-volt lithium-ion battery. The resultant package—mated to a six-speed automatic, not the company's CVT transmission—is said to net a 25-percent improvement on highway mileage over the current sedan in "real world" fuel economy. Extrapolating from the current miles per gallon figure then, we could guess that the EcoCharge might manage around 38 mpg highway. Not exactly class leading, but not bad if Suzuki can also keep intact the car's fun-to-drive nature.
Please scroll down to read the full Suzuki press release.
SUZUKI REVEALS KIZASHI ECOCHARGE CONCEPT
AT 2011 NEW YORK INTERNATIONAL AUTO SHOW
Innovative Gas-Electric Concept Leads Automaker's U.S. Advanced Propulsion Strategy
NEW YORK (April 19, 2011) – American Suzuki Motor Corporation (ASMC) unveiled a gas-electric concept variant of its Kizashi sedan at the company's 2011 New York International Auto Show (NYIAS) press conference this evening. With the moniker Kizashi EcoCharge Concept, this innovative and eye-catching four-door further illustrates Suzuki's global eco-mobility story, and accentuates the company's effort in socially-conscious motoring.
"We are continuing to study the virtues of the gas-electric technology found in the Kizashi EcoCharge Concept," said Steve Younan, director of automotive marketing and product planning for American Suzuki Motor Corporation. "Our basic concept was to attain substantial gains in fuel economy without the traditional sacrifices in drivability required with today's mid-size hybrid sedans. The proof of our concept is that the Kizashi EcoCharge has the capability to deliver a 25 percent fuel economy gain in real-world driving through an electric charge to the powertrain system while still retaining the production Kizashi's dynamic handling and braking advantages that make it a standout category performer."
Kizashi Powertrain Electrification
The Kizashi EcoCharge Concept derives power from a 2.0-liter inline-four gasoline engine, working in tandem with an advanced electric propulsion system, which consists of a liquid-cooled 15-kW motor/generator unit tied to a 115-volt air-cooled lithium-ion battery. The combination optimizes fuel economy and delivers an electric power boost during acceleration for a more spirited driving experience. The Kizashi EcoCharge Concept delivers a 25 percent lift to highway fuel economy over today's Kizashi.
To help maximize efficiency, the Kizashi EcoCharge Concept also utilizes numerous fuel-conserving technologies, including regenerative braking, automatic engine shut-off when the car comes to a stop, fuel cut-off during deceleration events and low-rolling resistance tires.
Power management is provided via an advanced six-speed automatic transmission designed for smooth operation and a seamless flow of power when called upon by the driver.
Simple, But Striking Exterior Styling
The exterior of the Kizashi EcoCharge Concept is highlighted by a unique luminescent white satin paint design with a subtle blue undercoat. To further set the concept apart from its production Kizashi sibling, it has been given a specialized headlight treatment, as well as LED foglight illumination integrated into the front fascia. The lightweight aluminum wheels communicate a futuristic feel, and are wrapped in low-rolling resistance tires.
Eco-friendly Interior
Within, the Kizashi EcoCharge Concept utilizes advanced seat materials. These materials require 84 percent less energy to produce, and create 80 percent fewer emissions than virgin material production.
Kizashi EcoCharge Concept Specifications
Engine
Type: J20B DOHC I-4
Displacement (cu in / cc): 1,998
Valvetrain: Intake-VVT
Horsepower (hp / kW @ rpm): 144 / 106 @ 6500 rpm
Torque (lb-ft / Nm @ rpm) 127 / 173 @ 4500 rpm
Fuel economy target (Hwy): 25 percent improvement over production Kizashi
Transmission
Type: 6-speed automatic
Electric Drive System
Type: Belt-driven, liquid-cooled induction motor/generator unit and lithium-ion battery system; air-cooled power electronics and battery pack
Maximum electric generating power: 15 kW @ 1,570-3,180 rpm
Maximum electric motor power(electric assist): 15 hp / 11.2kW @ 1000-2200 rpm
Lithium-ion battery: 115V, 0.5-kWh, 15 kW peak power