First Look: 2014 Ford Fiesta ST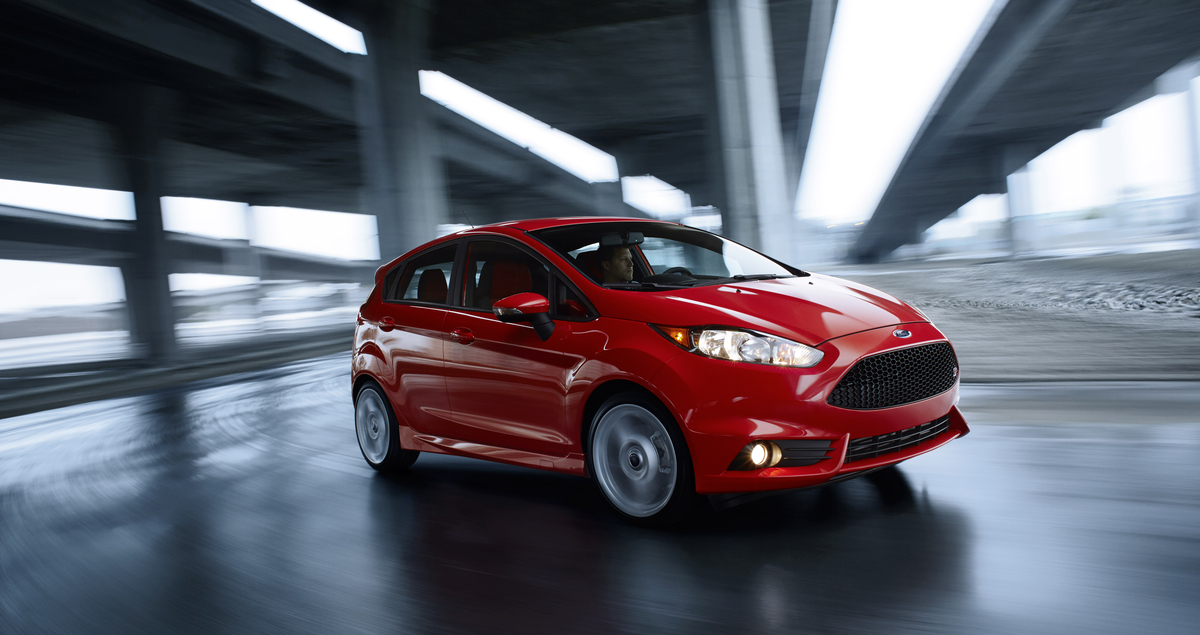 Ford seems quite committed to the hot hatch in the United States, as the Dearborn-based manufacturer has just announced another speedy five-door for the North American market. Slotting below the
252-horsepower Focus ST
is this, the 197-horsepower Fiesta ST.
Combining that much horsepower with 214 pound-feet of torque should result in quite a brisk little hatch. In fact, it compares favorably with the current crop of hottish hatches. In fact, those power figures are so appealing that this Fiesta would have fit in just fine with
our crop of hot hatches
from a few months back. Impressively, 177 of those 214 pound-feet of torque are available at just 1600 rpm, while peak torque is available at 3500 rpm.
Of course, in this segment, the ST needs to look the part. It features the same catfish mouth found on the Focus ST, along with a set of meaty, 17-inch alloys and a pair of chrome-tipped exhaust pipes. It looks the part of the hot hatch, that's for certain. That point is driven home when you look inside the cabin. Like its big brother, the Fiesta ST has a rather colorful cabin, with what look like the same excellent Recaro seats found on the Focus ST, this time finished in red and black. We're assuming a full-leather option will also be available.
Other tweaks include a modified suspension that's been dropped 15 millimeters. The suspension actively fights understeer thanks to electronic Torque Vectoring Control, while a three-mode stability control will allow experienced drivers to play a bit closer to the Fiesta ST's handling limits.
The ST will be making its official debut at this week's Los Angeles International Auto Show. Additional info, such as pricing and availability will be announced at a later date.
Please scroll down for the official press release from Ford.
Confirmed: Ford to Launch Fiesta ST in North America, Brings Big Speed and Style to the Small Car Market
Fiesta ST – a well-known hot hatch born in Europe and now ready for North America – packs a punch with a 1.6-liter EcoBoost®engine producing nearly 200 horsepower
New Fiesta ST is Ford's latest vehicle to wear the Sport Technologies badge, a global performance brand that debuted in North America earlier this year with the launch of the Focus ST
Exclusively equipped with a six-speed manual transmission, Fiesta ST is expected to be a segment leader in both performance and fuel efficiency
LOS ANGELES, Nov. 26, 2012 – Small cars continue to be a hot segment in North America and with the new Fiesta ST, introduced here at the 2012 Los Angeles Auto Show, Ford is expected to have the hottest hatch around.
Fiesta ST, a performance model first launched in Europe back in 2005, is yet another proof point from Ford that small cars are anything but boring. In addition to a precision sport-tuned suspension and an improved braking system, Fiesta ST packs a punch under the hood.
A new high-output variant of the award-winning 1.6-liter EcoBoost® four-cylinder engine propels Fiesta ST with an estimated 197 horsepower and 214 lb.-ft. of torque. In comparison, Mini Cooper S makes do with 181 horsepower and 177 lb.-ft., while Chevrolet Sonic RS produces just 138 horsepower and 148 lb.-ft.
Unlike the competition, Fiesta ST doesn't simply look like a performance car; it's got the guts to back it up.
"This is a rewarding car to rev," says Mark Roberts, Fiesta calibration supervisor. "With 177 lb.-ft. of torque available from just 1,600 rpm and 214 lb.-ft. by 3,500 rpm, Fiesta ST gives the performance and feel of an engine twice its size. There's no waiting at all for the power to just push you back in your seat."
Fiesta ST may be born with racing DNA, but buyers won't have to pay for that performance at the pump. Available exclusively as a five-door hatchback in North America and with a six-speed manual transmission, Fiesta ST is projected to achieve up to 34 mpg.
This compact performance machine sports a unique grille and chin spoiler with new rear diffuser and fascia extensions. Bright tipped dual-exhaust pipes and high-mount spoiler along with unique 17-inch wheels complete the visual package: Fiesta ST looks like it's made for the racetrack. The car is first of its nameplate to receive the Molten Orange tri-coat metallic paint.
Fiesta ST steering is more direct and responsive than the base model. A unique suspension with modified front knuckle makes for a quicker overall steering ratio of 13.6:1.
The rear axle gets increased roll stiffness to improve stability through fast corners, while the Fiesta ST body sits 15 millimeters closer to the ground than the base model.
Increased mechanical grip provided by the suspension improvements is further enhanced with electronic Torque Vectoring Control to reduce understeer during hard cornering maneuvers. Three-mode electronic stability control – standard, sport or off – enables the ST driver to select the amount of electronic aid based on current conditions. Overall, Fiesta ST provides enthusiastic drivers with the ideal mix of performance handling and ride comfort.
Fiesta ST will also sound good on the open road. It features the mechanical version of the sound symposer first used on the Focus ST, which went on sale in North America earlier this year, to provide an enhanced soundtrack for drivers out tackling the open road. It is unique for Fiesta in that for the first time the engine sound is directly fed into the passenger cabin to accentuate feedback quality and response.
Fiesta ST is the result of the combined efforts of Team RS in Europe and SVT in the United States.