The Guide to Road Racing, Part 10: Getting Started – ChampCar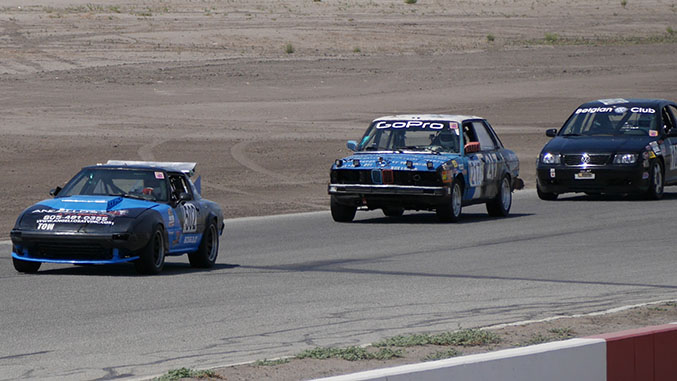 In this installment of the guide we'll be diving into the ChampCar series, and what sets it apart from the more traditional sanctions like SCCA and NASA. We recently had the opportunity to run a stint amongst a six-driver team in a ChampCar 24 hour endurance race, held at Buttonwillow Raceway. For a number of reasons, this sort of racing is substantially different from the Spec Miata SCCA sprint racing we've been discussing thus far, so we'll be covering some of the key components that make both ChumpCar and the endurance racing format unique in comparison to our previous segments.
What is the format for ChampCar racing?
The ChampCar series offers several different racing disciplines:
Endurance Racing – Multi-driver races which span from 7 to 36 hours depending on the event. Each driver may drive for a maximum of 2 hours per stint, at which time the driver must head to the pits for a driver change and any applicable refueling or repair as needed. Race cars must meet the $500 "Market Performance Value" classification, and cars above this budget limit will be penalized with additional laps based on how far they exceed this MPV limit. (We'll explain more about the MPV budgeting a bit further down.)
Who can drive?
The short answer here is that anyone with a valid state-issued or international driver's license is eligible to compete. Novice drivers are required to attend the one hour ChampCar Driver's School session prior to the race. The school session is provided at no charge. Novice competitors are defined by ChampCar as "someone who has not competed in an FIA, IMSA, GrandAm, Barber, SCCA (Regional-National-Pro), NASA (Regional-National-Pro), CASC (Regional-National-Pro), or LeMons competition event in the last 2 years and/or does not hold a valid competition license from any of the aforementioned organizations." Solo events like autocross, drifting, track days and HPDEs do not apply as road racing experience.
What kind of car is needed?
In order to compete in ChampCar races, the car used must not exceed 500 points, as defined by ChampCar evaluation and the curb weight of the vehicle cannot exceed 4200lbs. The interior also must be stripped out and all glass (except for the windshield) must be removed. For this race, our team used this particularly noble example of a 1997 Subaru Impreza Outback Sport:
The full suite of SCCA/NASA-spec safety equipment is required. This includes a roll cage, racing seat, racing harnesses, kill switch, a fire extinguisher, a window net and tow hooks. Safety items are not factored in when determining MPV of a vehicle.
Modifications that affect the speed potential of the car generally increase the MPV of the car on a part by part basis and are counted against the $500 budget cap.
Cars which exceed the $500 limitation will either be penalized with additional laps – the number of which will be determined by how far over the limit the car is – or moved to the Exception Class, which is setup for cars that want to compete in ChampCar but far exceed the $500. These include later model year vehicles valued at more than $1000 as well as more extensively modified race cars.
Tire type is up to the discretion of the team – any DOT-legal tire which complies with the treadwear ratings for the ChampCar event (which varies depending on the type of ChampCar competition) is eligible.
How is this different from traditional SCCA or NASA style sprint racing?
In terms of licensing, the entry point for ChampCar requires less than SCCA and NASA competition does. At a bare minimum, those organizations require a novice permit which is earned through at least a weekend's worth of in-class sessions and track time, whereas ChampCar only requires a one hour class session prior to the race.
In terms of the actual race event, sprint races are run by one driver and usually last between 30-40 minutes, running about 18-22 laps total, while this particular ChampCar endurance event was 24 hours long. That length of time on track equates to several hundred laps, and those laps are divided up among a team of at least 4 drivers over the course of the race, with each driver taking stints behind the wheel which cannot exceed two hours per session. By virtue of this, one of the requirements of the race and a skill set needed by the racers is to understand how pitting works.
During driver changes (or other pitting, such as refueling or repairs), teams are required to pit for no less than five minutes at a time, which is monitored by a timer placed on the car when entering the pits, which is then verified by race officials before re-entering the course once the duration is over.
No repair work can be started on the car while refueling is being done, although driver changes can take place. The pit crew member doing the refueling must be in full race gear (race suit, gloves, shoes, Nomex socks, and helmet with the visor down) while putting fuel in the car, and a second crew member, also in full race gear, must accompany the refueling crew member and remain behind them with a fire extinguisher with the pin pulled in case of fire. Once the fuel canisters are back over the pit wall and the gas cap has been secured, crew members can start any additional repairs that may need to be done.
Beyond pitting, driver and crew fatigue over the course of an endurance event must also be considered. For a 24 hour event like this, food and a place to rest between stints in the car is essential for the crew and drivers.
Teams also must have an adequate supply of fuel and a reasonable assortment replacement parts (that could feasibly be replaced during a pit stop) in case something breaks or a tire needs replacing during the course of the race. You can compete without bringing along spare parts, but it would a shame to be knocked out of the competition for something as simple as a blown tire.
What was the sequence of events each day?
For this 24 hour race, the crew convened at the race track with the car the day before the race in order to do maintenance checks and preparation of the car for race day. This included a new set of tires and a once-over of all major mechanical components and checking for any fluid leaks or other maladies. The car and each team driver's gear is also put through tech inspection to make sure everything is in compliance with ChampCar rules.
On race morning, the crew set up their pit area a few hours ahead of the start of the race. An hour before the racing began, a brief driver's meeting was held and then teams were sent back to their pit areas to prepare for the start of the race.
Once the race began, a cycle was initiated of crew members assigned to fuel and fire extinguisher duty suiting up in preparation of the next time the car comes into the pits, and the next driver scheduled for a stint also got prepped for their time in the car. At the end of each stint, the driver pits and the car is refueled while the current driver gets out and helps the new driver get setup in the car. As the race progresses throughout the day and overnight, repairs are made as needed until the team finishes the race or the car is knocked out the race due to mechanical failure of some kind.
Who were we racing against?
Many teams use ChampCar as a low-cost and fairly low risk entry point into racing. For those reasons, a large portion of the grid consisted of drivers with little or no experience in wheel to wheel racing. As the race progressed, the pack began to separate between these teams and the teams who had a bit more racing acumen. With cars of this performance level, driving skill makes up for most of the discrepancy between the vehicles' abilities, so understanding how to manage speed through the corners and how to pass safely and efficiently ultimately ended up counting for more than almost all other performance metrics.
With that said, with endurance racing, cutting the fastest lap possible also isn't the top priority – the top priority is finishing, while being fast is secondary.
What does a race weekend cost?
The ChampCar entry fee for this particular race was $1200, which includes 1 car and 4 drivers. Each additional driver is $50 each, and each additional crew member is $20 each.
Bringing spares, and what spares to bring, is largely up to the discretion of each team. However, having an extra set of tires (~$500) and an extra set of brake pads (~$100), at a bare minimum, is generally good practice.
Fuel is another consideration. We averaged about 20 laps an hour. In a 24 hour race, that's about 480 laps. On a track that's three miles per lap, that's 1440 miles. At 10mpg (which is pretty admirable fuel economy at race speeds), that's 144 gallons, or about $900 of fuel at the trackside pumps ($6/gallon). Expect to spend between $800-$1200, depending on the car, for enough fuel to run a 24-hour race.
These figures do not account for any extra fluids for the car like oil, brake fluid, clutch fluid, etc, nor does it factor in the cost of each team members' individual safety gear (fire suit, helmet, etc).
What about the weekend is fun?
The budget restrictions of the ChampCar series format hard-codes a less formal approach into the racing that maintains the safety standards of sanctions like the SCCA and NASA, but with an attitude that's very inclusive and casual. ChampCar is designed to be fun, regardless of skill level or team budget.
Endurance racing is also very different animal to sprint racing. Pitting – and the driver changes, refueling and repairs that come along with it – add an entirely new component to racing that's absent from sprint races, and it brings with it another element of intensity. Also, with two hours behind the wheel in each stint, you're bound to make at least a few passes, so even with a paltry 100 horsepower on tap the race is still filled with plenty of excitement.
What did we learn?
When driving a slow car fast, patience is not only a virtue, it is a mantra. With the power available in our Subaru, passing on the straights was rarely an option. Because of this, we often had to seize opportunities in the corners, where the Subaru (at times) had a braking and grip advantage over other cars in the field. But finding the opportune moments to make moves can be tricky, and we quickly discovered that attempting to push our way through the pack doesn't always work out as planned.
We also discovered how much more strategic endurance racing is in comparison to sprint racing. What happens in the pits is just as important as what happens out on the track, and quite a bit of time can be found or lost based upon how often a car needs to hit the pits and how time is managed there.
Oh, and if you're going to run an Impreza Sport in an endurance race, thoroughly check all the wheel bearings beforehand – they like to give up the ghost in spectacular fashion. Many sparks are involved.