Five Of The Best Auto Racing Steering Wheels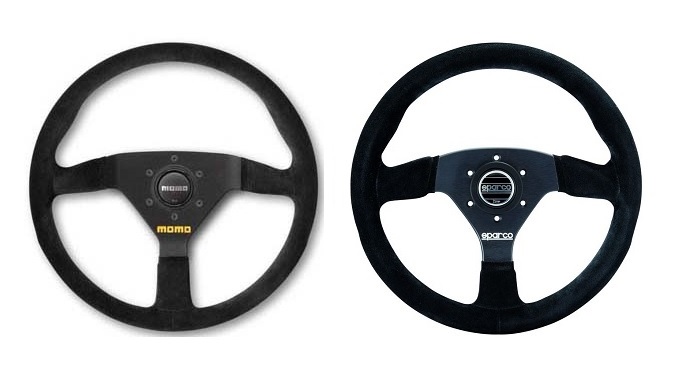 One of the most crucial aspects of the race car is its steering wheel… yes we realize this is very much a "duh" statement. What we mean is, in addition to the basic necessity of turning, there are other aspects of steering wheels that affect the car's operation (i.e. wheel diameter) and fit the driver's preferences in grip, material, etc. Picking the right wheel based it its diameter, feel, material, comfort, dish, etc. can be a little daunting as there are so many to choose from! There are different wheels for different types of race cars, interior dimensions, driver dimensions, and more, though we'll save that aspect for a more technical article. To get folks started in the right direction, we would like to highlight a few of our best-selling wheels, of which all come in the very-universal 6-bolt design. In no particular order:
Momo Mod 88 and Mod 78 – $229.95 – We grouped these together because they're quite similar, the 88 just comes in a flat bottom for better leg clearance. They both have a comfortable oval rim, come in both 350mm and 320mm, and have a nice, classic racing wheel look. The 78 has the option of coming in wrapped leather or suede, too.
MPi F-13-A and GT-13-A – $199 – Like the Mod 88 and 78 above, they are very similar, except the GT is the flat bottom version and the F is a full round wheel. Customers really like the suede grip and larger, oval rim with good positive feel. They come in 320mm and have very durable construction. Plus: MPi wheels have an inner U-channel and rivet construction, so under extreme g-forces, such during a crash, they will break and not cause damage to drivers' hands.
Sabelt SW-633 – $250 – The Sabelt SW-633 is a sturdy, well-made wheel with excellent grip and feel. Coming in at 330mm, it's ergonomics are quite good and is an excellent accompaniment to other Sabelt products.
Sparco R323 – $250 – Sparco's great product line includes great wheels, and the R353 is the best-selling model in their wheel lineup. Like the Sabelt it also comes in 330mm, and also has a slight dish of 39mm to bring it a tad closer to the driver (depending upon drivers' steering columns, 39mm might be all they need to put the wheel in the perfect spot).
OMP Corsica – $259 – This deeper wheel has a dish of 95mm and is made of quality suede with chic yellow stitching. The spokes are anodized for longevity and come drilled to not only shed weight, but to also give it a classic racecar look. If you're in need of a wheel that comes in nice and close, the deep dish is certainly a great option.
Check out our full line of auto racing steering wheels from MPI, Momo, OMP, Sparco, Sabelt, and more.
If you're unsure about fitment, shape, pricing, accessories, or any other option, call our product specialists at 512-994-0656, email us at [email protected], or stop by one of our three retail locations in Austin, TX, Southern California, or Braselton, Georgia.